Chilli thrips in San Antonio ...
roselee z8b S.W. Texas
October 6, 2012
I've been aware of the existence of chilli thrips for several years, but today, unfortunately, I found evidence of them on several rose bushes in my yard. Chilli thrips are not the same as flower thrips which damage only flowers. These guys damage the foliage and the flowers of not only roses, but scores of other plants. The bad news first:
"Chilli thrips, Scirtothrips dorsalis (Hood), is an important pest of crops in tropical and subtropical regions. An established population of this
pest was first detected in the United States
on landscape roses in Florida in 2005. In
November 2007, chilli thrips were identified
on landscape roses in Houston. Chilli thrips
have also been detected on a number of
ornamental and vegetable plants in retail
stores in Northeast and South Texas.
Host Plants. Chilli thrips have a very broad
host range and may feed on more than 150
plant species in 40 plant families. ..."
The good news is that Chili thrips can't handle freezing weather. So here's hoping for a cold winter!
"It's thought that if you live in a climate where you have 5 or more days per year where the low temp. at night reaches 24.8 degrees Fahrenheit (-4 Celsius) chilli thrips will not be able to permanently establish themselves; otherwise they are on their way."
As you know last winter was very mild giving them a chance to get started after blowing in on the hard winds we've had this summer and last summer.
So what to do? I won't use chemical insecticides. Oils, like Neem oil, are not shown to help, but it is suggested that the damaged foliage be trimmed off, put in a plastic bag, sealed and disposed of. Chilli thrips prefer fresh new growth and I've been soooo good to my roses with organic feeding so they have lots of lush growth and hundred of buds. Rose buds have black streaks, are mishapen and don't open properly. The foliage is wrinkled and crinkly. This is what it looks like. Is anyone else seeing this damage: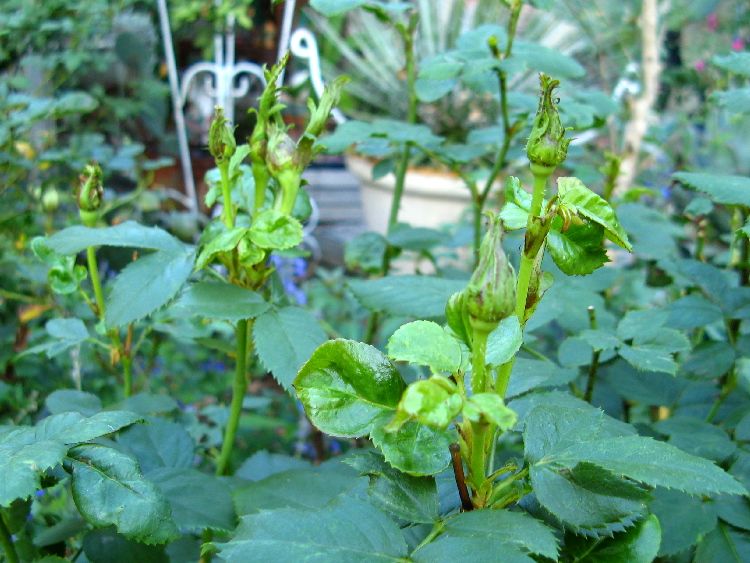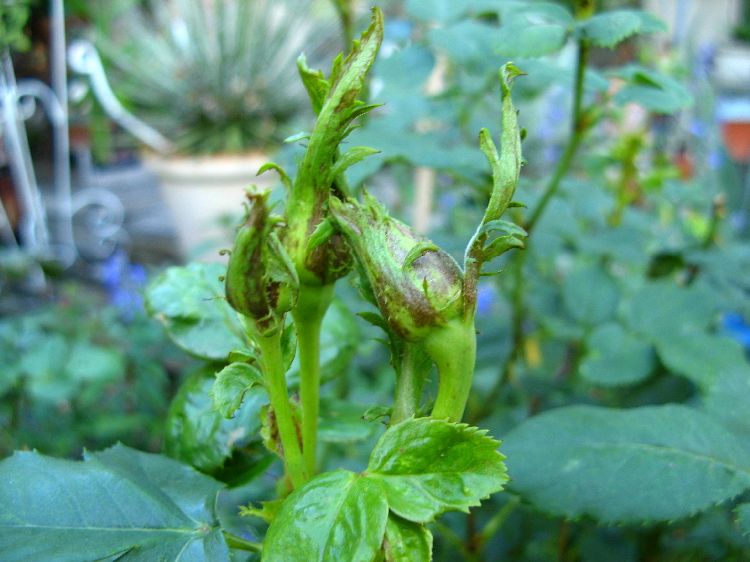 I spent the morning trimming off the damaged foliage along with hundreds of damaged buds. Not all the roses are affected. Mostly it's the ones in the center of the yard where the wind would most likely drop them. They may spread to some of the other roses, but for now I'll just concentrate on removing the damaged foliage that I see.
I'll be withdrawing my offer of roses at the plant swap coming up next week.
If the hoped for cold winter doesn't materialize to take care of the chilli thrips I'll start removing the least favorite roses and anything else that might be affected and replacing them with plants that aren't subject to them. That will take some research, but so far I haven't seen ornamental grasses, succulents, bougainvilleas, shrimp plants or phlox on the list.
More information here:
http://www.texasgardener.com/Newsletters/090909/
There are links to photos on this site showing what damage to different plants looks like:
http://www.mrec.ifas.ufl.edu/lso/thripslinks.htm#MANAGEMENT
Stuff happens and we just have to go with the flow and do the best we can.
Here is a link that might be useful: TAMU edu/extension/publication on chilli thrips in Texas ...