NEW: Incredible Edibles (Jan.) - Winter Sowing
sandlapper_rose
(Zone 8)
December 4, 2008
This is the January Swap which will be for seeds - hopefully seeds for edibles that are appropriate for winter sowing. I am posting it early so you can think about it during this busy holiday season.
A little over two years ago I had no idea what winter sowing was and then when I found out what it is, I thought, "No way that will work" - but it does!
Just post here if you want to join in on the swap. Do so with a commitment to following through!
I am listing some sites you can go to and read more about winter sowing.
GardenWeb has a winter sowing board: http://forums2.gardenweb.com/forums/wtrsow/
and Winter Sown.org gives lots of information - take a look at the FAQ section for specifics about zones and types of plants:
You will find lots of enthusiatic winter sowers to cheer you on!
The theory behind winter sowing is that the seeds germinate at the time that is right for them and then they grow under some pretty unpredictable weather conditions. All of this results in so tough little plants - not a lot of pampering required for these seedlings. Most herbs do well with winter sowing and some other edibles, too. I have even winter sown tomatoes - the variety was Purple Cherokee Tomatoes and they were winter sown on March 9!
You basically plant the seeds in a container that allows sunlight to reach the seeds and some moisture to go in (which can be from rain or snow) and some moisture to flow out as well as allowing for air to reach the plants. It's sort of a mini-greenhouse and it allows you to recycle things like milk jugs or deli/bakery trays that you will use for the sowing. When the seedlings get large enough and the weather is cooperating, the plants are ready to put in the ground or in the type of container you use throughout the Spring and Summer.
So, here are the specifics.
Sign up by December 16.
I will match partners shortly after Dec. 16 and then you and your partner will exchange mailing information with each other through e-mail.
Mail your seeds by Jan. 10.
Along with your seeds, send a gardening thought, tip, or verse to wish your seed swapping pal a Happy New Year!
Post when you receive and then you can let us know what you will be winter sowing from your new seeds!
Seeds must be "edibles" - vegetables, fruits, edible herbs, etc.
Send either two new full packets of seeds or the comparable number from "not quite full" packets which can be things you harvested from your garden, received in trade, or used some of and no longer have the full packet. All seeds should be dated 2007 or 2008. ("Not full packets" might require you to send 4-6 packets in order to equal what what be in two new, full packets.)
I am keeping the required number of packets low because I think some people will be trying winter sowing for the first time and you may not want to plant 50 containers when you first try this. I admit, during the winter of 2007-2008, I planted over 100 containers (herbs, vegetables, flowers, and other types of plants.) It's sort of addicting and it allows you to get started on gardening way before traditional planting.
I pulled a few of the seeds named as appropriate for winter sowing from the Wintersown.org site to give you some ideas.
Vegetables
Allium family (onions, shallots, garlic, chives)
Beans
Beets
Brassica family (cabbage, broccoli, kale, collards, etc)
Carrots
Swiss Chards
Corn (select an "early" type as it can germinate at lower temps)
Curcubit family (cukes, squash, pumpkins, melons, gourds)
Lettuce
Nightshade family (eggplant, tomatoes, peppers)
Peas
Radishes
Spinach
Herbs
Chamomile
Fennel
English Lavender
Common Horehound
Lemon Balm
Mentha - Mint (Spearmint, Peppermint, etc.)
Bee Balm
Oregano
Salad Burnet
Thyme
I will be happy to answer questions as they come up so I hope you will want to join in and winter sow once again or for the first time!!!
Here are some of my winter sown "babies" from the winter of 2007-2008 to give you some incentive. Aren't they pretty?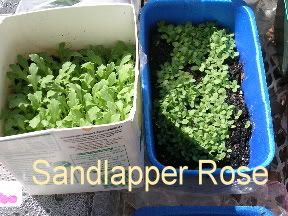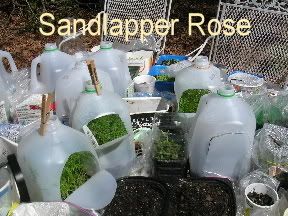 Happy Holidays!
Jeanne