An afternoon well spent ...
roselee z8b S.W. Texas
November 9, 2012
I spent a wonderful afternoon at the San Antonio Botanical Garden. The air had a dry crispness to it that said 'fall'. I couldn't find anybody to go with me so I went by myself, but I struck up conversations with several other 'strollees' and ran into Joey (Phoenix) who was also out strolling during a break so that was nice.
I was especially interested in succulents since I'm including more of them in my yard to take the place of the roses that are soon to depart. Incidentally, their rose garden was the best I've ever seen it. I also wanted to see if I could find specimens of the plants purchased their recent plant sale.
I really liked this succulent bowl. The pink edged small leaved green succulent on the left was purchased at the recent plant sale as 'hardy kalanchoe' where it was displayed as a hanging basket. I recently learned that Patty has it and purchased it as Kalanchoe 'Jingle bells' ...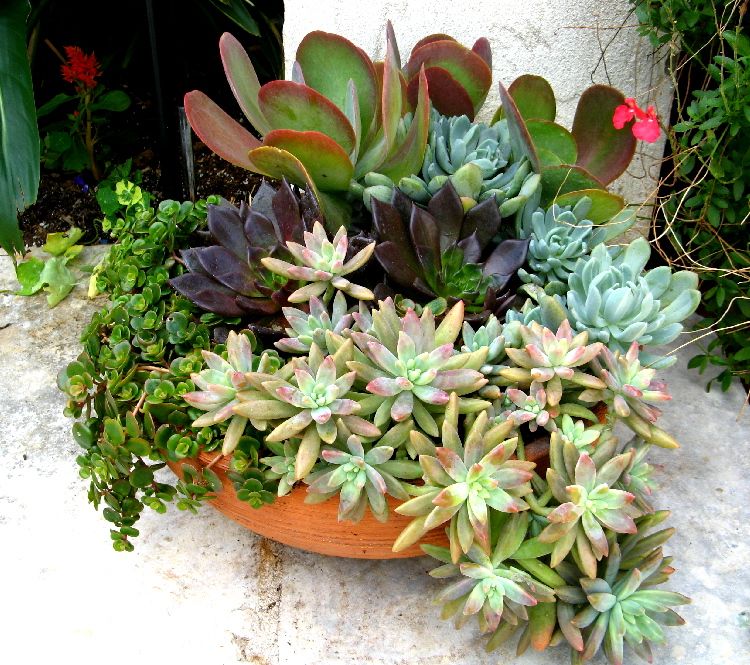 I've never seen some of the succulents in this rock garden display ...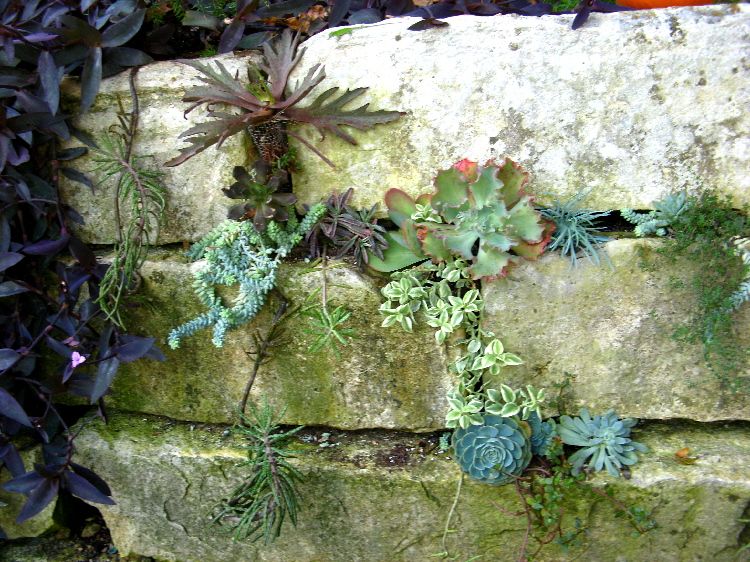 Especially interesting to me is how cactus and agaves are arranged in their gardens. Here they are seen with Mexican salvia as a backdrop. The green ground cover is Wedlia which I found too aggressive in my yard, but it apparently works well in dry conditions ...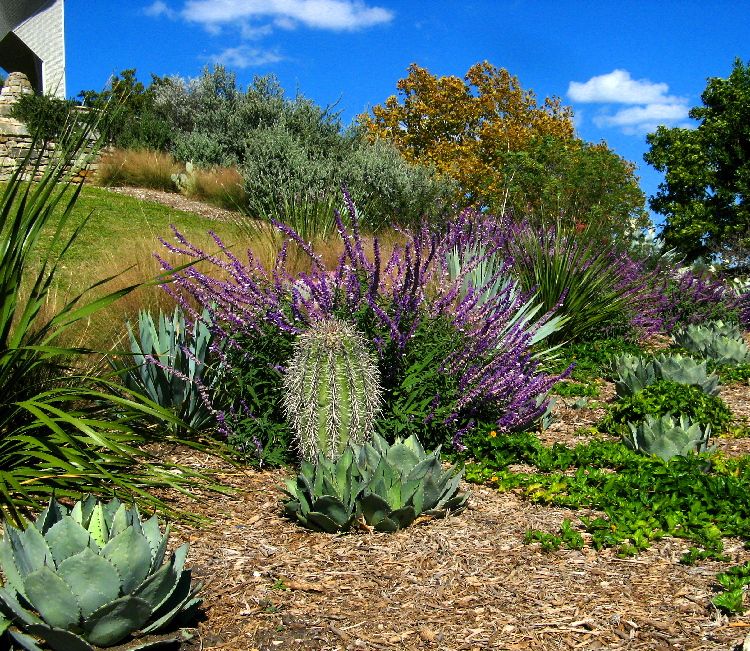 I was bedazzled by the patterns on the spectacular Whale tongue agaves. Blooming in front of it is another of the plants I got at the sale; Baja red fairy duster ...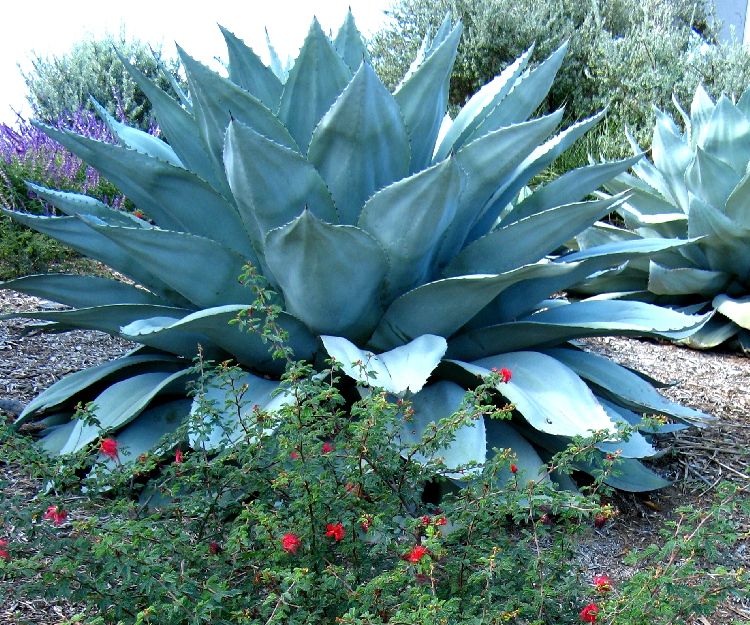 Another nicely patterned Agave was in the enclosed desert display. Who can tell us what it is?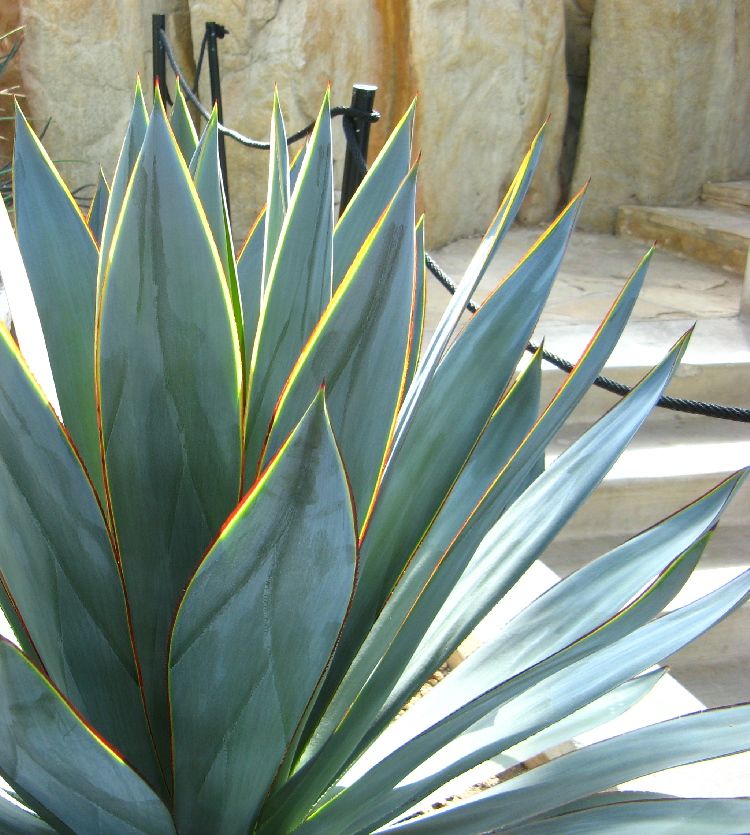 Also can anyone ID this pretty plant growing in front of one of the little houses showcasing different landscaping designs? Firebush?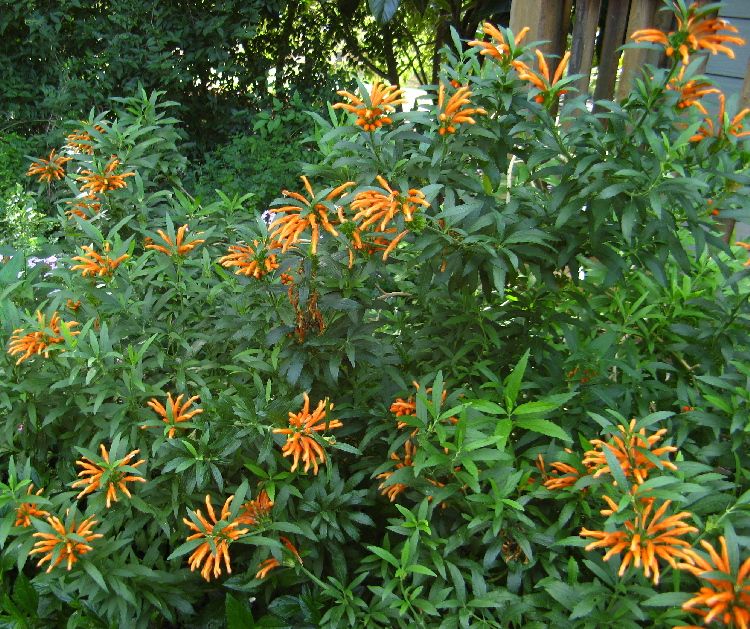 There were butterflies in abundance. This is a Queen I think ...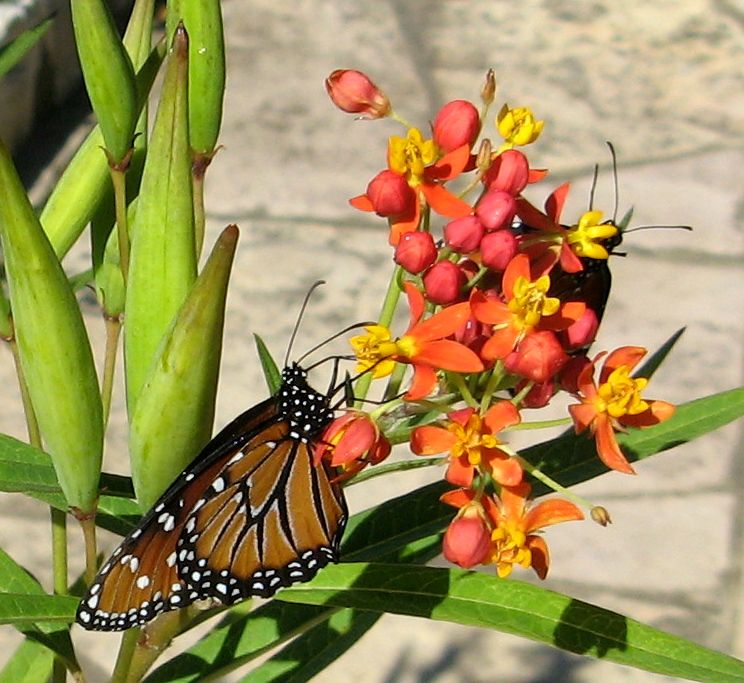 I swear to you these are the true colors of the begonia and bromiliad seen in the 'jungle/orchid' house ...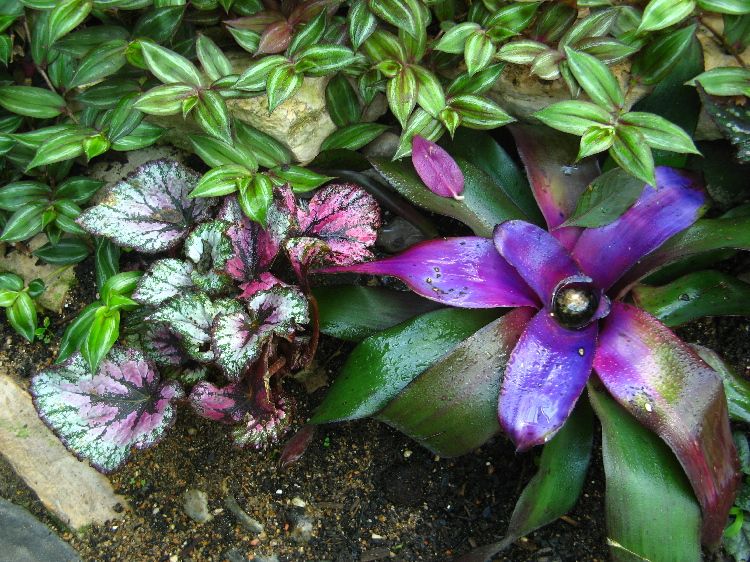 There were 11 full size replicas of dinosaurs and other ancient wildlife thoughout the gardens. They will be on display through December. Great for kids (like me) to see and wonder about ...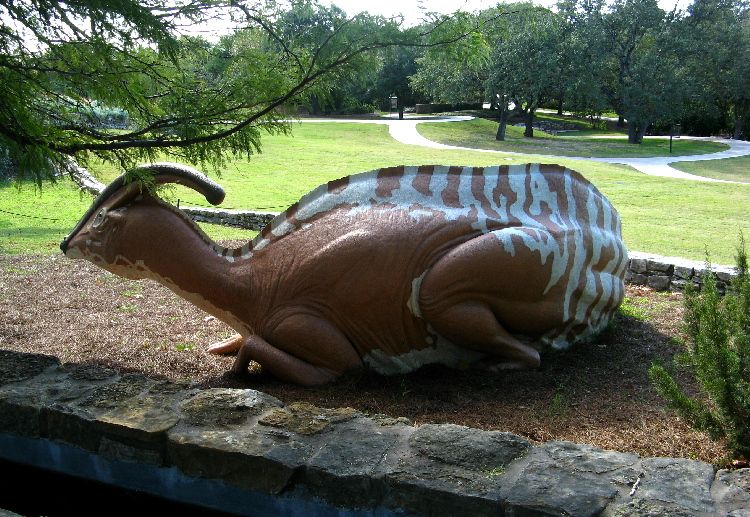 Here's a whole family galloping right at me ...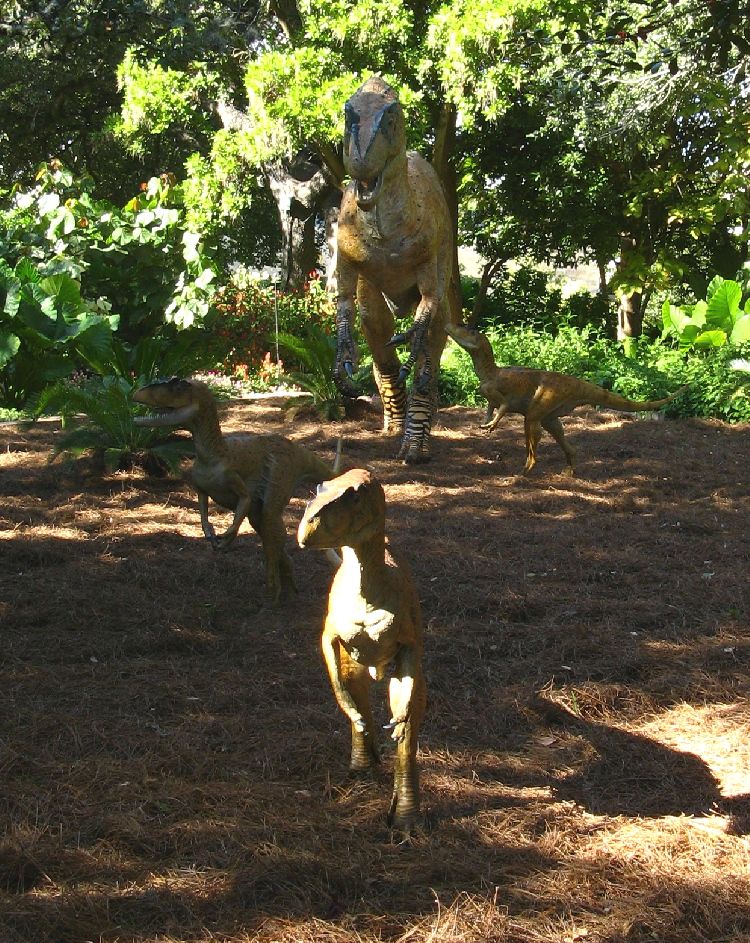 Also was impressed by several trees. I thought this was a Teneza tree, but the sign said differently ...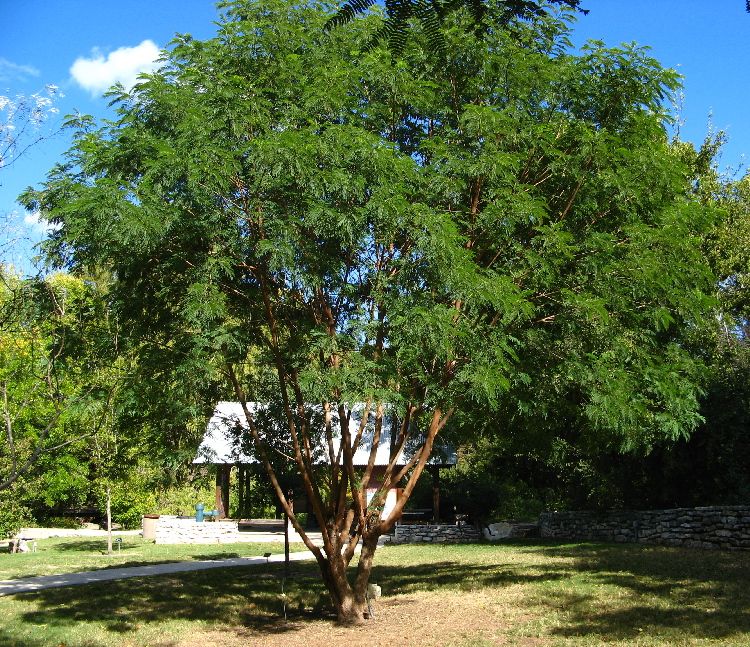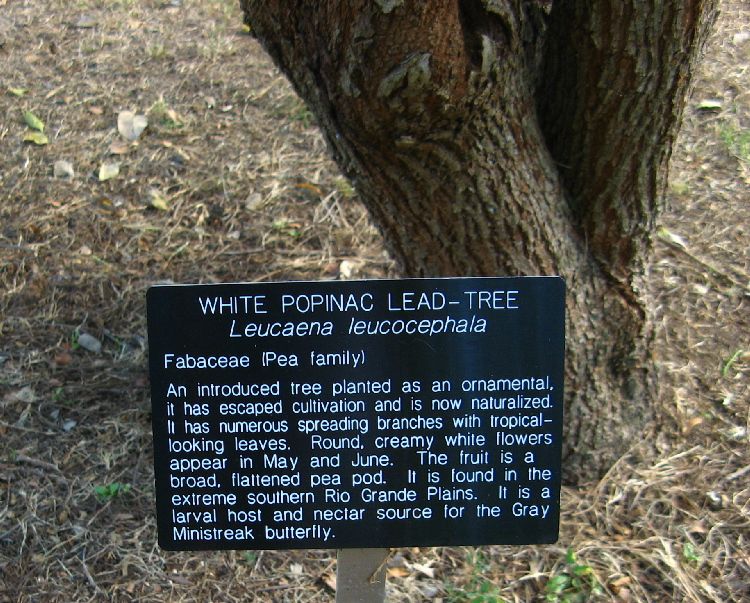 The bark is a little richer brown than my Teneza and picks up the color of the dinosaur lurking behind the stone wall making a beautiful scene ...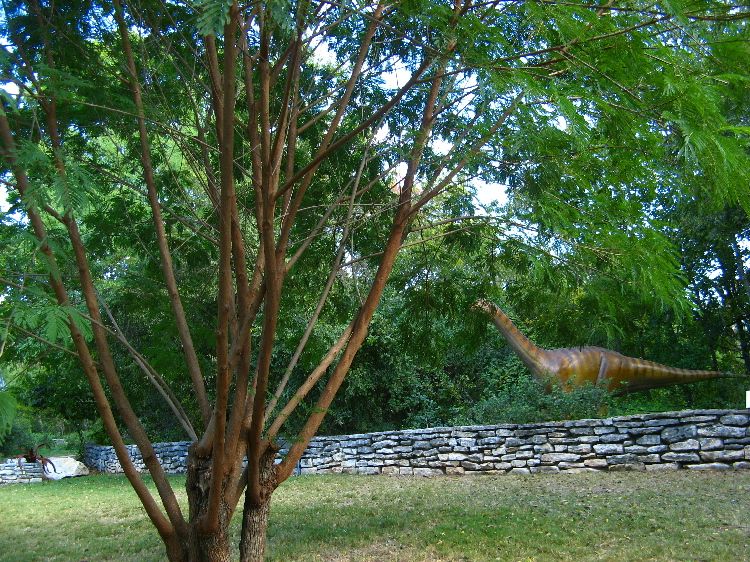 Another beautiful tree with beautiful peeling rich brown bark is growing near the entrance ...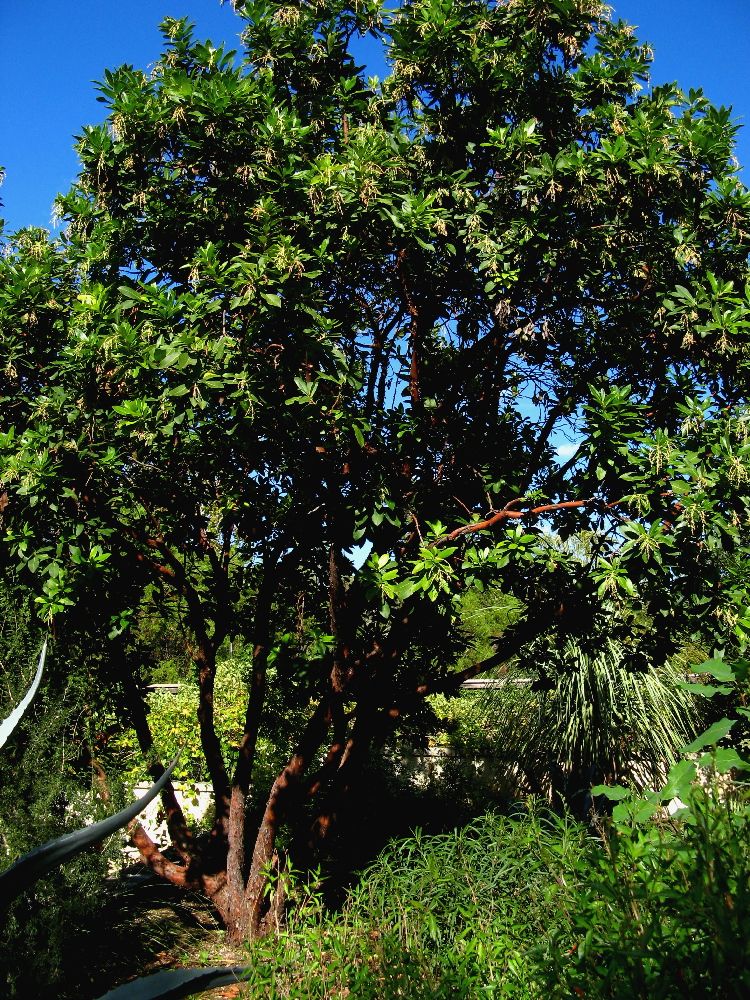 It reminds me of a Texas madrone, but the bark is darker colored than most I've seen although the leaves and immature berries are very close. What do you think?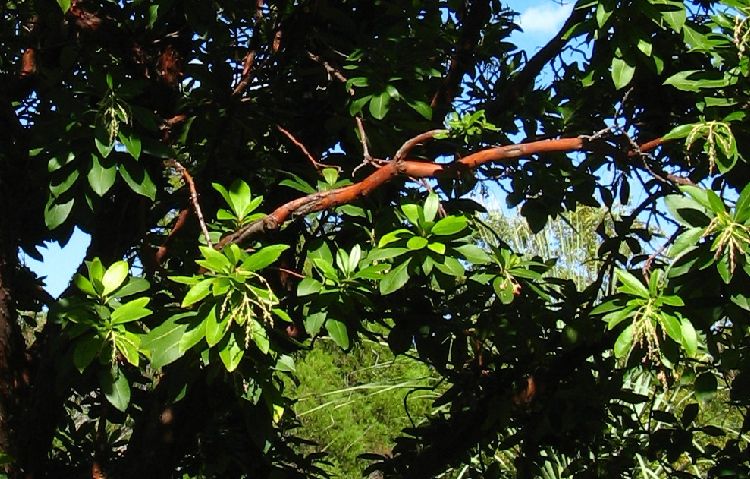 Visiting other gardens always inspires me to work around in as well as enjoy my own yard even more. Today was such a day and a day that was certainly well spent. May I encourage you to visit any botanical gardens in your city? And if you go photos would be nice :-)