Return to the Alpines & Rock Gardens Forum
|
Post a Follow-Up
---
| | | |
| --- | --- | --- |
| Why does the variagation run away? | | |
Posted by
cheerpeople
z 5 IL (
My Page
) on
Sat, Jul 31, 04 at 20:31
I see there isn't a sedum forum. I hope sedums and hens and chicks are part of this forum.

I bought several variagated sedums this year including a hen and chick which was 1/2 white when I bought it at walmart. I also bought a rosy sedum that was almost neon pink on the edges. Now a few months later they look like plain old green sedum.

What can I do to get that great color back? Or what does the nursery do to get them so fabulous?

Thx

Karen
---
Follow-Up Postings:
| | | |
| --- | --- | --- |
| RE: Why does the variagation run away? | | |
Love your choice of words in your posting; I really did Laugh out Loud.

I am assuming there weren't cultivar(variety) names attached to either of these. Then you could look them up on the web.

Color bleaching is common in hen and chicks if the are grown in really stressful conditions, and especially if they are lacking nitrogen and baking. It's hard to believe that any Sempervivum could lack nitrogen growing in the ground, but if it is in a pot or trough it could be. I have never seen white happening, but I have yellow when it is normally green. The other possibility that I see is that it is not in full sun. Colors always present themselves more vividly, and turn to green or greenish in shadier situations. Sounds to me like they were stressed out and not showing their true color in the first place (at Walmart).

Many succulents will have a red edge to their leaves when grown in intense full sun. It is a normal reaction and does not necessarily mean there is too much sun. Could this red have become bleached to pink? Don't know. But my guess is that the sedum is growing in less sun now than when it was growing when Walmart got it.

Maybe some real semp/sedum experts will chime in.
---
| | | |
| --- | --- | --- |
| RE: Why does the variagation run away? | | |
thx leftwood,

I have planted them all in full sun.

Will see if that does the trick :)

Karen
---
| | | |
| --- | --- | --- |
| RE: Why does the variagation run away? | | |
Sedums and Sempervivums respond to weathering. If they are out in the open air where the wind and sun can get at them then they colour up. In shade or under the protection of glass they tend to go plain green. Colour can change depending on the time of year and light levels. I'm talking from my experience in the UK. Plants can change dramatically if they have a change of climate. Hope these comments help anyway.
---
| | | |
| --- | --- | --- |
| RE: Why does the variagation run away? | | |
I have a nice small sedum called tricolor. It reverts to green if I let the green sprigs remain on the plant. I believe this is due to the fact that plain green plants are more vigorous than variegated plants. I have had it for many years and when I give people a piece, I warn them to break off any plain green shoots.
---
| | | |
| --- | --- | --- |
| RE: Why does the variagation run away? | | |
This plant in the spring was green and during most of the summer had a tinge of color (same color as the flower) around the edges, right before it flowered, late summer, it went back to being green leafed. I'm not sure if it's cool weather or less light at those times of year.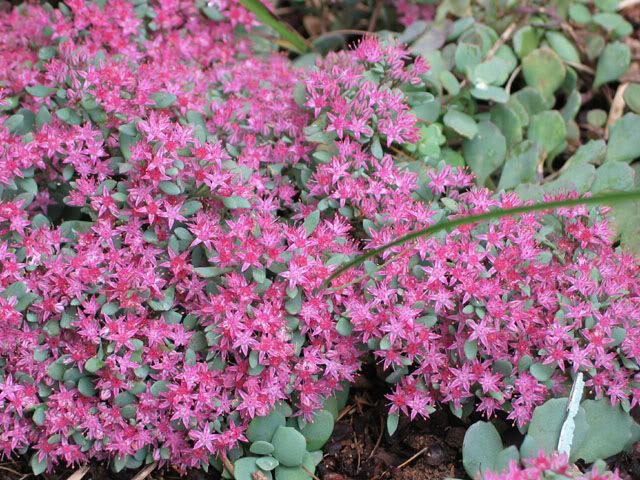 ---
| | | |
| --- | --- | --- |
| RE: seasonal variagation | | |
O.K. I did find some more pics, the one flowering above was taken 9-17.

This pic was taken 4-27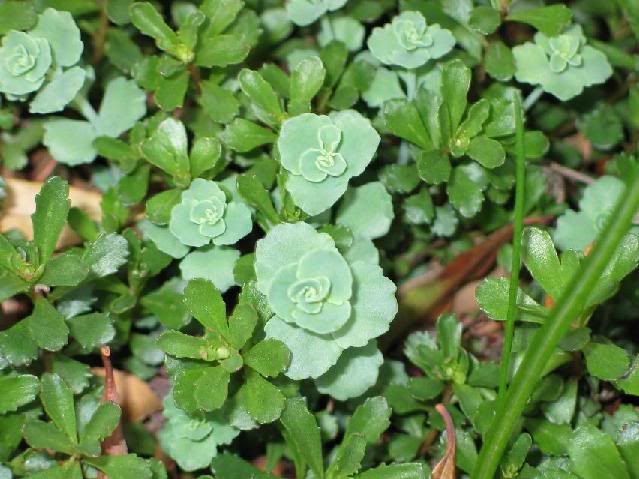 and this one on 6-16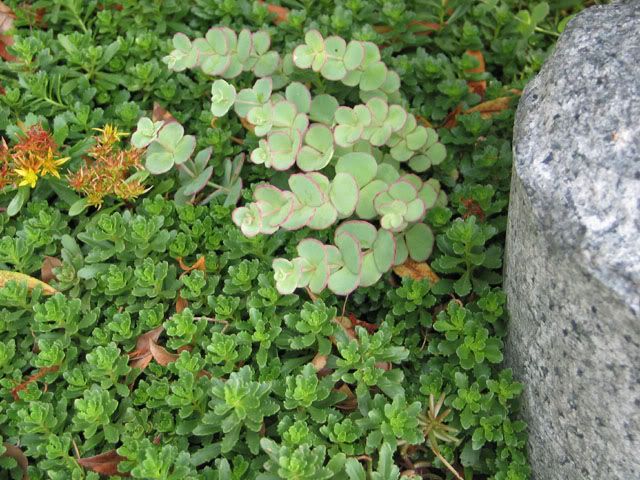 ---
| | | |
| --- | --- | --- |
| RE: Why does the variagation run away? | | |
Bostonian, Do you know the name of that sedum? I am starting to collecct sedum to start my sedum/semp rock garden.
---
| | | |
| --- | --- | --- |
| RE: Why does the variagation run away? | | |
Marquest, I'm not sure, I used to keep notes (vague ones) and then I moved them around and forgot which was which so lately I haven't bothered. Here are the names of some that I kept notes on a couple of years back and it is one of my older ones
Sedum 'Tricolor' Iverson's Stonecrop (2001)
Sedum Glaucum, Stonecrop (2001)
Sedum kamtschaticum 'Weistephaner Gold' (2001)

I posted the picture of it flowering a month or so ago on this forum and received the post below as a possible name. I really have no idea, sorry

"Posted by: leftwood 4a MN (My Page) on Mon, Sep 20, 04 at 16:08

Your "Love the color here." photo is most likely Sedum cauticola 'Lidakense'. It is becoming more common, and for good reason. A beautiful, yet self restricting creeping sedum.
Rick"

Karen, so the color may come back next summer for you. Let us know what happens.

Kathy
---
| | | |
| --- | --- | --- |
| RE: Why does the variagation run away? | | |
the second photo in the second post by bostonian with the reddish edging is sedum seiboldii
---
| | | |
| --- | --- | --- |
| RE: Why does the variagation run away? | | |
gillespiegardens,
All three pictures are of the same plant.
---
| | | |
| --- | --- | --- |
| RE: Why does the variagation run away? | | |
just a note of followup

Since I moved them in early Aug to full sun nothing has changed...other than we have frosts now. Perhaps the color will 'run back' in full sun in the spring.

Nice pics esp like the pink edged one!

Karen
---
| | | |
| --- | --- | --- |
| RE: Why does the variagation run away? | | |
Bostonian: No they are not the same. Even the foliage placements are different. The other two have no pink edging either.
---
| | | |
| --- | --- | --- |
| RE: Why does the variagation run away? | | |
gillespiegardens, I know it is hard to beleive it is the same plant but when it first comes out it looks totally different.

I have the plant that is why I was asking if it had a name.
---
| | | |
| --- | --- | --- |
| RE: Why does the variagation run away? | | |
There's not a 'Sedum' forum, but there is a 'Cacti and succulent' forum :)

Some sedums and sempervirens also change color with the change of season. I have a vigerous creeping sedum that is nice green from spring until fall..by late fall it starts to turn purple and by winter it's dark purple. I have a bright pink, white and green variagated sedum that just gets brighter as it gets colder. My H&C's are green and don't get their deep purple tips until fall which lasts all winter. All of mine are growing in rock crevices and shallow sandy soil in full sun.

Vera
---
| | | |
| --- | --- | --- |
| RE: Why does the variagation run away? | | |
Vera,
I just wanted to add that the season DOES affects the color- you were dead on!
The sedum 'fulda glut' aka 'fulda glow' lost almost all dark color until this fall when it turned almost red/black.
It didn't change tho til fall- must have to do with the cooler temps or shorter days.

Another very dark sedum'bertram anderson' improved drastically in returning to it's dark color after giving more sun by trimming back the neighbors.

However my white/green variagated hen and chick- never did regain it's white color during any season. It is plain green like the common variety- and in full sun.- and was waste of money- unless I can figure out to make it white again.
Karen
---
Post a Follow-Up
Please Note: Only registered members are able to post messages to this forum.
If you are a member, please log in.
If you aren't yet a member, join now!
---
Return to the Alpines & Rock Gardens Forum
Information about Posting
You must be logged in to post a message. Once you are logged in, a posting window will appear at the bottom of the messages. If you are not a member, please register for an account.
Please review our Rules of Play before posting.
Posting is a two-step process. Once you have composed your message, you will be taken to the preview page. You will then have a chance to review your post, make changes and upload photos.
After posting your message, you may need to refresh the forum page in order to see it.
Before posting copyrighted material, please read about Copyright and Fair Use.
We have a strict no-advertising policy!
If you would like to practice posting or uploading photos, please visit our Test forum.
If you need assistance, please Contact Us and we will be happy to help.

Learn more about in-text links on this page here