Return to the Azalea & Rhododendron Forum
|
Post a Follow-Up
---
| | | |
| --- | --- | --- |
| What's wrong with my Rhodie flower buds in this picture? | | |
Posted by
pappu
z5 IL (
My Page
) on
Tue, Apr 26, 05 at 16:45
My 4 Rhodies had nice fat flower buds with sorrounding leaf buds. The leaf buds are fully leafing out and there is no sign of activity in the flower buds. This is my first year of growing them(planted them last spring)...is this normal? Should I just wait for the flower buds to develop, maybe apply some bloom booster fertilizer? Please advise...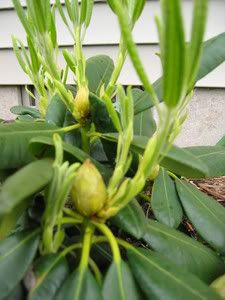 Thanks
---
Follow-Up Postings:
| | | |
| --- | --- | --- |
| RE: What's wrong with my Rhodie flower buds in this picture? | | |
That looks just fine..The nice plump bud will flower this year. and the elongated shoots are putting out new leaves.After flowering, new buds will begin to appear.

No worries, looks fine to me..

Ps...Don`t forget to deadhead after flowering..
---
| | | |
| --- | --- | --- |
| RE: What's wrong with my Rhodie flower buds in this picture? | | |
I can't say I've seen that, and I took a walk around the neighborhood to check if there were any nearby doing the same...the flowers should open before the foliage buds on any that I've grown. Any that I've personally seen.

Maybe someone else here will have some insight into your plant, in the meantime I'll see what I can find about foliage preceding flower....Do the buds look as though they are showing some color and are going to open, or are they completely stalled?
---
| | | |
| --- | --- | --- |
| RE: What's wrong with my Rhodie flower buds in this picture? | | |
The flower buds show no activity...they look healthy and green, but not the slightest bit of change or any hint of unfurling or budding out....This is the same with all 6 plants. The leaf buds are going gangbusters!Do the late flowering Rhodies do this?
---
| | | |
| --- | --- | --- |
| RE: What's wrong with my Rhodie flower buds in this picture? | | |
I rec'd this response for you from Library Hort., Univ. WA just today...

Though we can't diagnose plant problems by phone/email, early autumn frosts can inhibit flowering and not all buds are equally affected. "Autumn frosts: These can lead to damage….if they either occur in early autumn or immediately after a late season warm spell. Continental climates with extremes of heat and cold are more likely to suffer sudden temperature changes than those with maritime climates….A sudden temperature drop will catch a plant before it has had a chance to reach maximum hardiness and it may suffer accordingly, even if normally perfectly able to withstand such a temperature in mid-winter…..Speed of ripening varies considerably….There is also a variation in the hardiness of flower buds compared to foliage and growth buds. Commonly, flower buds may be as much as 10 F. less hardy than foliage…." (Source: "The Cultivation of Rhododendrons," by P. Cox, 1993, p. 119-120).

On the other hand, there might be something unusual about your friend's particular location. (There is some evidence that winter drought could affect flower buds in this way though not likely in Illinois.) He/she might want to call a local Master Gardener and ask whether they're aware of anything abnormal. To locate Master Gardener clinics in various Illinois counties, go to http://www.extension.uiuc.edu/mg/ui-hort-links.html "

Since it appears your buds are not going to open, how would you feel about sacrificing one to slice open and see if the inside evidence will tell you anything, i.e. if it may have been frozen....
---
| | | |
| --- | --- | --- |
| RE: What's wrong with my Rhodie flower buds in this picture? | | |
When buds freeze they turn brown. I'd just wait and see.
---
| | | |
| --- | --- | --- |
| RE: What's wrong with my Rhodie flower buds in this picture? | | |
They were aware the buds were not brown, my written description that went with the photo was " leaf buds fully elongated and beginning to unfurl, while the green, blunt flower buds remain unopened. The flower buds don't look brown, diseased, frozen or injured, but remain tightly closed"
---
| | | |
| --- | --- | --- |
| RE: What's wrong with my Rhodie flower buds in this picture? | | |
late-flowering varieties and some others do this, from what I understand (such as Maxecat)
---
Post a Follow-Up
Please Note: Only registered members are able to post messages to this forum.
If you are a member, please log in.
If you aren't yet a member, join now!
---
Return to the Azalea & Rhododendron Forum
Information about Posting
You must be logged in to post a message. Once you are logged in, a posting window will appear at the bottom of the messages. If you are not a member, please register for an account.
Please review our Rules of Play before posting.
Posting is a two-step process. Once you have composed your message, you will be taken to the preview page. You will then have a chance to review your post, make changes and upload photos.
After posting your message, you may need to refresh the forum page in order to see it.
Before posting copyrighted material, please read about Copyright and Fair Use.
We have a strict no-advertising policy!
If you would like to practice posting or uploading photos, please visit our Test forum.
If you need assistance, please Contact Us and we will be happy to help.

Learn more about in-text links on this page here