Return to the Bromeliad Forum
|
Post a Follow-Up
---
| | | |
| --- | --- | --- |
| Neo. correia-araujoi…or is it…? | | |
Posted by
devo_2006
(
My Page
) on
Thu, Dec 4, 08 at 15:09
Here's a pic' of my Neo. correia-araujoi that flowered a couple of years ago.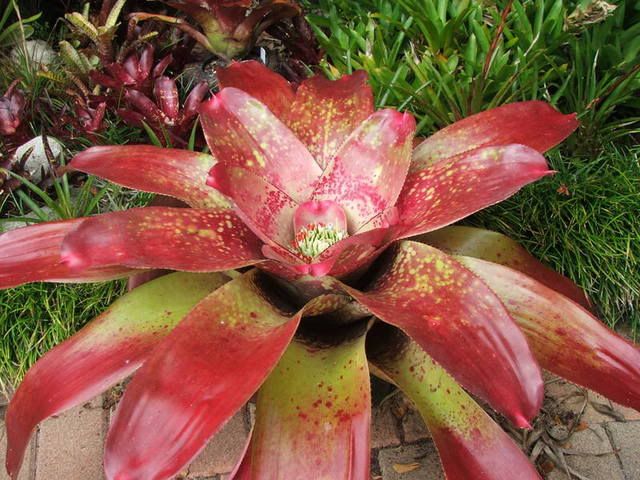 And here's a pic of another clone just coming into flower now.
They do look very similar, both have the typical size, form and colouring of what you'd expect in correia-araujoi, however, I noticed something a little different with the flowers.
Each petal has a lavender coloured tip!
I did a bit of hybridizing with my plant that flowered a couple of years ago, & those flowers were definitely all white, as is expected of a true correia-araujoi. So, what is the significance of these flowers having a slight lavender colouring…? Should I assume that this plant is a hybrid…? Or do some c-a's have this colouration to their petals…?
What do you think it is…?
Cheers, -Andrew
---
Follow-Up Postings:
| | | |
| --- | --- | --- |
| RE: Neo. correia-araujoi…or is it…? | | |
Andrew this might help you some
Here is a link that might be useful: article
---
| | | |
| --- | --- | --- |
| RE: Neo. correia-araujoi…or is it…? | | |
Thanks HDD. In the article Uncle Derek states "they did not know the petal colour although it is probable this is white."

The article reminded me that I did grow a batch of c-a from seed. It was sourced from our club seed bank, & was probably past its best when I got it as only 5 seedlings germinated. However, they have done well, & now I've got 3 that look like c-a & 2 that look more like johannis...just as the article indicates. I've just checked on these plants...here's a pic' of three of them...& I found the one on the right is flowering...and the flowers have pure white petals.
So I'm sort of coming to the conslusion that my plant with the lavender coloured petal tips is probably a c-a hybrid.
---
| | | |
| --- | --- | --- |
| RE: Neo. correia-araujoi…or is it…? | | |
I think I would come to that same conclusion, Andrew. I have a somewhat variable population of seed-grown plants from crossing 2 clones of correia-araujoi, but despite their differences in foliage markings they all have pure white flowers.

Whether or not c-a is a natural hybrid itself is still debatable, but if it is, both its purported parents have white flowers too, so any hint of lavender seems like an indication of hanky-panky.

Harry L. has changed his tune on this debate. Earlier he had said that c-a was probably a natural hybrid of johannis and marmorata, but now he considers it just another form of johannis. I asked him if the fact that some of the F2 generation came out marmorated and others didn't wasn't sufficient proof of hybrid origin, but he said no, it just proves it's a variable species. I have to say I'm not convinced, but without knowing what evidence he has to base his conclusion on, I can't claim to know any better.

Now, before anyone says "but my marmorata has purple flowers!", let me just add that the vast majority of Neos being grown under that name are actually hybrids. To complicate things even further, the TRUE N. marmorata, according to Harry, is the plant that has long been grown under the name of 'Mar-con', which ironically is registered as a hybrid! So some of what we think are species are actually hybrids, and some of what we think are hybrids are actually species. At any rate, Mar-con has white flowers, and so does N. johannis, so whether c-a has marmorata in it or is just a marmorated variant of johannis, it should have white flowers.

I rest my case. ;-)
---
Post a Follow-Up
Please Note: Only registered members are able to post messages to this forum.
If you are a member, please log in.
If you aren't yet a member, join now!
---
Return to the Bromeliad Forum
Information about Posting
You must be logged in to post a message. Once you are logged in, a posting window will appear at the bottom of the messages. If you are not a member, please register for an account.
Please review our Rules of Play before posting.
Posting is a two-step process. Once you have composed your message, you will be taken to the preview page. You will then have a chance to review your post, make changes and upload photos.
After posting your message, you may need to refresh the forum page in order to see it.
Before posting copyrighted material, please read about Copyright and Fair Use.
We have a strict no-advertising policy!
If you would like to practice posting or uploading photos, please visit our Test forum.
If you need assistance, please Contact Us and we will be happy to help.

Learn more about in-text links on this page here