Return to the Butterfly Garden Forum
|
Post a Follow-Up
---
| | | |
| --- | --- | --- |
| Close encounter with Mexican cats | | |
Posted by
gcertain
Michoacan, Mexico (
My Page
) on
Sun, Sep 7, 08 at 9:23
Until yesterday it was mere curiosity, but then I got a little too close to some particularly savage looking caterpillars I'd seen on a peach tree. I was weeding around the tree, being careful not to disturb the cats, when I felt a tingle on the back of my upper arm. I had brushed against a rose bush and thought at first the thorns had pricked me. But on closer inspection, I saw that some of the cats had migrated to the rose bush.

"Owwwww," I whined, and headed for the house, the weeding abandoned for the day. My arm was starting to throb. I planned to take Benedryl and go to bed, but I decided to see how bad it would get, so I just washed the area with soap and cold water and scrubbed it with a nail brush (that felt good).

After the cold scrubbing-induced numbness wore off, it didn't hurt anymore. I could detect several mosquito-bite-size bumps under the skin and a slight tenderness, but I had no more pain or itching. Overall, it was not nearly as bad as, say, a jellyfish sting.

I've been finding a lot of different cats, only a couple of which I have recognized. Maybe some of you can help identify them. When I return to Mexico in January, I'll bring the appropriate gear to rear some of them to adulthood.


These eggs are on a black cherry leaf. I think they are probably the same species as the stinging cats on the peach and rose.
I find these on thorn bushes.
I find these on romero milkweed (A. linaria) summer and winter.
I think this is a Queen. It is on romero milkweed.
I was ecstatic to find this tiny Eastern Black Swallowtail when I stopped to photograph the flower on my dill. I brought him inside and offered him dill, fennel and parsley to see which he preferred. So far, he's remained on his original dill florette. The next day, I found his older brother on the the fennel plant, so I brought him in too. They are in separate containers for now, at least until the little guy grows enough to hold his own.
I shot this from across the fence. I think the vine may be milkweed, but I won't be sure until I get a closer look.

geni
---
Follow-Up Postings:
| | | |
| --- | --- | --- |
| RE: Close encounter with Mexican cats | | |
Geni, the caterpillar is a luna moth cat.
I can't help you with IDing your cats, but the ones on asclepias linaria look a lot like scarlet-bodied wasp moths and polka dot wasp moths, which use host plants similar to milkweed, so I imagine they're one of the brightly colored, day flying wasp moths.
The last one looks like a salt marsh moth cat, so, if that's not what is is, it's probably something close, like a woolly bear.
Beautiful pictures!
Sherry
---
| | | |
| --- | --- | --- |
| RE: Close encounter with Mexican cats | | |
Geni,

I love the Polka Dot cats. They remind me of this little BF I saw in Laos. I was never able to find an ID for it.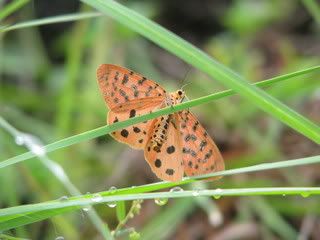 Keep posting your finds!
Sandy
---
| | | |
| --- | --- | --- |
| RE: Close encounter with Mexican cats | | |
Sherry, thanks for the suggestions. I tried rearing some of the yellow milkweed cats this year, but I gave up when they wouldn't eat. I didn't have a good habitat for them, but next trip I'll bring an enclosure.

Experience has told me that BST cats are like Lay's potato chips -- never just one. I'm up to five now, and they are happily eating dill and fennel. The four little ones are in a plastic box that alfafa sprouts came in, and the big one is in a makeshift enclosure, the top of a five-liter water bottle over a plastic container of water with fennel stuck through a hole in the lid, all sitting on a paper plate.

I continue to find the spiny ones on rose leaves, and I've found two so far on the doormat. They're coming after me where I live. Fortunately, I've had no lingering effects from the stings.

Sandy, what a beautiful little butterfly. I hope you'll post more of your Laos photos -- or have I overlooked them?

Here's a pic of the BST habitat.


And here's another unusual cat I saw on a walk recently.



geni
---
| | | |
| --- | --- | --- |
| RE: Close encounter with Mexican cats | | |
No, Genie, you haven't overlooked them. I need to get a blog set up as I have so many photos. I'll try to post a few of my favs. I have sure enjoyed your photos. I think a trip to Mexico is in my future!

Sandy
---
| | | |
| --- | --- | --- |
| RE: Close encounter with Mexican cats | | |
I am incorrigible. With two days left here before I return to Alabama, I discovered two more little BST cats on the fennel. What did I do -- brought them inside, of course. And today I found another one on parsley. I brought it in, too. I now have seven little ones happily eating fennel, dill and parsley. The largest one pupated a couple of days ago. I know I'll have to put them back outside tomorrow, but it's been fun having them inside for a few days. This is the first one I found and it is now the biggest of the remaining cats. These are the first four little cats, before I added three more to the enclosure. The chrysalis is on the side of the water container.
---
| | | |
| --- | --- | --- |
| RE: Close encounter with Mexican cats | | |
My last official act of 2008 in my Mexican butterfly garden was to return my BST cats to the wild. I moved the water container to the herb garden and let some of the cats migrate to the fennel. Then I moved the container next to the dill and let the rest of the cats go to their preferred host. Finally, when all the cats had made the transfer, I dumped out the water and put the container on top of the upturned birdbath next to a tall cosmos stalk so that when the butterfly ecloses it can climb the cosmos to dry its wings. I put a rock inside the plastic cup so the wind won't blow it off, and I just crossed my fingers and hoped that the cosmos leaves would provide cover from curious birds. That's all I could think to do for them; now it's up to nature to decide whether they make it.

So, when I got back to Alabama, what did I find on my parsley? Two gigantic BST cats, which are now happily munching away on parsley inside a mesh container next to my computer.
geni
---
Post a Follow-Up
Please Note: Only registered members are able to post messages to this forum.
If you are a member, please log in.
If you aren't yet a member, join now!
---
Return to the Butterfly Garden Forum
Information about Posting
You must be logged in to post a message. Once you are logged in, a posting window will appear at the bottom of the messages. If you are not a member, please register for an account.
Please review our Rules of Play before posting.
Posting is a two-step process. Once you have composed your message, you will be taken to the preview page. You will then have a chance to review your post, make changes and upload photos.
After posting your message, you may need to refresh the forum page in order to see it.
Before posting copyrighted material, please read about Copyright and Fair Use.
We have a strict no-advertising policy!
If you would like to practice posting or uploading photos, please visit our Test forum.
If you need assistance, please Contact Us and we will be happy to help.

Learn more about in-text links on this page here