FORUMS:
GardenWeb
>
Forums
>
Camellia Forum
> Deep, dark red... >
Post a Follow-Up
Deep, dark red...
I've been looking for the deepest, darkest, (blood) red bloom that I can possibly find. Having no luck. Lady up the street has one blooming now, would love to ask her if I might have a cutting...but she's not very friendly! Resident grouch! If anyone could offer a suggestion as to a variety; I would appreciate. Thanks.
'black magic' is one of the darkest red colors i have seen. not one of my favorite cultivars but it is very dark.
browse the list from the link below. try the ones beginning with 'b' for black or 'r' for red.
'professor sargent' is another pure red that is common in older southern landscapes.
Here is a link that might be useful: american camellia society
---
A number of years ago, Dr. Clifford Parks, of Camellia Forest Nursery in Chapel Hill, introduced a splendid, cold-hardy, landscape camellia named 'Adeyaka.' As you probably know, Dr. Parks is one of the world's leading authorities on camellias. We have an 'Adeyaka' in a planting of several other red camellias, and it is definitely cold-hardy. It is a single red camellia with yellow stamens and blooms profusely. The Parkses use the image of 'Adeyaka' as the logo of their Website and print catalog. You can buy 'Adeyaka' from Camellia Forest Nursery. It's unbeatable as a landscape plant in Zone 7b.
---
Kramers Supreme. A beautiful blood red that looks positively gorgeous with Pink Perfection and Donation. Wish I knew how to post pictures. :)
---
Another great dark red is 'Royal Velvet'. I would rate it as the best Red Camellia japonica that I have ever grown. Check the image link below from the Camellia Web Galleries.
Here is a link that might be useful: Royal Velvet Image on Camellia Web
---
Only a couple of those are considered dark by most camellia enthusiasts --The absolute darkest red camellia available is a hybrid known as "Night Rider" ( a kuro tsubaki seedling also very dark ) and is available from Nuccios
---
Ruby Mathews is somewhat dark also- its only drawback is that it shatters
---
The darker red that are possible to find, are descendants of "Kuro-Tsubaki ',' Night Rider ',' Black Opal ',' Black Magic ',' Black Domino ',' Midnight Magic '.
There camellia flowers with dark red and almost black. But the flowers do not look good, especially when the red is very deep. Flowers very dark, very beautiful and attract attention for its rarity. But the tree is not flashy. This can be seen in the photograph of "Professor Charles S. Sargent."
That aspect of the plant, is independent of the beauty of the flower. Everyone has their taste. I prefer bright red camellias but they are not too dark.
Regards.
Daniel D.F.oKintos

'Black Magic'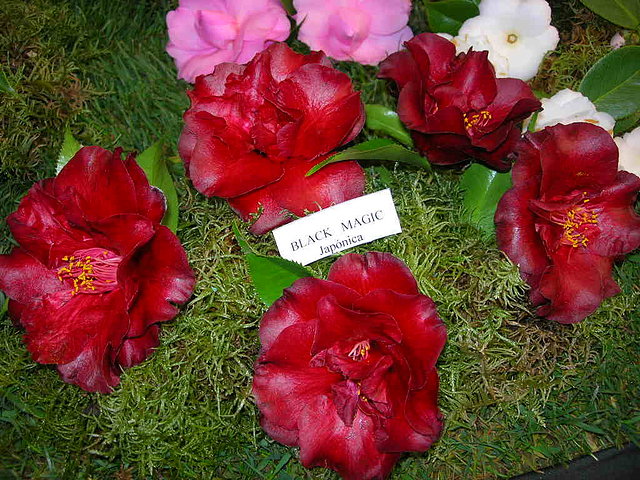 'Midnight Magic'

'Black Domino'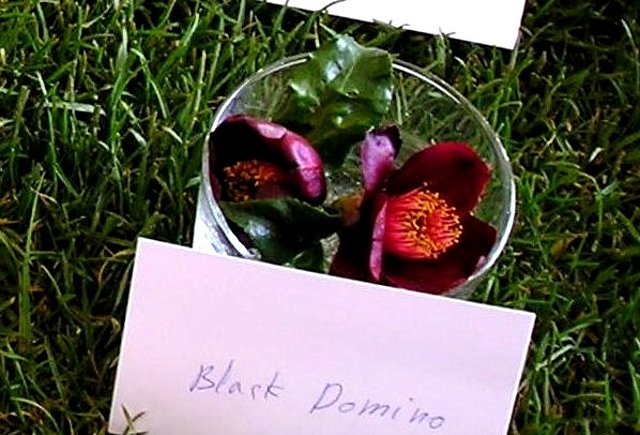 'Black Opal'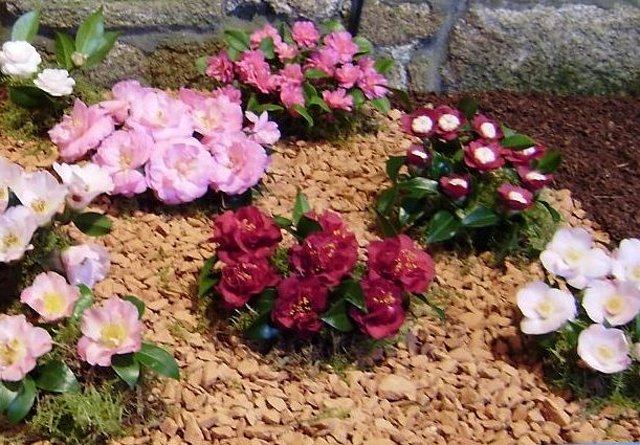 'Night Rider'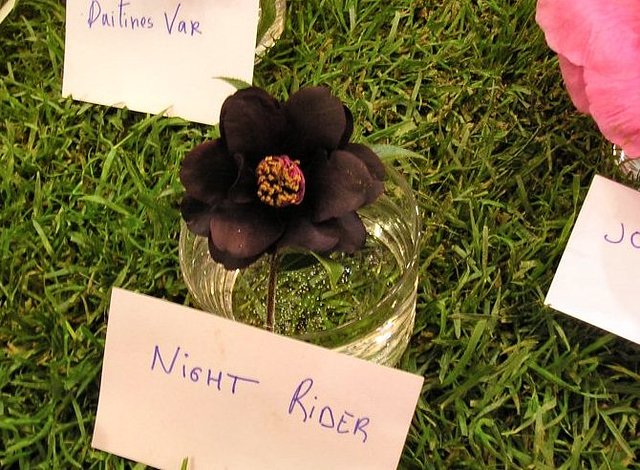 'Professor Charles S. Sargent'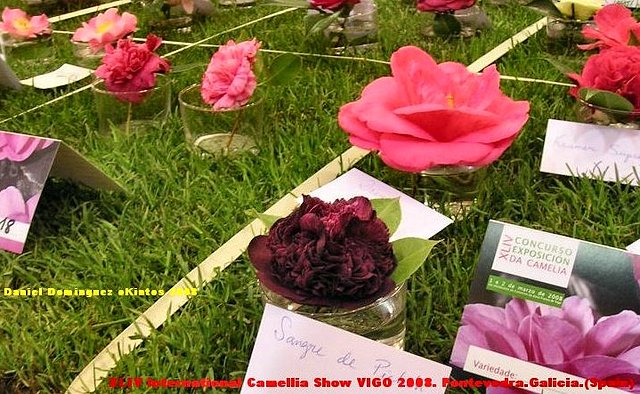 'Professor Charles S. Sargent' (Soutomaior´s Camellias Collection)

Here is a link that might be useful: XLVI International Camellia Show (Slideshow)
---
I would agree that the 'darkest' red may not be what you want, as the flowers don't show up. I would say 'brightest true red'. That said, you don't specify the flower shape that you want -- single? formal double? peony? anemone? Or maybe you do not have a preference.
---
Camellias are a lot like people , or even pets-- they have their own "personality". And what I mean by that is they don't all look the same(obviously), grow the same , some of them act differently in different climates/ micro climates. Some just will not grow in the southeast (extreme humidity). Some will not grow in heavy sunlight and some will grow in full sun. Some are VERY slow growers and some are rapid growers(by camellia standards). So there is a lot you need to know before you pick a camellia and just stick it in the ground. Most camellias are shallow rooted plants with weak / non aggressive root systems. I say all that to say this-- tell us what you want in a camellia, other than the color, and where its going.

A lot of people give up on camellias cause the don't have initial success with them, they got the wrong plant for the wrong place.

Check out the camellia web photo gallery and see some of the pix there, but you cant tell color accurately by a photo as lighting is probably the most important factor in photography- a lot of them look different in real life.
---
Another dark red that should be readily available is "Black Tie". The varigated ones are especially nice.
---
Very interesting this 3D. I love dark red camellias, inclusing the very slow-growing Night Rider. Does somebody give a name to this dark lady?

[IMG]http://i104.photobucket.com/albums/m177/Kiwoncello/Kiwoncello Camellia Flower Pics/Darklady140520102.jpg[/IMG]
---
The flower looks a lot like Camellia japonica "Angelina Vieira.
Regards.
Daniel D.F. oKintos

Here is a link that might be useful: Naron Camellia Show
---
>I've been looking for the deepest, darkest, (blood) red bloom that I can possibly find.

The Professor C.S. Sargents that you can buy in NC don't look nearly so dark or difficult to see on the tree/bush from afar as the one above that was pictured in Europe. You can spot the red blooms on ours from a long distance away and the whole plant looks adorned nicely, much like a Christmas tree absolutely totally covered in noticeably red flower decorations. It might not be as dark as you are looking for, but it is a blood red, a much deeper red than scarlet. You'd probably like it even if it's not the identical shade of red you were searching for.

We have three Professor C.S. Sargent camellias, and the blooms are a deeper red than the Kramer's Supremes and especially deeper than the Mrs. Charles Cobb we also have. Professor Sargent is the most bud-hardy camellia in our yard, blooming profusely both this year and last, in spite of the unusually cold winters we've had the past couple of years. Professor Sargent doesn't have the largest of all blooms, but the blooms are beautiful and they are produced in all sorts of settings, from locations in too much shade to not far off from full sun. This variety is very commonly available in NC and there's nothing difficult about growing it. We really like Professor C.S. Sargent here.

Best wishes,
Mary
---
I have been looking for a dark red camellia, I found a picture of "Black Gold" but I can't find the plant. I have "Yuletide" and love it, I would like to find a true,dark red double.I live in Va. and it gets hot in summer.
---
Perhaps if you would knock on her door and impress upon her how much you appreciate the beauty of her camellia, she would be more open to you and offer a cutting. If not, you haven't lost anything.
---
Kiwoncello, I had a look at your great camellia gallery and I am very impressed! Are they all yours? A very great collection, gratulation!

My darkest camellia for the moment is 'Night Rider', but it is a simple flower and I like it very much.

I full agree with Dawgone, that's really the first thing we have to know, the name of the variety and how it does in the garden.
---
Wow, this thread refuses to die.
FWIW, in my opinion, some red camellias suffer from the same problem that certain so-called red rhododendrons have...that of being an off shade that often looks unattractive. (to me...YMMV) This can even depend on whether the plant is photographed or not; R. 'Britton Hill' (which is a gorgeous plant notwithstanding) looks rosey-red in photographs, not a solid red but what most people would call red. In person, perhaps some UV-reflective flavanoid that doesn't pick up well on digital camera CCDs gives it a brassy magenta glow that is definitely more pink seeming than red. In fact, that plant even looks somewhat different at a distance than it does close up. I feel like this same thing happens with some camellias. When I visited Camellia Forest in spring a few years ago, I was struck that certain varieties didn't look like I expect them to look from photographs; the only hardier red hybrid variety that looked good to me was 'Red Jade'. (IIRC some of the Korean species C. japonica are also a good magenta-free red, but their flowers are small)

I might just be more attuned to these things having been interested in photography for my entire life and having had for many years a fully calibrated monitor. In discussing color with certain highly knowledgeable people, for example, like Hank Schannen or Ron Rabideau, I'm sometimes not able to come to agreement on which plants are better looking. So, again, this is a personal thing to some degree...YMMV.
---
[quote]
I was struck that certain varieties didn't look like I expect them to look from photographs;
[/quote]

In my opinion you cannot compare a real flower with its image, unfortunately the red colour is nearly never true on the picture. That's what I experienced for all red flowers like camellias, roses or others - it's too difficult.
---
Since camellias are usually in part shade conditions, this triggers automatic flashes in some digital cameras and they overcompensate. I try to take pictures of red flowers around mid morning (9-10am) and turn off the flash. It is not a perfect solution but the picture's red is closer to the real red color.
---
| | |
| --- | --- |
| RE: Deep, dark red... | |
I have camellia sansanqua yuletide a single red really nice, I also have prof. sargeant, I don't think it is as red as it should be sometime the flowers are darker. I have kramers supreme and it is a fantastic flower. Also Blood of china is a gorgeous double red and has performed wonderful for me.
James in Florida
---
Tamararly, thanks for the gratulations to my camellias: several of them are seedlings from wild or directed crossings, most of them of low interest and just very few with nice flowers. I love dark-red cultivars; anyway I have observed that the colour depth in the same plant may vary with the age of the flower itself as well with the season. Transplantig or repotting too may influence the colours, perhaps due to differences in pH and nutrients in the original and new mixes.
---
[quote]
Transplantig or repotting too may influence the colours, perhaps due to differences in pH and nutrients in the original and new mixes
[/quote]

Oh! that is really a very interesting experience! Yes, the hot climate or the full sun, there I saw too a difference in the colour. But repotting? that I had never expected. Camellias are so variable, therefore exchanging our experiences is so helpful.
Thank you! :)
---
Have you heard of the one called 'Bob Hope'..? it's a lovely dark red, and the flowers will look down on you as the plant grows taller... very dark gorgeous flowers on an upright plant... there is a good specimen growing in the grounds of crime writer Agatha Christie's old garden at Greenway House, Devon, England...

I don't have it in my garden but these are some Camellias I grow and the large dark red in the centre is 'Deep Secret', perhaps it may not be dark enough for you, I wouldn't know... it's a Japonica type... not quite as dark as 'Bob Hope'... but it's a colour that stands out I think...
---
Very beautiful flower in the middle, I like this one. The others seem to me being williamsii hybrids? And yes, 'Bob Hope' is a very good example for dark shiny flowers.
Thank you for sharing.
---
Thank you, I'm glad you liked them. The white one at the top with the pink ripple is 'Lady Vansittart' and just to the right of it with pink bands is it's sport, which I think is marketed as 'Yours Truly', but Lady V produces flowers of different patterns all the time...
Below that and at opposite sides are the little, almost pom pom type flowers of cuspidata 'Spring Festival', I think my favourite Camellia, and below that is the large pink 'Donation' then up to the left is a williamsii 'J.C. Williams', perhaps the longest flowerer.
Interspersed with Ribes odoratum the buffalo currant of the prairies, another plant I absolutely adore...

I've just realised this thread is quite old and expect most contributors have long since moved on, but I hope others will look in and post photos of their Camellias, I love looking at other people's cherished plants...

thank you...
---
Post a Follow-Up
Please Note: Only registered members are able to post messages to this forum.
If you are a member, please log in.
If you aren't yet a member, join now!
---
Return to the Camellia Forum
Information about Posting
You must be logged in to post a message. Once you are logged in, a posting window will appear at the bottom of the messages. If you are not a member, please register for an account.
Posting is a two-step process. Once you have composed your message, you will be taken to the preview page. You will then have a chance to review your post, make changes and upload photos.
After posting your message, you may need to refresh the forum page in order to see it.
Before posting copyrighted material, please read about Copyright and Fair Use.
We have a strict no-advertising policy!
If you would like to practice posting or uploading photos, please visit our Test forum.
If you need assistance, please Contact Us and we will be happy to help.

Learn more about in-text links on this page here