Return to the Camellia Forum
|
Post a Follow-Up
---
| | | |
| --- | --- | --- |
| First flowers of the season! | | |
Posted by
gaalan
z8 Atlanta (
My Page
) on
Fri, Sep 22, 06 at 19:52
I was walking through my camellias this morning and spotted flowers! I have two blooming, Shishigashira and C. sinensis 'Rosea'. I can't find notes on Rosea, but I discovered that Shishi is starting bloom exactly one week earlier than last year. Anyone else seeing flowers yet?
---
Follow-Up Postings:
| | | |
| --- | --- | --- |
| RE: First flowers of the season! | | |
One of my sisters has a white-flowering C. sinensis and the buds on hers have swollen and should be blooming soon - perhaps within a week or so. Mine is related to 'Rosea' (pink flowering but also has reddish leaves) but isn't quite ready to bloom yet as I have it in a more shady spot. Hers is in mostly sun - both of ours are potted and outside.
---
| | | |
| --- | --- | --- |
| RE: First flowers of the season! | | |
Jenny my Rosea is in the ground and gets sun till about 12:30 then shade. I just went out to look and the whole plant is in shade now with sun just beyond its branch tips, which I take to mean the shade just recently fell over the whole plant.

I have notes from past years on first open flower(s) for it and Shishigashira

2004: Shishi-September 3;Rosea-September 13
2005: Shishi-September 29

I really like sinensis, it is a very handsome plant. The flowers aren't big and flashy like most, but that is part of the charm to me. Gives it an air of quiet sophistication.
---
| | | |
| --- | --- | --- |
| RE: First flowers of the season! | | |
I spotted a half open flower on 'Snow Flurry' last night, its first. I love the semi-weeping habit of this one.
---
| | | |
| --- | --- | --- |
| RE: First flowers of the season! | | |
I was driving in a few minutes ago and noticed the first open flower on my 'Tanya' camellia.
---
| | | |
| --- | --- | --- |
| RE: First flowers of the season! | | |
| | | |
| --- | --- | --- |
| RE: First flowers of the season! | | |
It is a time of Camellias.
My beautiful "Yuletide", is blooming from the first days of October.
Regards.
Daniel Dominguez OKintos.
Here is a link that might be useful: Camellias in Galicia
---
| | | |
| --- | --- | --- |
| RE: First flowers of the season! | | |
My C. octopetala has been flowering for 3 days. This species is listed as camellia bloomer in autumn season.
---
| | | |
| --- | --- | --- |
| RE: First flowers of the season! | | |
Our earliest sasanqua begins blooming around the first of September and is generally finished with its blooming cycle by the end of September or in early October. It is a 'Pink Dauphin.' Its intense perfume is a magnet to yellow jackets, honey bees, bumble bees, and ants. Our earliest _Camellia japonicas_ generally begin blooming during the middle of September. These varieties are 'Daikagura,' 'High Hat,' which is a sport of 'Daikagura,' and 'September Morn,' (aka 'Yohei-Haku').
Yesterday afternoon, I also noticed the first bloom on our 'Mine-no-Yuki' sasanqua and also on our 'Shishigashira.' The 'Mine-no-Yuki' has a gardenia planted next to it in the foundation shrubbery. There are several fall blossoms on the gardenia, which are a treat in October.
---
| | | |
| --- | --- | --- |
| RE: First flowers of the season! | | |
Hello Camelliófilos.
This one is a time of Camellias.
The Autumn is a time of Camellia sasanqua. But in Autumn it blooms also the Camellia japonica. Some of the most ancient and beautiful Camellias that came to West, begin to be bloomed by them in the Autumn. White C. japonica 'ALBA PLENA', C. japonica ' ANEMONAEFLORA ALBA' And " C. japonica ' LADY HUME'S BLUSH ", that we are called 'CAMURÇA'.
Regards.
Daniel Dominguez OKintos

Camellia japonica 'ANEMONAEFLORA ALBA'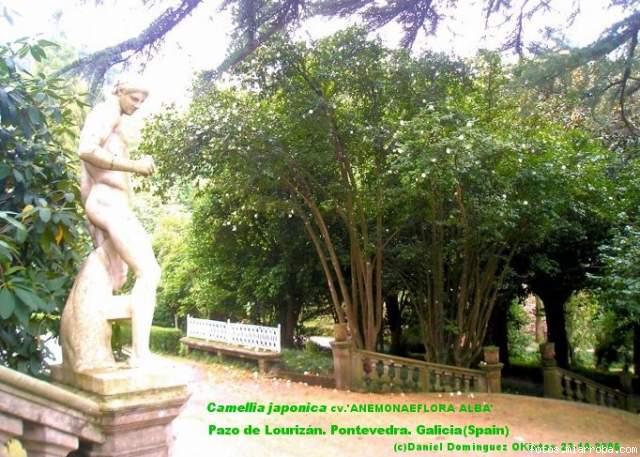 Camellia japonica 'ALBA PLENA'

Camellia japonica 'LADY HUME'S BLUSH' Syn.- 'CAMURÇA', FLAVESCENS', 'BUFF', 'CARNEA'.

Here is a link that might be useful: Pazo de Oca Camellia reticulata
---
Post a Follow-Up
Please Note: Only registered members are able to post messages to this forum.
If you are a member, please log in.
If you aren't yet a member, join now!
---
Return to the Camellia Forum
Information about Posting
You must be logged in to post a message. Once you are logged in, a posting window will appear at the bottom of the messages. If you are not a member, please register for an account.
Please review our Rules of Play before posting.
Posting is a two-step process. Once you have composed your message, you will be taken to the preview page. You will then have a chance to review your post, make changes and upload photos.
After posting your message, you may need to refresh the forum page in order to see it.
Before posting copyrighted material, please read about Copyright and Fair Use.
We have a strict no-advertising policy!
If you would like to practice posting or uploading photos, please visit our Test forum.
If you need assistance, please Contact Us and we will be happy to help.

Learn more about in-text links on this page here