Return to the Canadian Winter Sowing Forum
|
Post a Follow-Up
---
| | | |
| --- | --- | --- |
| All this snow – has anyone started? | | |
Posted by
gail_ish
5a ON (
My Page
) on
Fri, Dec 7, 07 at 12:12
Hi all,

When all this snow started, I was hoping it was a fluke and that it would melt so I could clean up the pot ghetto & get it ready for this winter sowing season. No such luck – it looks like this snow is here to stay. Some of you may already know that we've been renovating – we have a 150 year old log house and we gutted the whole top floor, right back to the logs, resized all the rooms, new wiring, insulation, drywall, flooring, heating system and we did all of it ourselves except the wiring (& we helped on that!). Which is why I have a pot ghetto – NO time for my poor garden this year – the odd hour here & there.

But now the upstairs is almost done (new bed is coming on Wednesday for the new master bedroom), so we will be working on the next floor & hope to be done by spring, so I would like to have some WSown plants ready to go. Other than the already-established border that I want to add to, I would like to start a red bed in the barnyard & fence off the old veggie garden & plant veggies. This old property has an honest-to-goodness underground root cellar, so I've been checking out the Harvest forum & learning about canning. But they also talk about the gardening side – most of them can what they grow, so I'd like to have some WS veggies ready to go in there. And if some of you haven't seen a red bed, you should skip on over to the Cottage forum & check out what Gottagarden has created! I can just imagine what all that red would look like against my old grey barns. Just search for 'red bed'.

I'm taking 2 weeks off at Christmas and hope to get lots of renovation stuff done, but hubby will be at work some of those days, so I may just work on some WSing stuff here & there. And by that, I mean to try to clean up last year's containers so I can start on this year's – lol. For some reason, cleaning them up is not nearly as fun as setting them out.

So, mostly I've just been planning & dreaming, no actual sowing. I sorted through what I have that didn't get planted last year & have made a new 'master wishlist'. I responded to some SASE offers – not having gardening time also meant that I didn't have time to save as many seeds as other years. I think this year I may put in an order to William Dam for seeds – their prices seem to be the best when I compare them to the other catalogues I've been getting. If any of you have started yet, let me live vicariously through you. Please post what you've been WSing or what else you've been doing to get ready. Something about this time of year, with all the snow, that gets me all obsessed again with next year's garden.

All the best,
Gail
---
Follow-Up Postings:
| | | |
| --- | --- | --- |
| RE: All this snow – has anyone started? | | |
Hi,
I'm a newbie in WSing, and a newbie to gardening as well. Bought the house with a nice landscaped garden last year, but moved in two months ago. I extended some flower beds, and I created new ones too. Started two big piles of compost, and I was so excited when I saw it was working...Those piles reached an amazing temperature.
I collected lots of recyclable containers and am thankful for the generosity of some nice ladies, members of GardenWeb who sent me lots of seeds for SASBE. Today was my first day of sowing, I just couldn't wait any more, and so far I did:

-Hollyhock (dark red, dark wine, dark pink)
-Silver dollar
-Astilbe white
-Crocosmia Lucifer
---
| | | |
| --- | --- | --- |
| RE: All this snow – has anyone started? | | |
so far I have just been doing the dreaming/planning stuff! :)I have also been looking on a great site that gives lots of useful info on germination rates etc. so I have been printing up the lists of info for the seeds that I am going to plant. It looks like some of them need to be going in fairly soon as they take longer than others, and some of them need to be frozen and thawed a few times for best germination.
I am trying to hold off until after Christmas when I will have more time to be a bit more organized with it, although I know how you feel marianna, I really have to make myself NOT start!! At least with WS we can get started earlier than the regular method.
I think the first things I will sow will be a couple of types of trees. Gail, I am going to be planting lots of red this year as I want to have lots of plants that will attract and feed the hummingbirds. I will have to go and have a look at the red bed that you mentioned.
I have so much stuff ready to use for WS and it is all stored under my basement stairs right now. It will be nice to get it out and get going. I will be spending some time cutting up some window blinds for plant markers. I still haven't gone and got the marker to write on them yet, but I will get it soon.
Looking forward to hearing from everyone and their experiences with WS. :-)

Lois
---
| | | |
| --- | --- | --- |
| RE: All this snow – has anyone started? | | |
I was a newbie three years ago...I can't beleive what a difference wintersowing made to my beds. I used to go to the nurseries and buy perennials, and annuals, and every year the perennials (?) and annuals would die, and the next spring, I would do it all over again.
Say goodbye to spending a fortune at garden centres. The only thing I buy now is a flat of Impatiens. I have grown them from seed, but they don't really get going till mid August.
(Sometimes you need to add a little colour while everything is greening up)
Here's some shots... Bottle central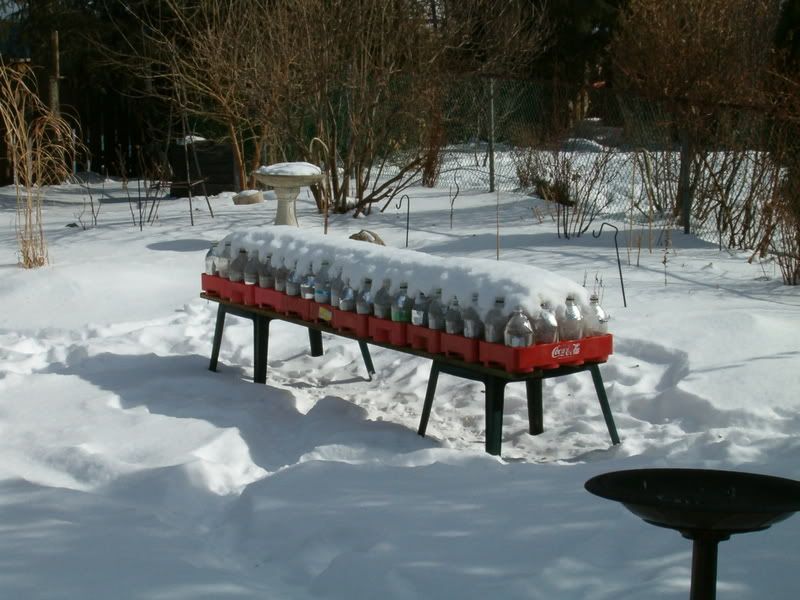 Placed in the bed after sprouting...trying to figure out where to put them

Here is the finished project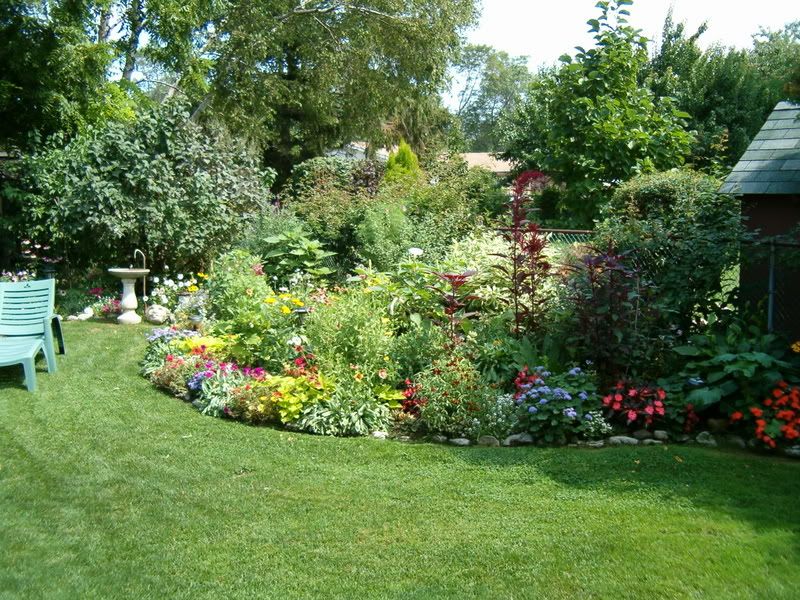 ---
| | | |
| --- | --- | --- |
| RE: All this snow – has anyone started?--- | | |
Wendy I just love seeing that pic of your garden!! You do know how hard you are making it to NOT start planting, right?
I am having a hard time controlling the urge to plant something so I am considering doing some winter solstice planting. Never heard of it before but was reading in the "other" WS forum (a bit more activity over there...come on everyone, let's get at least talking about it here :)) and it is something being talked about there. I may or may not plant a few things this weekend. I have some white birch seeds that I really want to plant and I think tree seeds need a bit more time out than other things, so may at least plant those.
I did give in to the urge to plant something yesterday, but it wasn't winter sowing, as I planted some bouganvillea seeds. Not sure if they will actually do anything as they are a couple of years old, but I figured that I may as well give it a shot and if I find they are not still viable then I can get rid of the rest of the seeds.
Gail, the house will sure be great when all the work is done! That is quite a project. I am sure you are very anxious to get the outside taken care of too! :)
Marianna, way to go!! good for you getting started. I hope that gets us all moving. ;-)
I am determined to finally get a camera so that I will be able to post pics of my first attempt this year.
Well, I know everyone is busy right now but I hope that you will all soon be here and letting us know what is going on with your winter sowing progress.
Lois
---
| | | |
| --- | --- | --- |
| RE: All this snow – has anyone started? | | |
Hi there: I haven't been on for quite some time because I am busy getting ready for Christmas - baking fudge and cookies for the kids, doing some craft projects, and making sheers for my new 5 foot window (what a job), with just the small dinng room ones to hem. I haven't even thought about WSing yet. I had a visit from a gardening friend about a month ago, we did some seed exchanges and I put everything away in the basement until after Christmas. Last year I did some solstice sowing - all roses - but none of them sprouted so this year I sowed some cuttings a friend was going to throw away and to my surprise they all succeeded. I had some in the ground and some in pots (which I am overwintering sunken in the ground and mulched) so I'll see what survives. In any case, I now know how to get rose bushes established during the summer with ease. Wendy, what a lovely bed you created last year. During the Fall, I created a new bed next to my cedars using card board, kitchen scraps, shredded newspaper, coffee grounds from Starbucks (they will keep it for you in large heavy plastic bags), cuttings from my perennials and chopped leaves (with the lawnmower) from my large maple. It gets some morning sun but lots of afternoon sun and I am hoping to make it a Salvia bed. A gentleman on the Hummingbird forum sent me some nice varieties last week so I hope to have lots of hummers and butterflies next year. By using my leaves in the new bed, I put out only one garden bag this fall - containing flowers which I did not want to re-seed in my bed or the compost.

Gail, I had a look at the red bed you referenced, but I think yours will be more striking against the barn. BTW I did get the seeds from Trudi and I will try to arrange the stamps after Christmas. I also see you were asking for Pulmonaria, so I saved some plants that I was going to throw out for you. They were in a place that I removed them from after cuting down a tree. I guess some pieces of roots or even seeds were left there, but they won't survive there and I have plans for the space anyway. We can discuss that later in the spring.

Right now my deck is filled to the brim with snow and my backyard has snow up to my armpits, so the thought of winter sowing anything seems quite remote. I don't know if I can get into my shed to get my pop bottles which I so carefully washed for re-use. I may have to start all over again. At any rate, I won't be sowing until sometime in January as DH is planning a February vacation this year.

Hope you are all well. Merry Christmas and Happy Holidays to everyone - we'll catch up in 2008!!!

Northerner.
---
| | | |
| --- | --- | --- |
| RE: All this snow – has anyone started? | | |
Lois, it seems that I'm ahead of you; at least I have all my tags done, white for annuals/biannuals, and pink for perennials. I just happened to me to have two different kinds of window blinds. I have been researching on line for each plant, reading lots of old and new posts on this website, making some notes, going through all my seeds so, so many times. Still I made a boo-boo with astilbe. I sowed them, and later I checked it online and it doesn't need the cold period, it actually needs lots of humidity and germination is fast. It will not be a big loss since I bought a plant and discovered another one in the garden. I'm still confused though. For example, the aster that I collected lots of seeds last month from my garden...Tim Clothier says in his website: "Some genera produce great quantities of empty seed. Examples include Aster…." So, should I sow half, or all of them to make sure I will get something? In the fall that bunch of Asters was a nice display with lilac blooms and orange centers, and I think I will sow them all, but later in February.

Yes Wendy, I can see myself continuing to buy lots and lots of plants, like I did 3 month ago, before I was reading about the benefits of winter sowing. I bought 9 peonies, 3 hydrangeas, which were a must for me, and lots of other perennials that can be grown easily from seeds. Will my new flower beds in the front yard be looking like yours soon? With so many annual seeds to be sown I hope so. I made the left bed with cardboard and half rotten compost and soil on top. The other bed on the right side, I just turned over the soil, and in the spring I will just add some compost on it and plant hopefully lots of seedlings. That light green box and the other big one interfere with my landscape design and I don't even know if I'm aloud to mask them with some plants, or how close can I plant around them.
Mariana
---
Post a Follow-Up
Please Note: Only registered members are able to post messages to this forum.
If you are a member, please log in.
If you aren't yet a member, join now!
---
Return to the Canadian Winter Sowing Forum
Information about Posting
You must be logged in to post a message. Once you are logged in, a posting window will appear at the bottom of the messages. If you are not a member, please register for an account.
Please review our Rules of Play before posting.
Posting is a two-step process. Once you have composed your message, you will be taken to the preview page. You will then have a chance to review your post, make changes and upload photos.
After posting your message, you may need to refresh the forum page in order to see it.
Before posting copyrighted material, please read about Copyright and Fair Use.
We have a strict no-advertising policy!
If you would like to practice posting or uploading photos, please visit our Test forum.
If you need assistance, please Contact Us and we will be happy to help.

Learn more about in-text links on this page here