Return to the Carolina Gardening Forum
|
Post a Follow-Up
---
| | | |
| --- | --- | --- |
| spring pix, part 2: | | |
Posted by
tamelask
z7 NC (
My Page
) on
Fri, Mar 28, 08 at 17:42
Thought the other thread was getting too long (the scroll 'bar' was down to just a bubble!), so I'd start a second one.

here's some more of my spring pix:

about a month ago, iris reticulata:

grape hyacinth: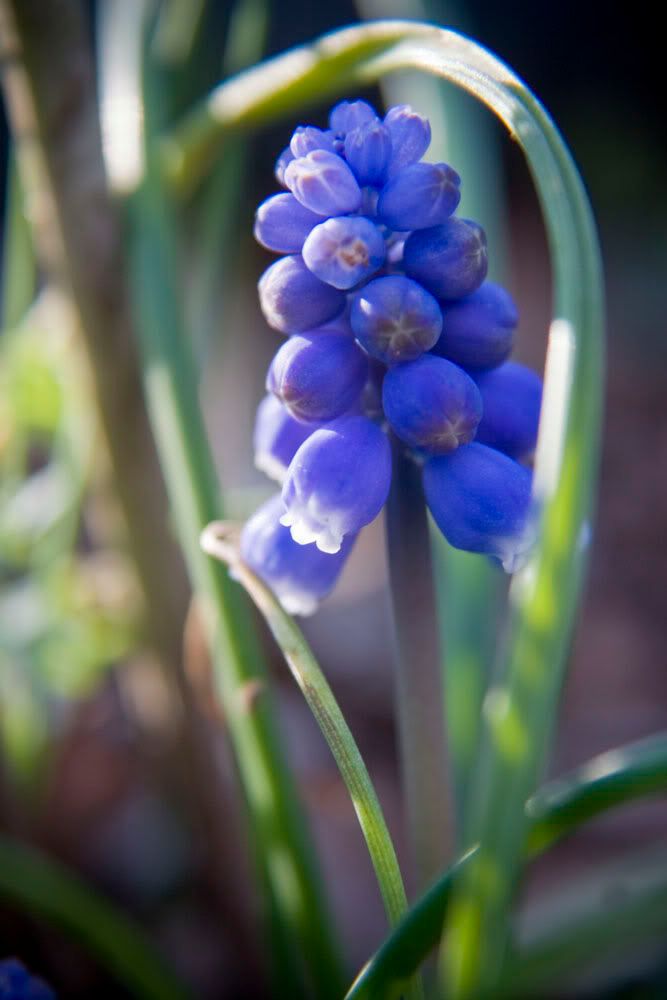 georgia blue veronica:

and again:

trout lilies:

bloodroot:

heather:

and scilla rounds out the early stuff:

---
Follow-Up Postings:
| | | |
| --- | --- | --- |
| RE: spring pix, part 2.2: | | |
and here's some more pix:

trifoliate orange, flying dragon: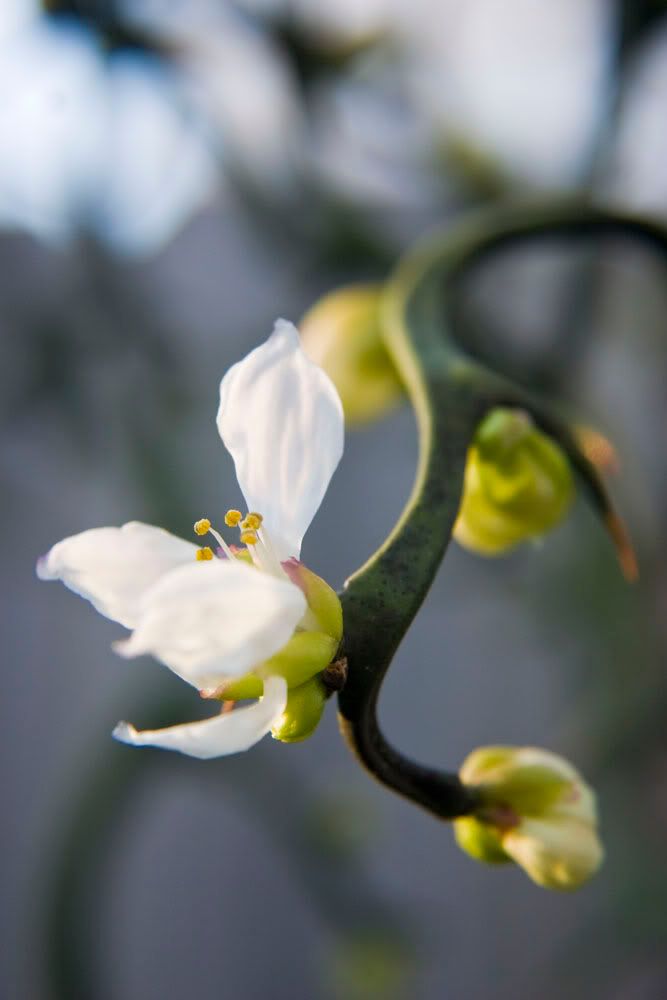 anemone coronaria:

strawberries!: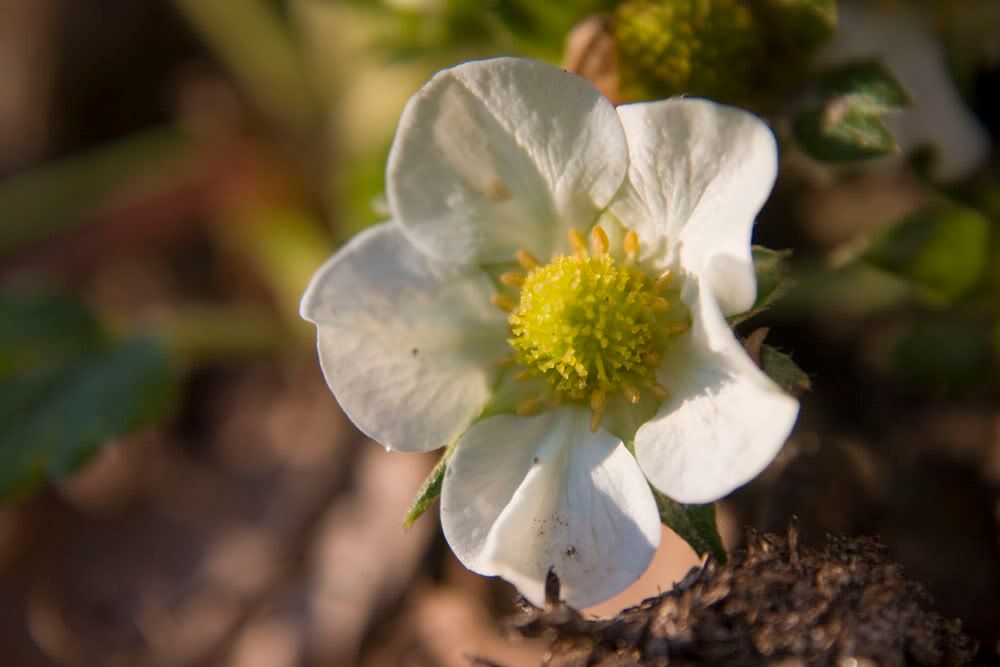 columbine a. canadenssi, first bloom, a few days before (month ago):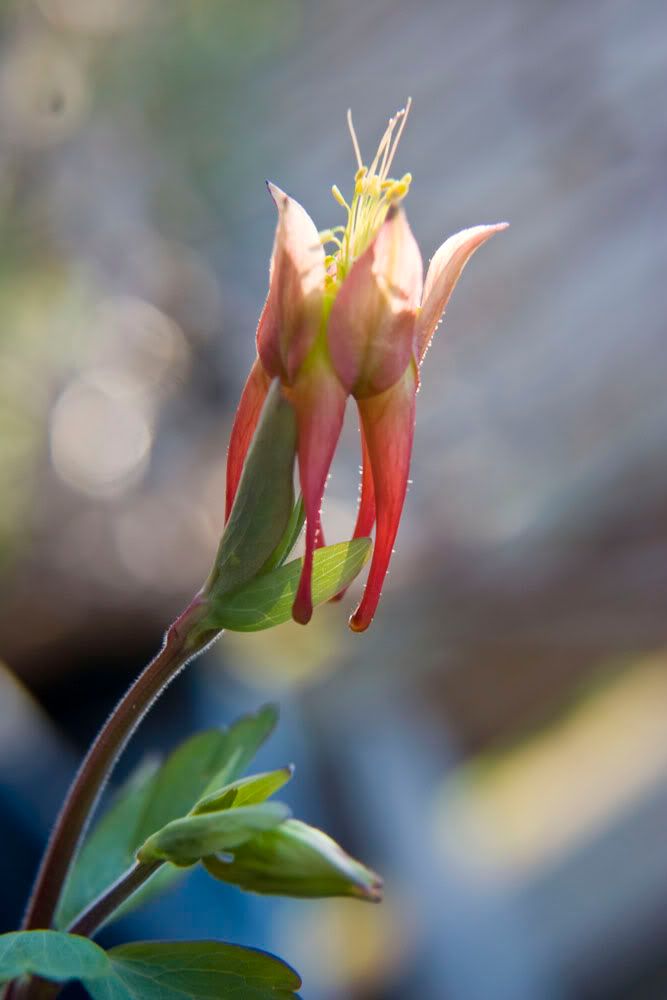 and after: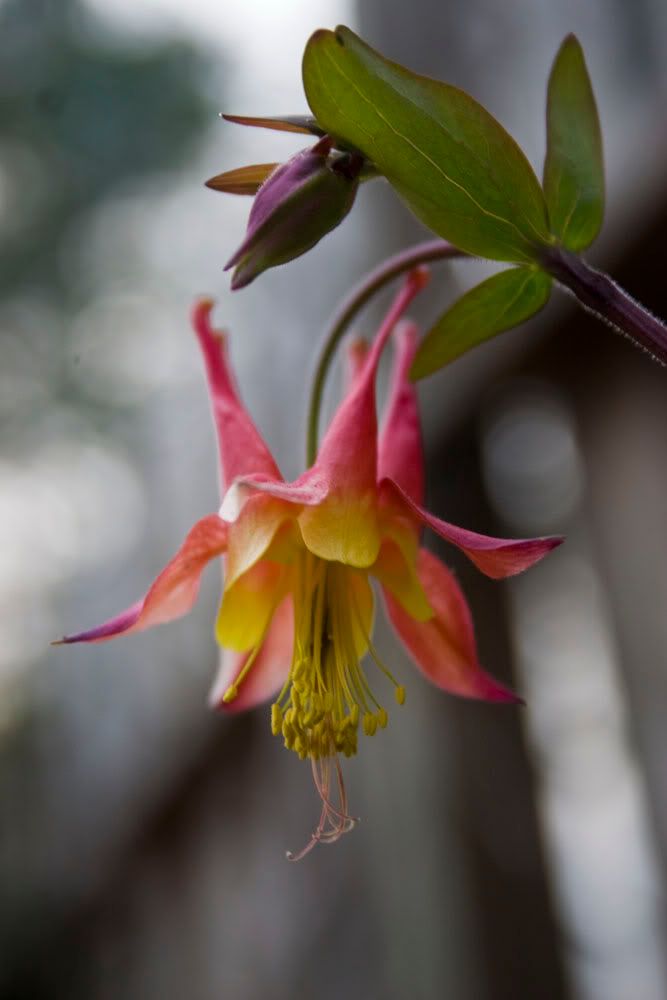 cerinthe, closeup:

and whole bunch:

crocus: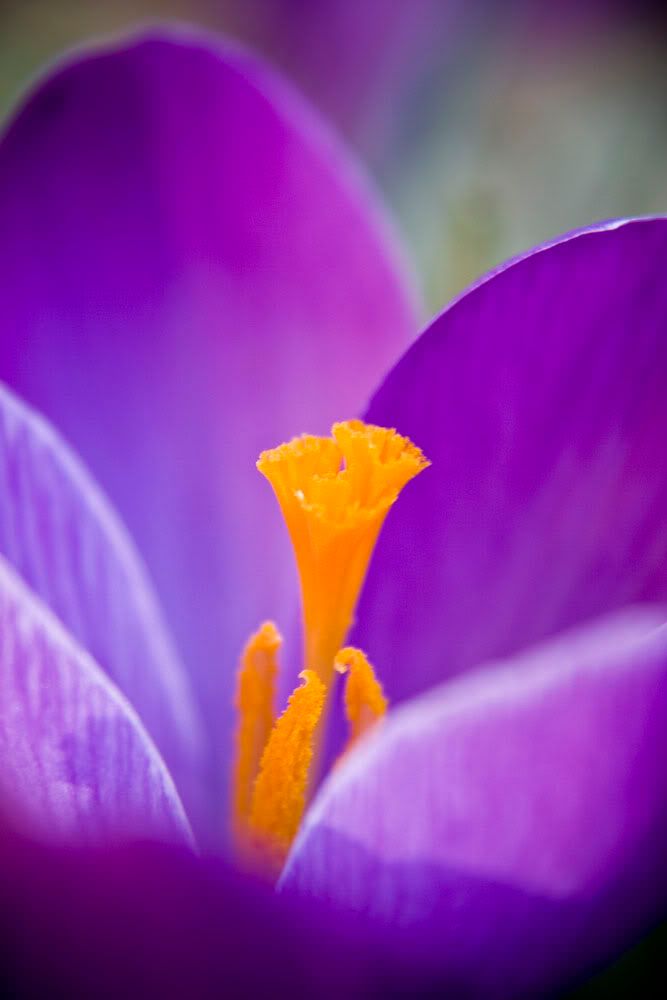 ---
| | | |
| --- | --- | --- |
| RE: spring pix, part 2: | | |
I'm not done yet:
hellebores! seedling, first time blooming: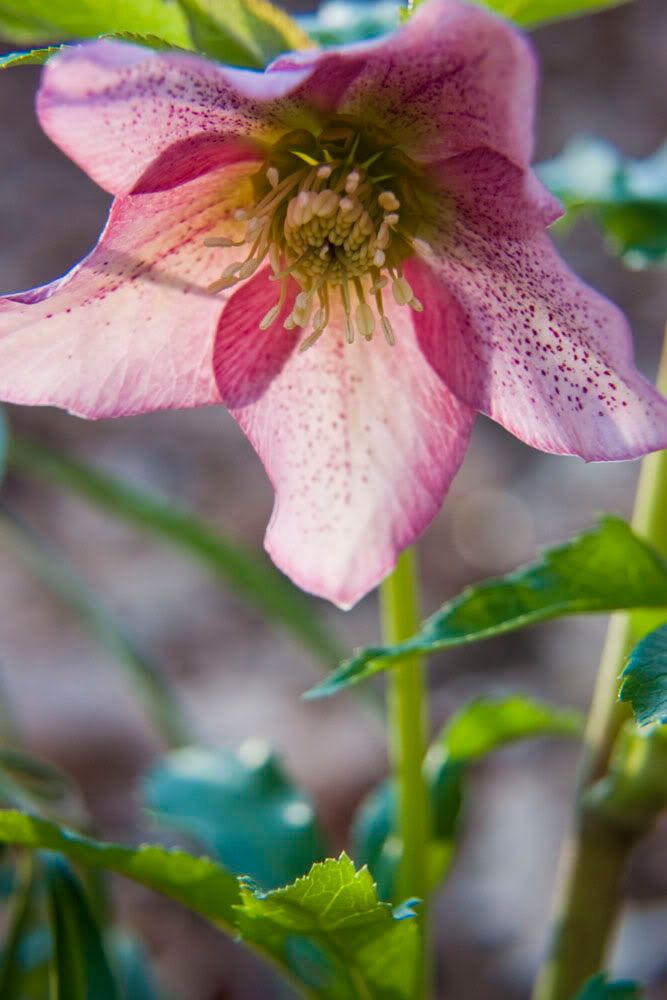 another first bloom of a seedling: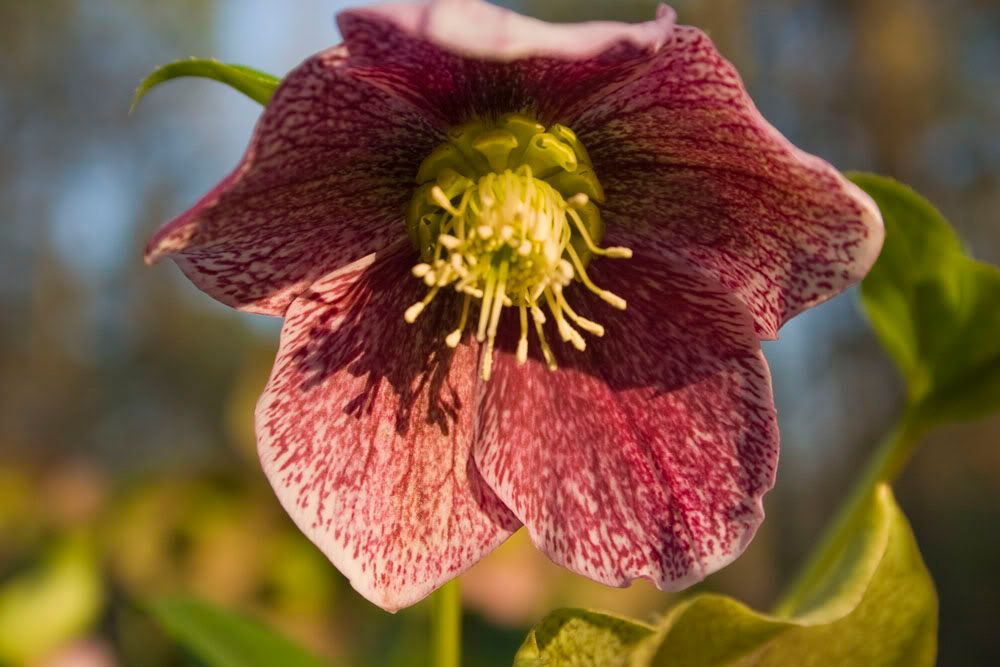 and another: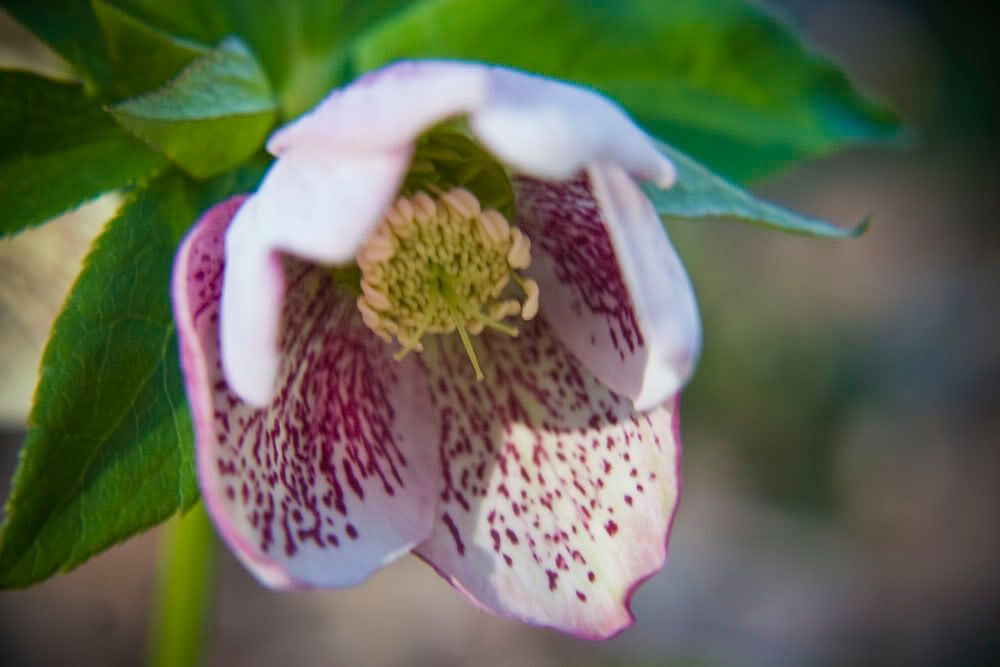 bleeding hearts: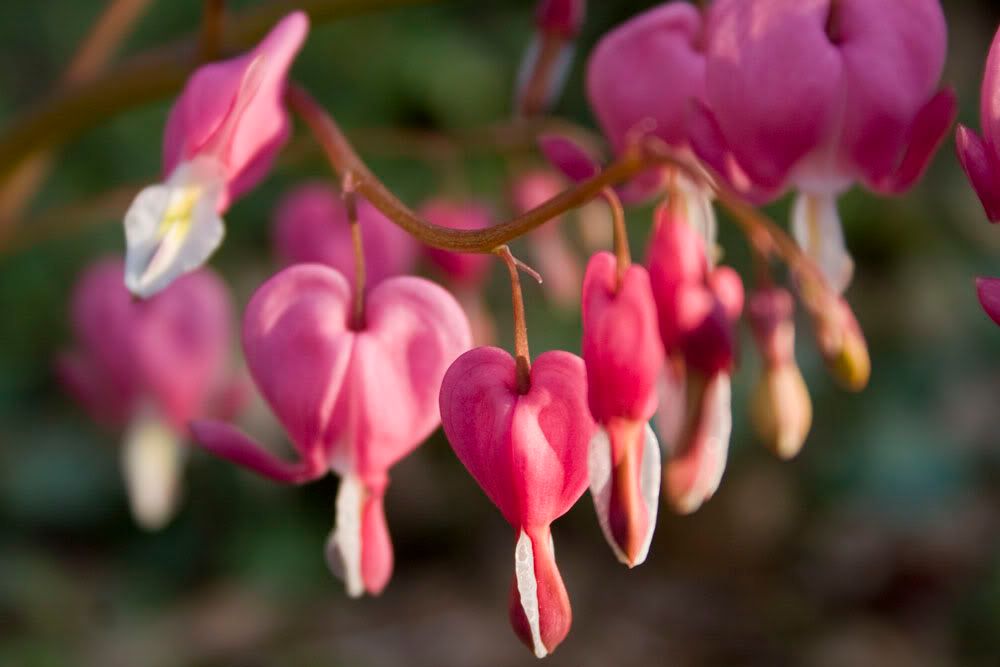 snowflakes:

love this pansy:

phlox:

a species tulip (will have to look up which one):

another angle: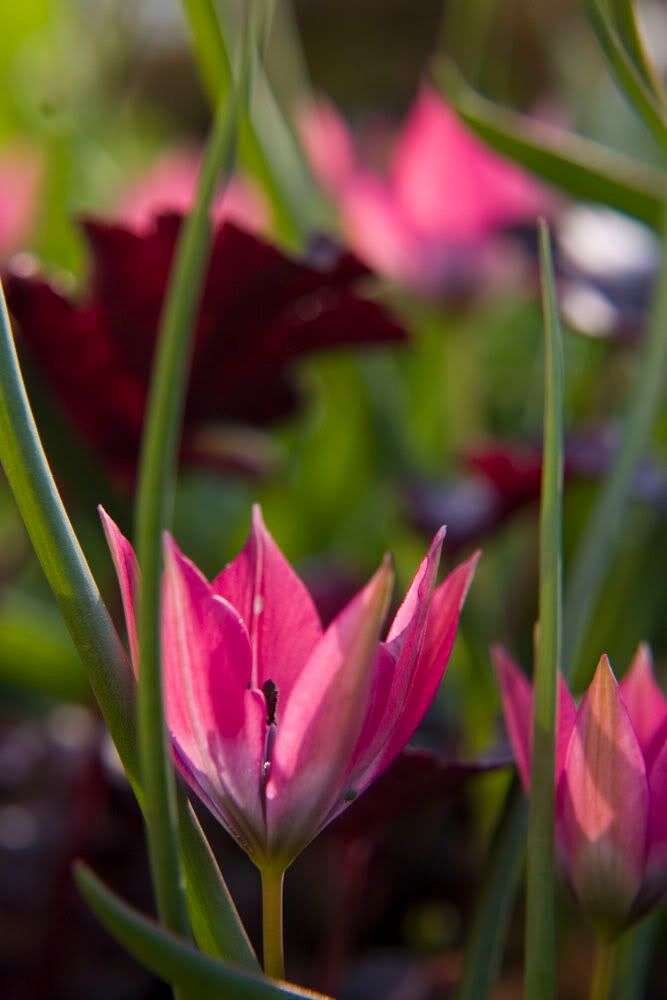 and tulipa clusiana v chrysantha

last but not least, a striped form of lithodora: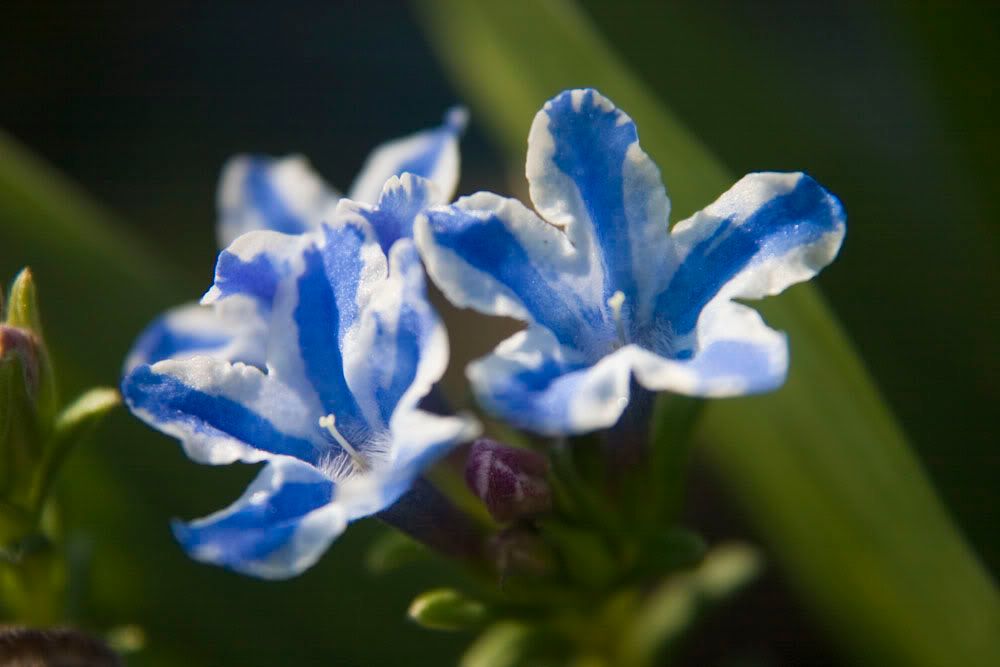 ---
| | | |
| --- | --- | --- |
| RE: spring pix, part 2: | | |
Wow Tammy that is a lot of pictures. Thanks for posting all of those! I need to get me some of those species tulips and sink them in pots or they won't stand a chance. The cerinthe is gorgeous -- I'm not familiar with that. The lithidora is beautiful too. I especially envy you that white daff -- it's such a very pure white.

Karen it's too bad voles got into those tulips. What a beautiful display that was. I really like those last 2 Euphorbia as well -- such a vivid green.
---
| | | |
| --- | --- | --- |
| RE: spring pix, part 2: | | |
Cerinthe is easy as a winter annual- though it didn't like some of the lowest lows, so i'd say it does best with just a bit of protection. I grew a few last year and they reseeded great. I love lithodora, but it's hard to keep going. It seems to do better in pots- it wants good drainage.

Maybe i'll jinx myself, but so far the voles haven't bothered my species tulips. They do get into the bed i have them in, so maybe i've just been very lucky.

Karen, i liked your euphorb shots, too. I need to get more kinds- so far i only have 1 or 2 going. They sure light up spring with those blooms!
---
| | | |
| --- | --- | --- |
| RE: spring pix, part 2: | | |
Pansy covered with pollen grains: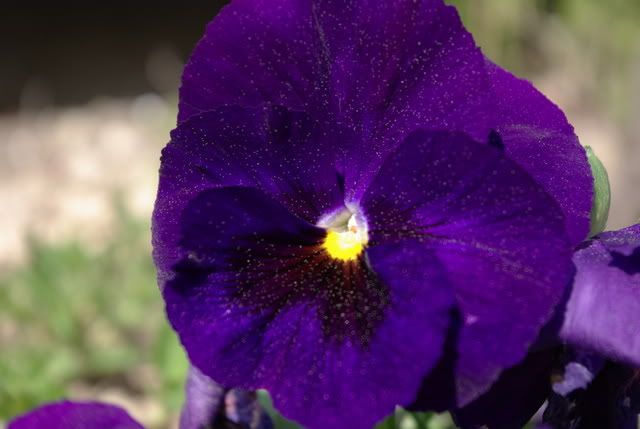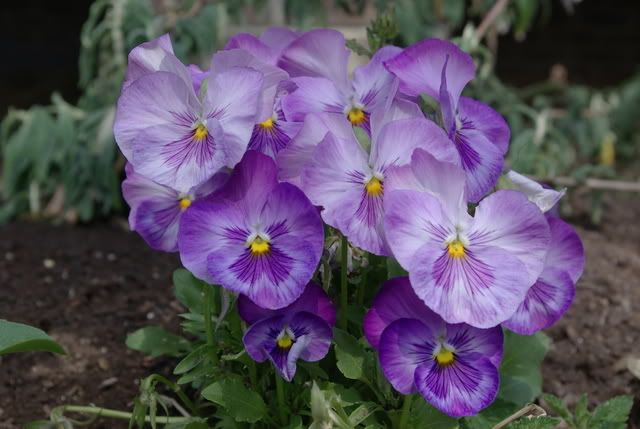 This year's Aronia blooms with last year's berries still hanging on: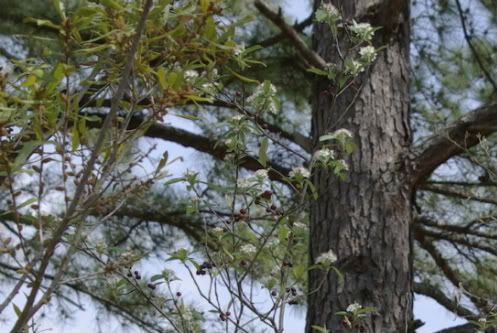 Viola palmata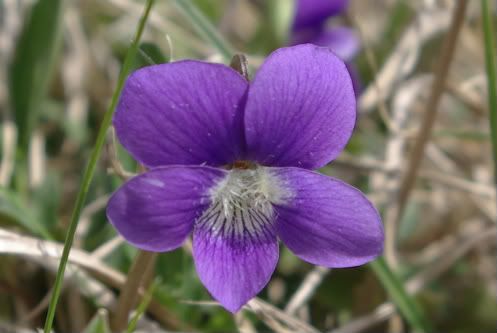 Serviceberry. I need to get a pic from a different angle; the flowers will show up better against the green backdrop of pasture. I will need a ladder to get up above getting native bamboo in the picture, lol.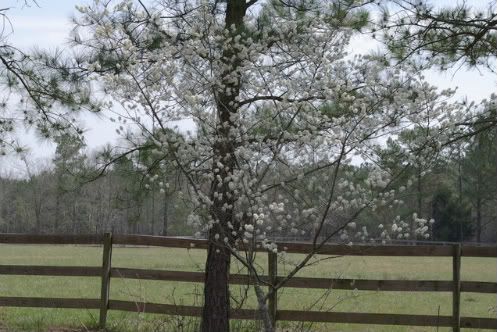 ---
| | | |
| --- | --- | --- |
| RE: spring pix, part 2: | | |
Tammy, I have major cerinthe-envy! I tried them years ago and they never looked like much. I figured it was our weather but apparently it was just me. I'll have to try again. I had Lithodora for years and then it just up and disappeared. I just bought a couple more to replant this spring. It was one of those things you sometimes succeed with before you know enough to kill it because it's 'hard'.
---
| | | |
| --- | --- | --- |
| RE: spring pix, part 2: | | |
Rosebush, here's the picture of your iris:
Purple iris

Crimson King, which just opened today and hasn't quite finished unfurling its falls. I took this photo today at 5pm. This iris has a sweet grape scent.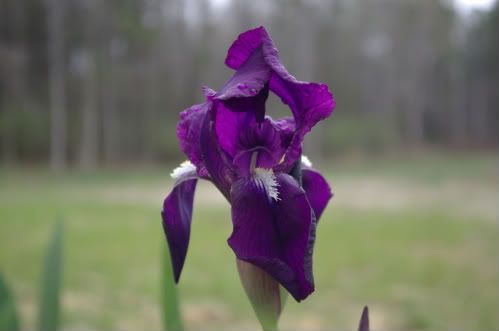 Closeup of falls and beard: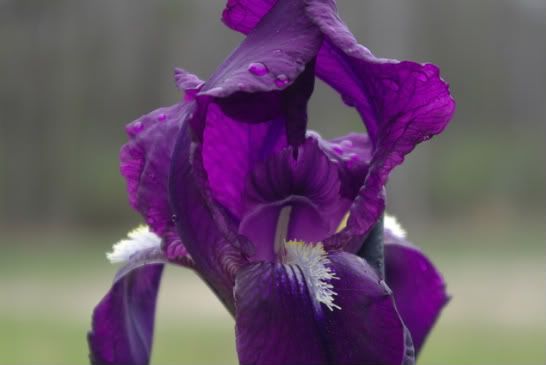 ---
| | | |
| --- | --- | --- |
| RE: spring pix, part 2: | | |
Gorgeous! Thanks for sharing.
---
| | | |
| --- | --- | --- |
| RE: spring pix, part 2: | | |
tamelask,
First of all...your photos are fabulous. Thanks for giving us an up close and personal view of each of these beauties. Many times we don't take time to appreciate the details when we're weeding. :)
Lithodora is also a favorite for me. It's in its third year in my garden, but I garden in mostly sand.

Applause, applause!
Pam
---
| | | |
| --- | --- | --- |
| RE: spring pix, part 2: | | |
Tammy, I'm so jealous of your flying dragon blooms. I have a two year old one in a pot that has not bloomed yet. How old is yours? Adele
---
| | | |
| --- | --- | --- |
| RE: spring pix, part 2: | | |
Thanks, y'all! Pam, I find i'm playing with the camera when i *should* be weeding- LOL.

Adele, the flying dragon was about 4-5' when i bought it, severely root bound with a lot of dead branches (so i got a good price). I wasn't sure it was going to make it that first year, but it did and it's bloomed ever since. It's fuller now and a foot or 2 higher. We've had it about 5 years. It has a distressing habit of sending out a couple full height unbranched stems that look awfully octopus-like til the following year when it (finally)branches out nicely. We get more fruit each year. It's got a bunch of blooms on it right now. As to how old, i really don't know since it was so big when i bought it.

Karen, i tried cerinthe a few times before i lucked out. Apparently the secret around here is wintersowing it outside- it does fine with the cold. They don't like transplanting. A little bit did burn in our coldest night(s), but I'd say anything over 18-20 degrees is ok for it. Even the stuff that burned came back from lower on the stems. Those seeds started on their own last fall, around oct/nov from copious seed set last spring from just a couple plants.

I'll bet lithodora does awesome in sand! I was tickled when i found that striped version at a big box. It's still in the original pot and doing fine. I need to see if it's easy to root. hmmm.
---
| | | |
| --- | --- | --- |
| RE: spring pix, part 2: | | |
Wow! Tamelask, I am astounded. Gorgeous, every one! But HOW did you get so far ahead of us down south here?

About the lithodora. I just bought this and am dithering about where to plant. I have sand...oh yeah. But wonder about sun exposure. Can you give me a hint?
---
| | | |
| --- | --- | --- |
| RE: spring pix, part 2: | | |
That lithidora shot is mouthwatering. Tammy, where did you get yours?
---
| | | |
| --- | --- | --- |
| RE: spring pix, part 2: | | |
Believe it or not, a big box had that striped version. I found it sometime last summer in the midst of the drought and knew i shouldn't, but couldn't resist. It did really well with limited water- thriving really. It does have some bare stems up til the last few inches now, where it's blooming. Same on the one in the tub. I'm sort of afraid to whack it back for fear of killing it. Thinking I'll whack back some branches and try and root the ends, and see what those do, while leaving enough of the other leggy growth in case it doesn't like haircuts. Where it is now gets a good bit of sun, but not all day I's guess about 5-6 hours midday). What's your experience, Pam?

I take probably 5-8 photos for every one i've posted here, so I'm only showing you guys the best stuff. :) I will often shoot and reshoot something til i get it close to the way i want.

I don't know how i'm ahead of you in SC, and z 8, esp given that we tend to be 1/2 a week to a week behind on everything compared to others in this area/zone. Our yard must stay just a tetch cooler or something. We are right on the border of z 7b/8a. This year most everything was very early- astoundingly so. Weird anomalies, though- like one rose that typically blooms first looks like it'll be 3rd or 4th this year. Go figure.
---
| | | |
| --- | --- | --- |
| RE: spring pix, part 2: | | |
I would love to see a wide shot of your garden. How much space are you working with for your perennials and annuals?
---
| | | |
| --- | --- | --- |
| RE: spring pix, part 2: | | |
Hmm- it's hard to quantify. I have a number of beds- but the whole area isn't taken up by plants. And it's not a regular square shape which makes it harder to figure. The very front is about 100' wide, and that's our widest point. I'd say the front yard is about 100-130' deep, and that's where the bulk of the photos were shot. Our lot is actually a very deep skinny traingular shape- the back is only 30' wide, but the whole lot is probably 500 or 600 feet deep at least. Hard to describe. It's .66 of an acre. When the weather brightens, I'll try and get some bigger shots of full beds. I'm not nearly as good at getting good shots that way- and a kind of messy gardener, so we always have junk here & there & stuff like driveways and cars in the way, too. Embarrassing. LOL. I have older pix, but enough's changed that i should shoot again.

I mix annuals and perennials, and even a lot of edible landscaping in with my veggie gardens- so it's not segregated much at all. I don't think i have a single squared off bed. :). (ok, some of the metal beds are 'squarish'). I think in curves and rounded beds, not lines and rows. I'll try to look and see what i have later that will help show- i plan some in/on the comp in illustrator, so i may be able to post that as a pdf.

Right now, the back yard's not much developed, but we hope to get going on that soon. There's more room back there but much less light. And it's downhill, which means a lot more energy is needed to garden there!
---
| | | |
| --- | --- | --- |
| RE: spring pix, part 2.2: | | |
ok- you wanted some pix- here you go. I really don't shoot the gardens as a whole often, so these are really outdated. Will try & shoot some new soon. in the meantime:
a general schematic of front yard: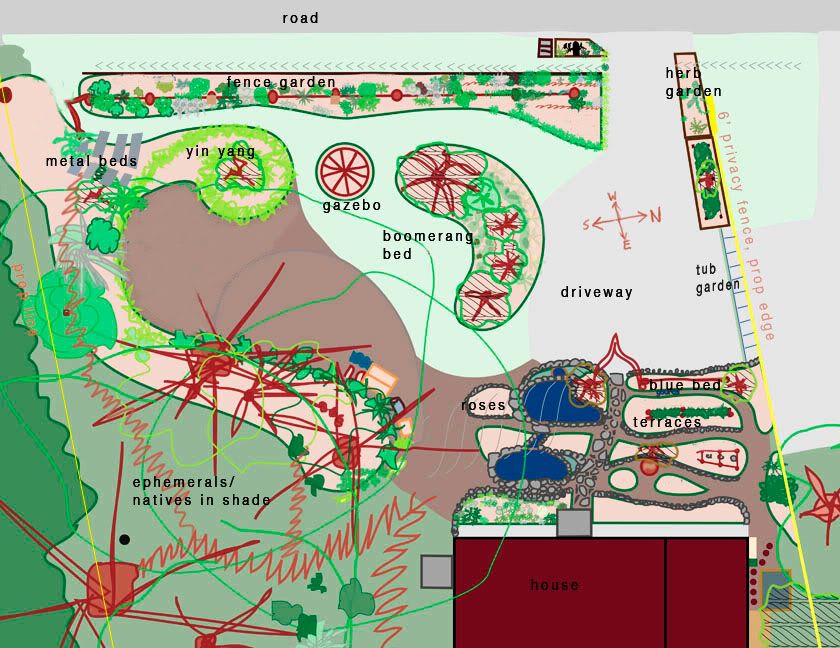 old combo of trellises from 1998 (note toddlers that are now pre/teens!):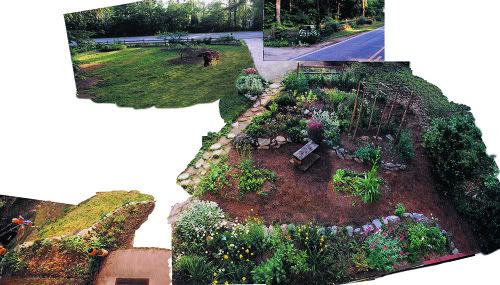 same combo from '04:

sideways combo from '04, shot from kid's playhouse: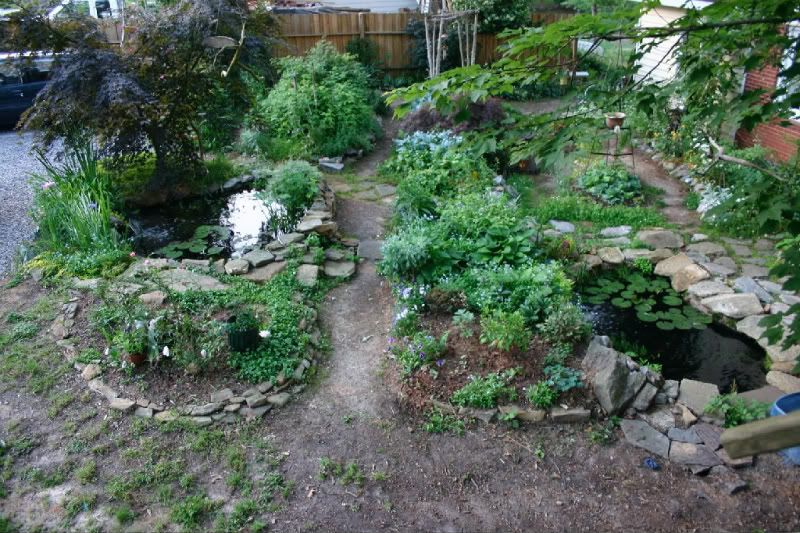 bed along house '04: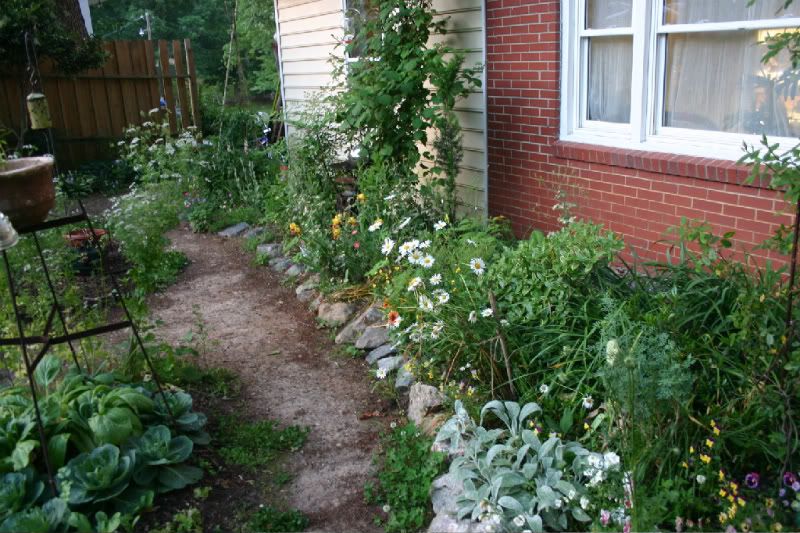 terraces from driveway looking towards house thru arch:


aforementioned archway: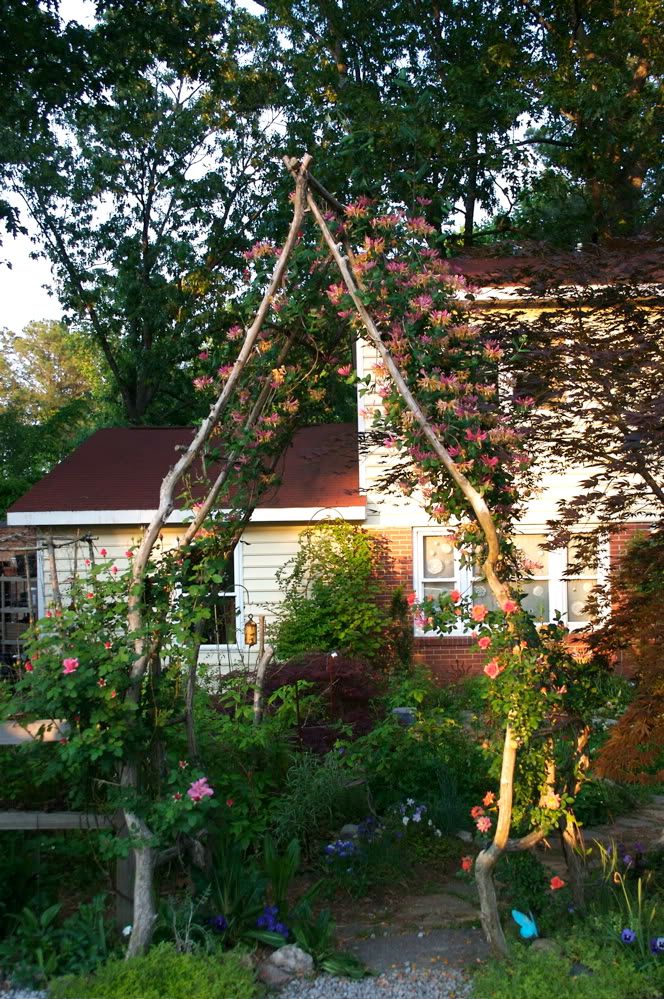 and detail of hydrangea near ponds:

fence beds and yard proper up next!
---
| | | |
| --- | --- | --- |
| RE: spring pix, part 2.3: | | |
the boomerang bed and rose arch as seen from the 2nd story: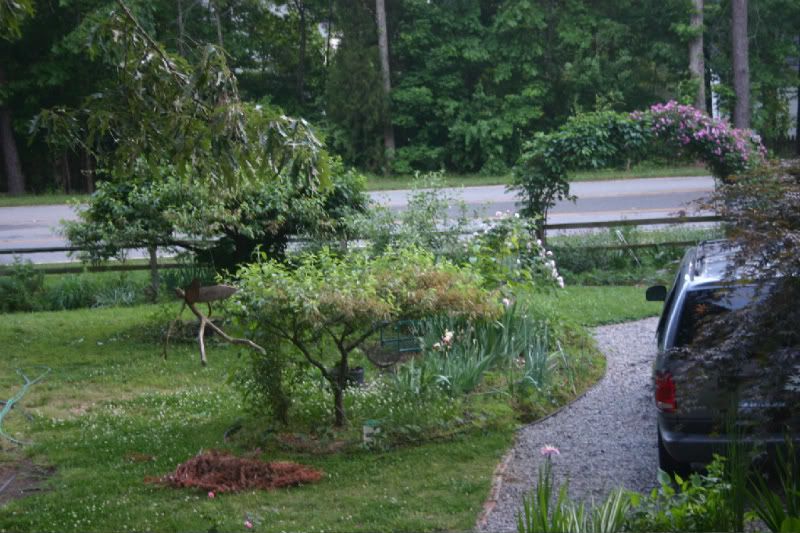 and here's the Boomerang bed as seen from the rd:

roses to left of gothic arch- dehlia's purple, baysey's purple and dortmund (end of tub row):

veilchenblau and fence bed (spring):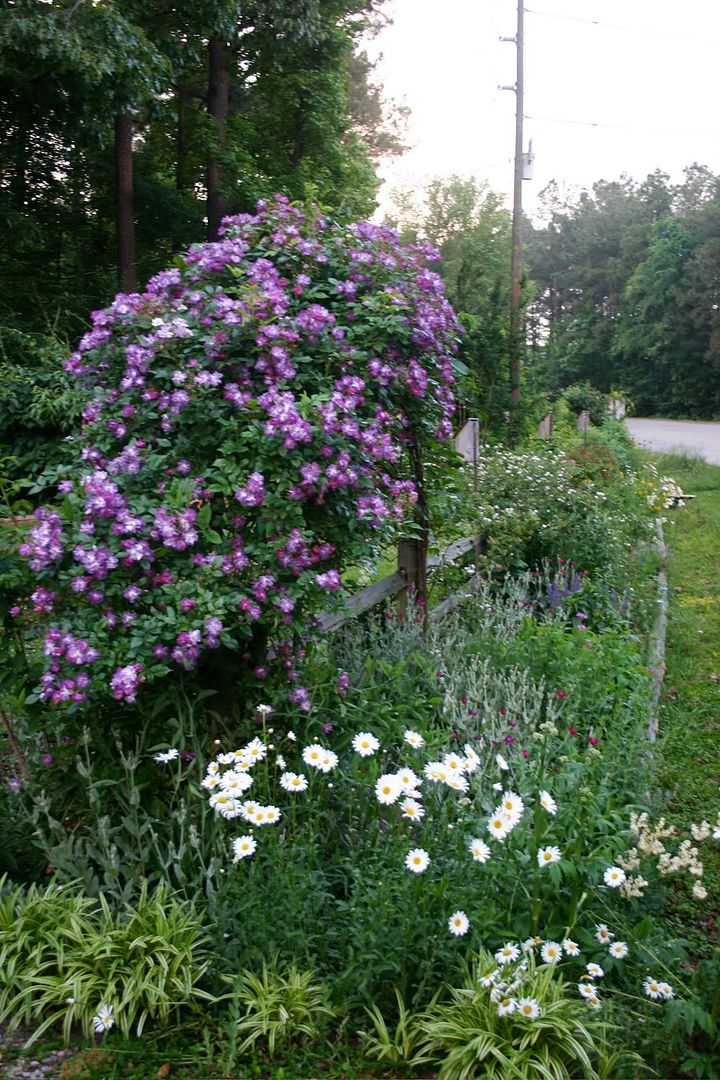 detail of spring flowers in fence bed: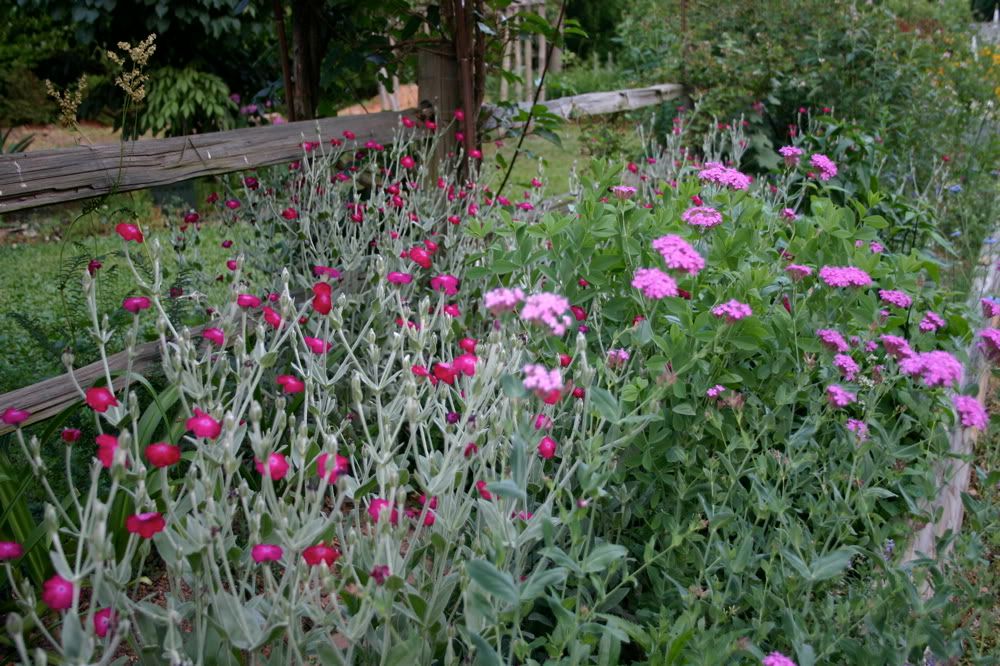 Pete & metal man: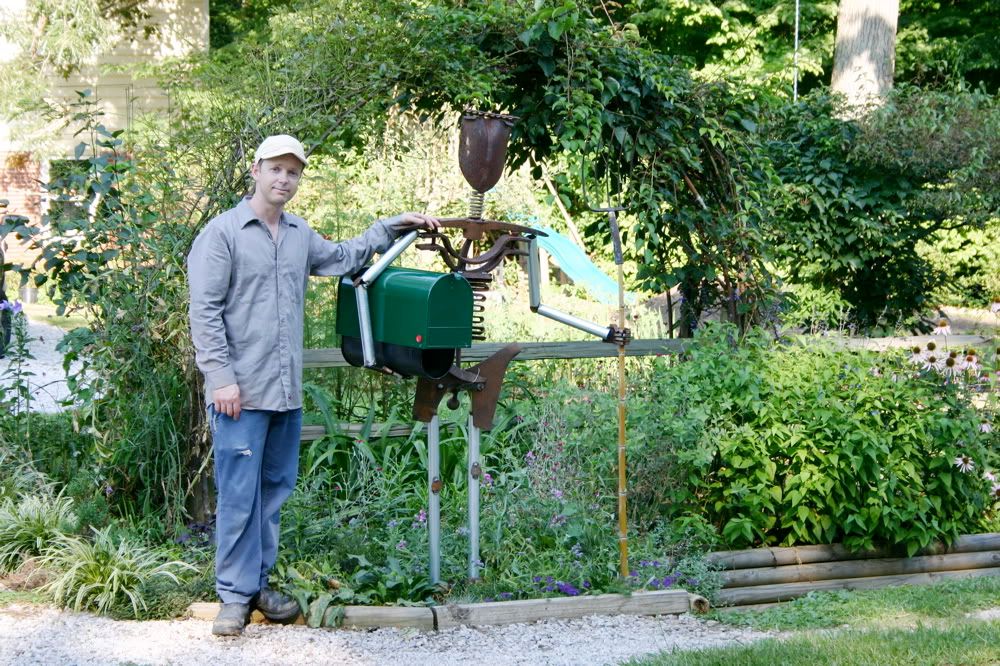 metal man & fall fence bed: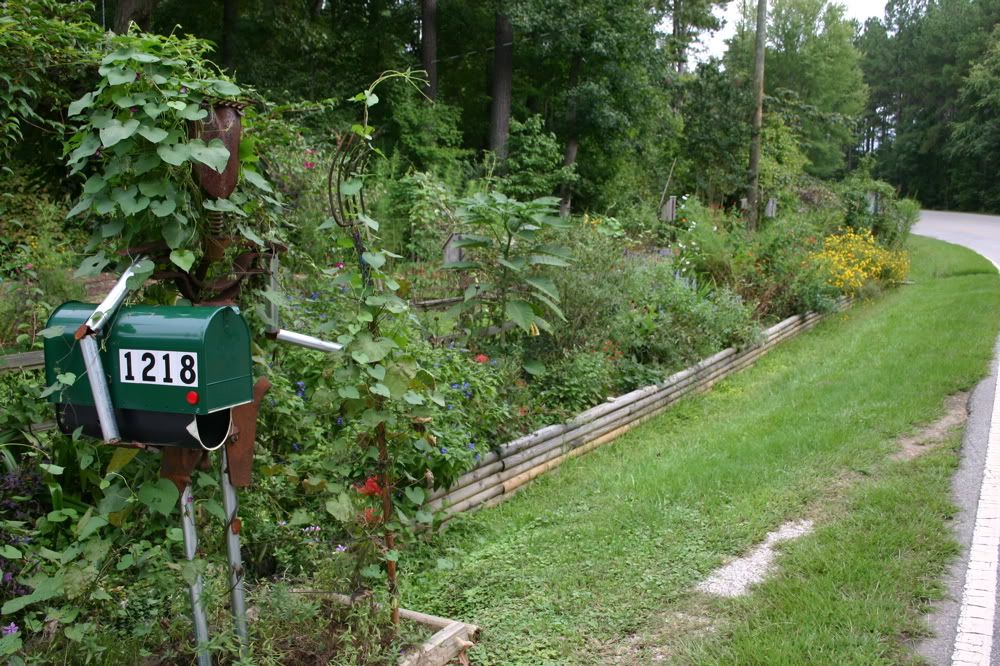 fence bed other end, spring: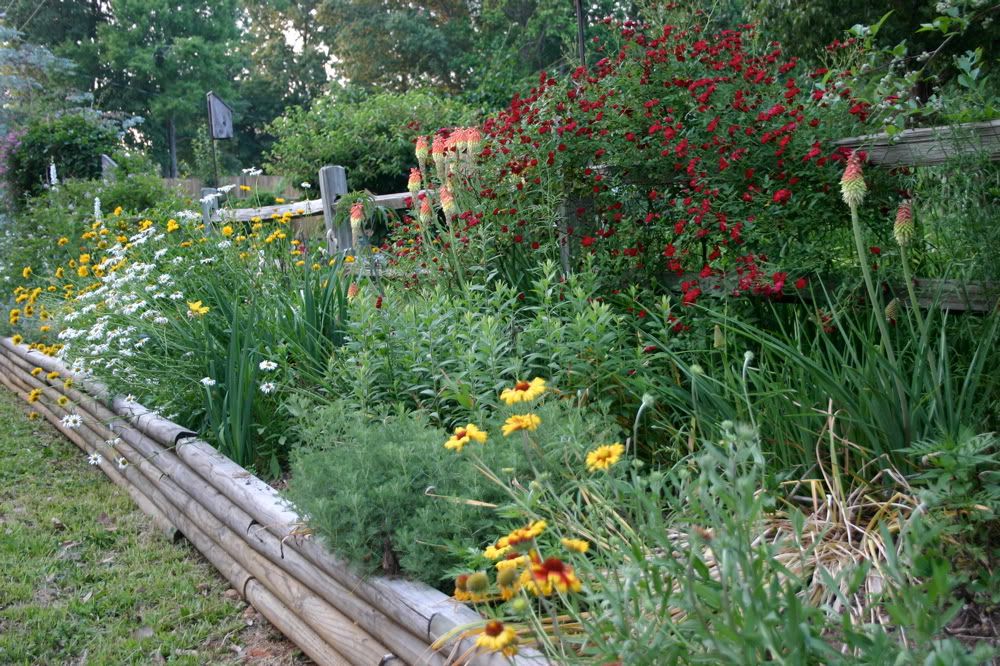 same view late summer:

and fall: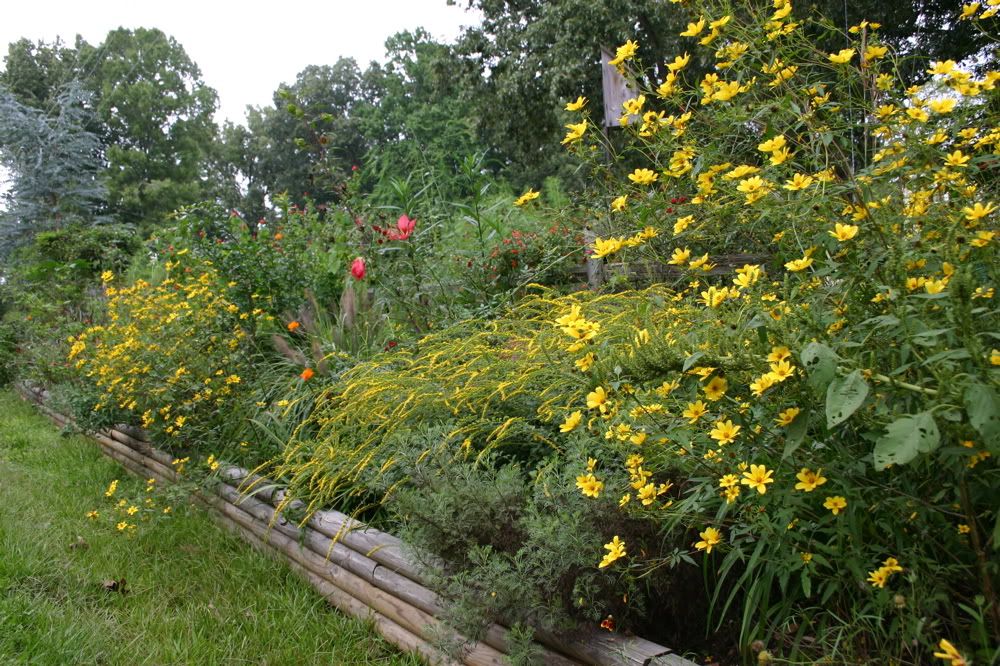 What I don't have are any good shots of tub orchard row along the driveway, the yin yang bed, which is daylilies and spiderlilies mostly, the middle of the fence bed, which is primarily blues and purples, and the metal beds, which also have a small orchard and areas to grow veggies. They don't look like much now, but i may shoot them anyhow. A lot of the detail shots came from tub row (it's my best sun, followed by the fence bed). Maybe I'll be on the ball this year and try an experiment which is to shoot certain beds each week so i can track the progression and any gaps.
---
| | | |
| --- | --- | --- |
| RE: spring pix, part 2: | | |
More pictures, yay! Tammy the goldflame honeysuckle is magnificent as is the Veichenbleu. What is the pink rose in the boomerang bed, and the hydrangea by the pond? Dehlia's Purple is gorgeous. I love the mailbox sculpture. It is very whimsical.
---
| | | |
| --- | --- | --- |
| RE: spring pix, part 2: | | |
Tammy, your roses are spectacular and I love that arbor the honeysuckle is on. What kind of tree is the wood from, and how deep did you have to set them in the ground?

Here's another from my garden, and why I sometimes despair
of ever having roses like those. (I think Brenda sends these guys over from her yard.)

Some more hellebores:
H. multifidus

H. atrorubens

H. x ballardiae

---
| | | |
| --- | --- | --- |
| RE: spring pix, part 2: | | |
Karen, I can relate. Currently we have a gang of 6 roaming around everywhere. The odd thing is, now the house is more out in the open they seem more fearless than ever.

I love the 3rd and 4th hellebore (are they really that pink?), and that double white white. Are some of these seedlings or are they all cultivars?
---
| | | |
| --- | --- | --- |
| RE: spring pix, part 2: | | |
Wowowowowow! Tammy, your gardens must cause traffic problems!! Just stunning! I am so inspired! Thank you!
---
| | | |
| --- | --- | --- |
| RE: spring pix, part 2: | | |
Newly opened fig leaf: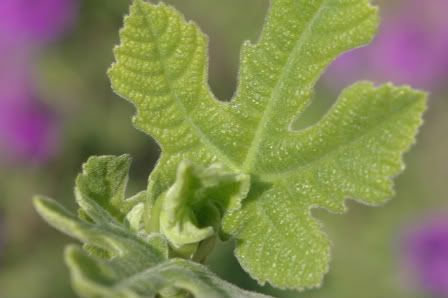 Raindrops on Crimson King: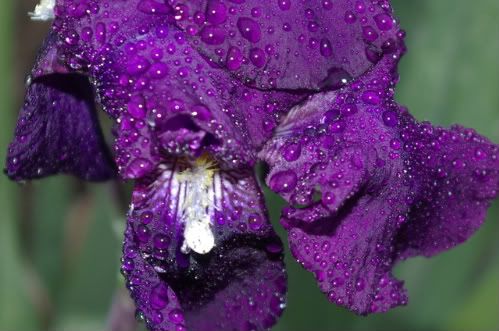 Reine des Violettes: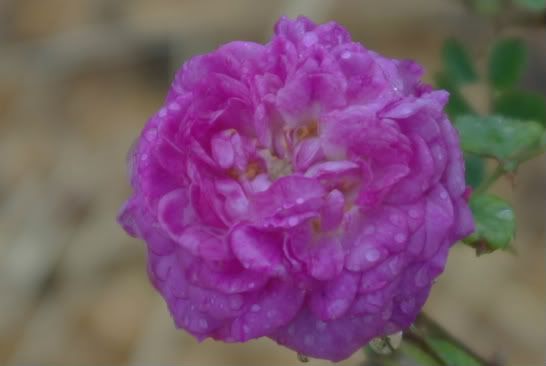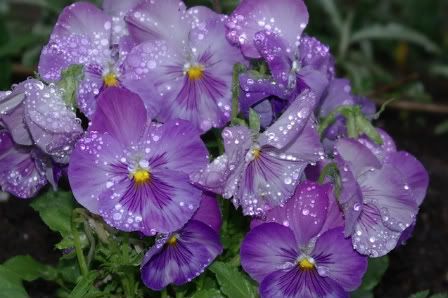 Azalea Autumn Amethyst. I've never gotten this much of a spring display from these before. This is usually what the fall display looks like.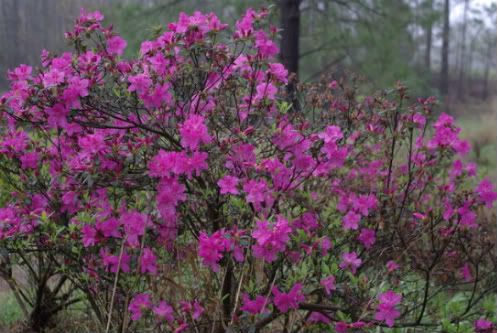 Aronia: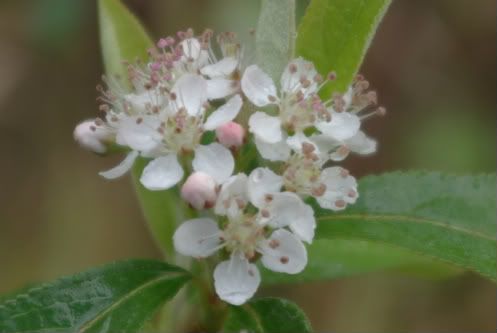 New foliage of Carolina Bush Pea: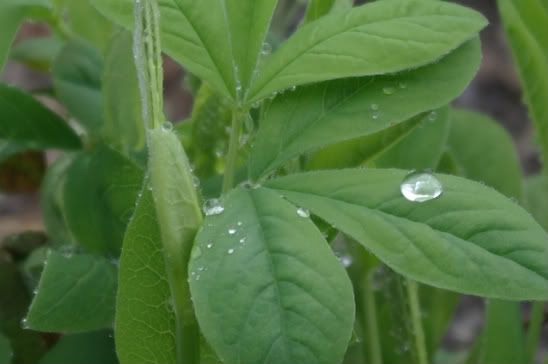 ---
| | | |
| --- | --- | --- |
| RE: spring pix, part 2:b | | |
| | | |
| --- | --- | --- |
| RE: spring pix, part 2: | | |
Thanks, guys!

Alicia, the pink rose is Fantin Latour. She's wonderfully fragrant and only blooms the once in spring. That's the one, along with dehlia's, i always collect for fragrant dried rose petals. mmmm . It does get blackspot, but it doesn't seem to bother it much at all. Will dig around & see if i can find any closeups of the blooms. I have some trimmings i've kept in water, if you want to try them at the swap. No idea if they'll take or not that far away from when they were cut. It should be blooming for the swap, so i may be able to bring some blooms. In fact, I'd guess most of the roses will be. Nice to see the little subtleties of spring in your shots.

Karen, that trellis was made from a huge healthy cedar tree our psycho neighbors cut down a week after they moved in, in '01. Those were side branches that we split so they'd be evenly matched. It's crooked as all get out from every angle, but i still love it. The birds and squirrels have stripped most of the bark now, but it's cool anyhow- you get to see the wormy bug squiggles that way. We still have the main trunk- not sure what we'll do with it. The other trellises (coral honeysuckle & veilchenblau) were originally made of raw cedar like that one, but as they began to break down with age we put a copper trellises up underneath. We just mimicked the shapes and pushed & shoved til we got them up under the old ones, and it's worked out really well. They are all partially attached to the fence for stability. The copper doesn't sag like the cedar did as it got aged. Since we didn't detach all the vines, they just kept going. I imagine once this one gets to a certain point, we'll do the same for it. Your hellebore pix are lovely. The foliage on that pink pink one is neat.

Amy, believe it or not, i think most people are going too fast to really notice. We live on a sharp bend of a pretty major rd, and we initially put the fence up there to make a visual barrier for cars that fly around going 50-60+mph (in a 45 zone). A car wrecked badly in the easement right beside us shortly before we bought our place-needed lifeflight-, and one wrecked into our yard on the far end right after we bought. We were worried about letting the kids play out front til we did that, in '97. Noone's hit it since we erected it, but we did have a lady plow into metal man and demolish him because she was busy fishing for something on her floorbd about a year after he Pete installed him. She was shaken but ok. Fortunately, he was able to 'phoenix' him from the pieces. Her insurance paid us some for him (they didn't know Pete was the artist, which was irrelevant, frankly). Once in a blue moon folks will slow down or chat if we're out there, but it's rare. John was one of those rarities- that's how we met! He wanted to shoot metal man for a book he was working on. :)
---
| | | |
| --- | --- | --- |
| RE: spring pix, part 2: | | |
Thanks Tammy! I really love the way you do your garden. If it were up to me I would take out most of my lawn and do the same thing. Definitely an inspiration!
---
| | | |
| --- | --- | --- |
| RE: spring pix, part 2: | | |
Tammy, yes, I'd definitely like to try some of those cuttings of Fantin Latour.
---
| | | |
| --- | --- | --- |
| RE: spring pix, part 2: | | |
The last group of hellebores are all one of a kind, seedlings of species or hybrids. I try to pick my H. x hybridus out while in bloom these days, usually at Pine Knot at their hellebore festival. The very pink (3rd hell photo) is one that I bought there for the frilly foliage. It wasn't even showing color in bud when I bought it. The saturated pink color in the flowers was a bonus. The 4th isn't pink but apricot, with dark eye. I'm very curious to see what the seedlings will look like.

At the risk of making this thread too photo intense, I've been inspired by Tammy's photography. Still messing with camera settings. If nothing else, I seem to have the password to my brothers server for posting pictures memorized.

orange epimedium:

chionodoxa:

more euphorbia seedling photos:

viburnum that the deer haven't eaten, yet:

illicium Haley's Comet:

More daffs:

Garage Gardening, or 'why I need a greenhouse'.
Amorphophallus konjac getting ready to bloom (and stink):

abutilon:

---
| | | |
| --- | --- | --- |
| RE: spring pix, part 2: | | |
Love,love,love these pics! Thanks to all three of you.

Tammy- I really appreciate the photo tour. I missed the impromptu one you gave at the swap a few years back. It was my very first swap I think. I love your front yard garden! I really need to plant something new out front-it's shameful. It's great to see pics of the roses you have spoken about.

Alicia- I'm glad you've posted those pics of the Aronia in bloom. I've been wondering what it was I was seeing in woods as I drive around. I thought it may have been a Viburnum.

Karen- your garage garden is looking good. I've brought almost everything out already because of spider mites-something always has to happen to my plants "in captivity",lol. Do voles like epimediums? I'd love to try some.
---
| | | |
| --- | --- | --- |
| RE: spring pix, part 2: | | |
Now I wish I'd taken pictures of the big perennial bed last May, when the Carolina Bush Pea and white rugosas and foxglove were all blooming. Didn't have the digital camera yet and we had just been back in the house a month so camera buying wasn't a priority. I kept thinking that taking pics wouldn't be worth it since I'd have to scan the pics in and they wouldn't be all that good. Since I scanned the pics of the iris in anyway now I wish I'd done it. I'll have some foxglove again this year from those that reseeded, but not as many. The one bonus of the dry weather was that all of the foxglove stood up straight. Looks as though the wisteria bush and iris will bloom this year though, barring another unlucky freeze.

Karen that epimedium is just lovely and I love the blue of the chionodoxa.
---
| | | |
| --- | --- | --- |
| RE: spring pix, part 2: | | |
Thanks, Shari- glad to oblige. Hopefully, if we ever get back to the tours again, I'll be on a southside tour, so you'll get a chance again. I really want to get back to doing them, because i wanna see some more gardens! :)

I have a bunch of stuff in my basement to bring out. I'll wait just another week or 2.

Karen, that cabin is just amazing. I can't wait to ck out the building process (gotta work right now- i'll save that for afternoon snack). Love godzilla, too. heh heh. Your shots are lovely! I don't like getting wet (i'm a cat at heart) so i rarely get out in the rain or right after to shoot even though it looks great.

Alicia, the fantin cuttings are yours. I may even be able to get some fresh if it's got a few that aren't blooming at the time. It's funny that everyone focuses so much on the roses when i really only have around 10 and don't consider myself a big rose gardener at all. I have a few i really love for color or fragrance that are easy to care for, and i appreciate others when i see them, but they're not even close to my top favorites.
---
| | | |
| --- | --- | --- |
| RE: spring pix, part 2:2 | | |
Roses are one of my all-time favorites. Unfortunately this is also true of deer. At least the deer on my place have all of the Middle Creek bottomland to roam and have left a lot of the roses to bloom so far.

Tammy I think a lot of your roses' allure (besides the rose's intrinsic allure) is that many people just think of hybrid teas, which perform poorly here. So it's astonishing to see a roses with blooms all over, because it's pretty rare in this area. It's sad because there are many roses which do very well here.
---
| | | |
| --- | --- | --- |
| RE: spring pix, part 2: | | |
All the pics are GORGEOUS! I'm drooling at my keyboard. :)
Tammy, if you ever take cuttings of Veilchenblau, I would be MOST interested. I have two heirloom roses that bloom prolifically, Old Blush and Cecille Brunner. I love them and they do very well in my garden.
Alicia, that iris looks so much like mine - your pics are much better though.
Karen, do you hire out your cabin-builder? :) Wonderful!
---
| | | |
| --- | --- | --- |
| RE: spring pix, part 2: | | |
Thanks for the compliments on the cabin. It was all my husband's doing. One of my favorite lines of his is 'I didn't know it would take THAT long.' But now I get my greenhouse. The new shed is almost done, the old shed is down, and my 10 year old son is complaining bitterly about having to stack up all my old black plastic nursery pots to make way for the new greenhouse on that site.

Shari, my garage garden started coming out yesterday. These drizzly days are perfect weather to start acclimating things to the outdoors again. Plus all my family is out of town so I can make as big as mess as I want on the driveway without having to hear about it.

My epimediums have held their own against the voles so far, and they're most certainly planted smack in the middle of vole-town. I'll try to dig some of the pale yellow to bring to the swap for you. It's a spreader and has nice foliage that turns reddish through the winter.
---
| | | |
| --- | --- | --- |
| RE: spring pix, part 2: | | |
Rosebush, do you attend the plant swaps? Because we may be able to make some deals. :)
---
| | | |
| --- | --- | --- |
| RE: spring pix, part 2:b | | |
Brand new leaf of a serviceberry. They are fuzzy and have a beautiful silvery color when new: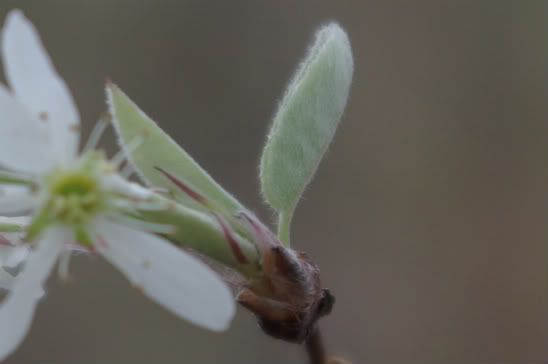 Serviceberry flowers: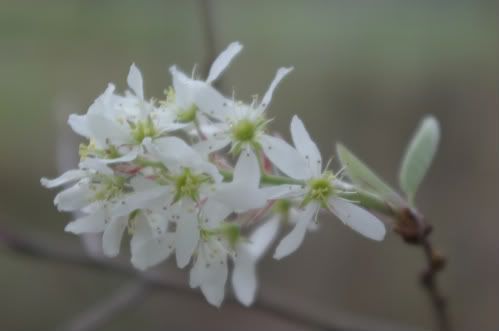 I was delighted to find a small dogwood blooming near the hay shelter. This must have been the first year it was big enough to bloom, since we have not cleared around it. We don't have many of these since much of our land is in the floodplain.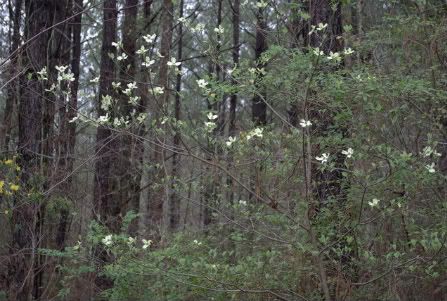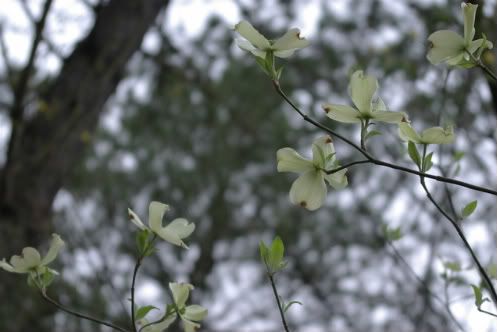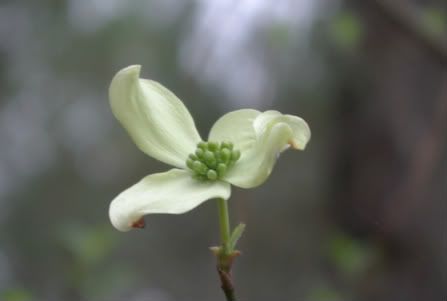 Marsh violet. These come in colors ranging from white to blue to purple, and bloom profusely. They require wet conditions.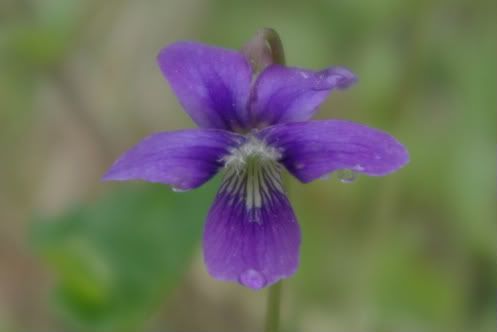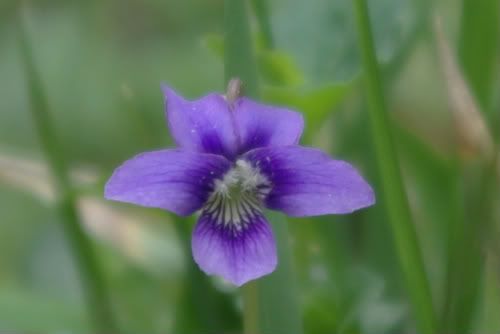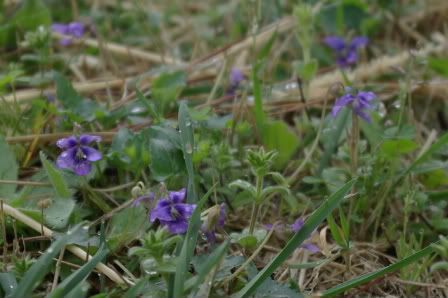 ---
| | | |
| --- | --- | --- |
| RE: spring pix, part 2: | | |
Either Swamp or Carolina Jessamine. Blooming all over in the woods.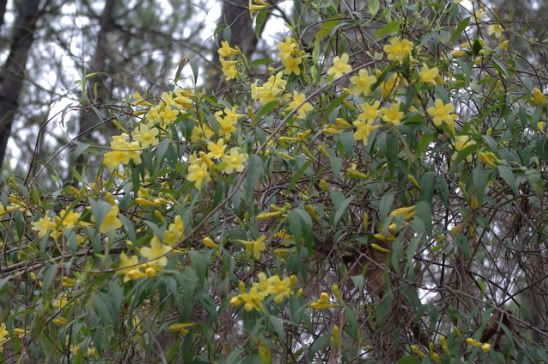 Pinxterflower buds and blooms: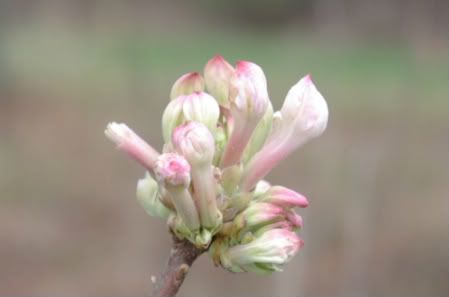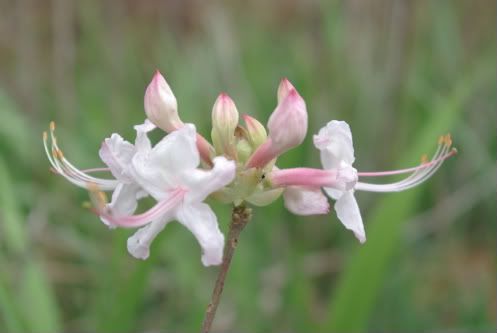 Florida azalea blooms:
These are the Florida azaleas in full bloom a couple of years ago. They've since been moved since we moved our house and were lucky to survive. I'm happy to see any blooms on them this year at all: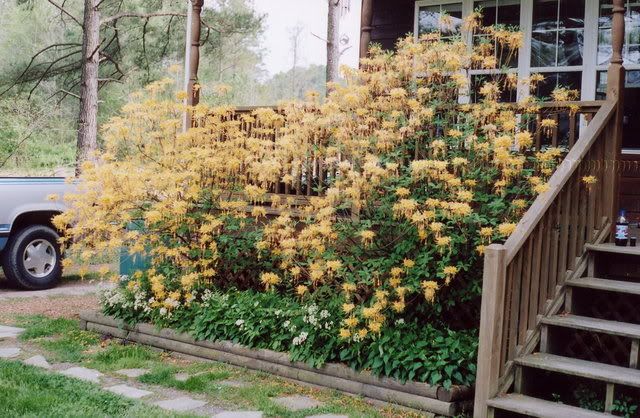 More Aronia. These have never bloomed this much before because they used to have more shade. These are very tough plants.
First Atamasco lily: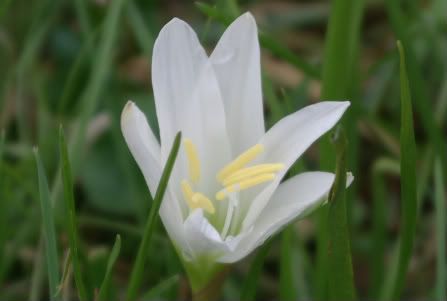 ---
| | | |
| --- | --- | --- |
| RE: spring pix, part 2: | | |
Alicia,
Haven't made it to a swap yet, but do trade with friends in the area and also via mail. Please email me if you have a trade in mind. :)
Your pics are wonderful!
---
| | | |
| --- | --- | --- |
| RE: spring pix, part 2: | | |
Thank you rosebush. Sent you an email!
---
| | | |
| --- | --- | --- |
| RE: spring pix, part 2: | | |
Rosebush- veilchenblau is one of the very easiest i have to root. It's extremely vigorous (up to 20' canes!!), moderately thorny, scentless and only blooms once. But it covers itself when it does and it's a unique color. Plus it is very carefree- the jap beetles do gnaw some, but it bounces right back. Blackspot is never an issue for me. If you come to the swap, i'll be happy to bring some, or you can email me and we can meet up separately somewhere sometime. You'd be welcome to come here when they're all blooming- which should be 2 or 3 weeks at most. If you haven't made it to a swap yet, though- you really need to come!!

Alicia, thanks for the thoughts on the roses. I guess it amazes me because even though they are glorious when they bloom it's fairly brief and it's not as though they're that interesting as foliage plants, though i do love the winter spring color. Most people seem to be so much more into repeat bloom and the more formal shape of the teas. The ones i have really are easy- i have never sprayed for anything- don't really do much but occasionally give them espoma, and prune when needed. Most of them only get about 4.5 hours of sun and have done well (the fence ones get more like 5- 5.5). I wish you could see Betty's spread. I doubt it'll ever be open for another open house because of their health. Knock on wood- so far the deer have left the roses alone since they're up front.
---
| | | |
| --- | --- | --- |
| RE: spring pix, part 2: | | |
Tammy have you tried any tea roses (not hybrid teas)? They can be really good as foliage plants actually because the foliage is very healthy and evergreen. I've had some trouble with my teas due to overfeeding from the horses (fresh fall growth can lead to winter canker). As it turns out, teas may do better with even less maintenance than I had been giving them. I wish I could see Betty's roses too.
---
| | | |
| --- | --- | --- |
| RE: spring pix, part 2: | | |
mmm- not sure. Pretty sure 'aloha' is some sort of tea, but on at least one site i saw it mentioned as a climber. I do know it gets tall for me- like 5-6' unless i trim it down some. It does have nice evergreen foliage, but then again, about 2/3 the roses i have do to some extent. That's probably the closest i have. I've never been too good with the different classifications except for really obvious stuff like climbers, rugosas and hybrid teas, etc. I'm pretty much out of room for roses except maybe minis. I may do some in the back eventually, but that would be down the road a ways. If for some reason she ever opens it up again, I'll be sure to let you know.
---
| | | |
| --- | --- | --- |
| RE: spring pix, part 2: | | |
Tammy Aloha is the result of a cross between New Dawn and a hybrid tea. Teas don't have the traditional rose fragrance, but I love the fragrance of Duchesse de Brabant and Devoniensis, two very famous teas among tea rose growers. The shrub Devoniensis doesn't get all that big either, so if you get an opening and are interested I can try to root a cutting for you.
---
| | | |
| --- | --- | --- |
| RE: spring pix, part 2: | | |
What color is it and how tolerant is it of shade? One of the reasons i liked aloha, was the year i saw it blooming at betty's it was white with a red blush- NOT pepto pink, which as it turns out, is the most of the time color. I didn't realize they change color with weather sometimes. The only reason i've kept it despite my dislike of the color is its incredible fruity fragrance. I do like the form too- it's the most formal of my roses, esp once past the 1/2 open bud stage. I do like that it reblooms on & off most of the summer and is tolerant of shade. Now you say that, the thorns are a lot like new dawn's (ouch!), which is right beside it, and that would explain the taller canes, too. Thanks for educating me!
---
| | | |
| --- | --- | --- |
| RE: spring pix, part 2.2: | | |
ok, Alicia, i researched and it does look and sound nice (thanks for the offer!). I'm a sucker for scent. If yours doesn't get very big it sounds as though it must be the non-climbing version that a couple sites mentioned, since most of the sites mention the climber gets to 12'. So, sure if you want to try that later in the season for the fall swap, go ahead. I'll maybe grow it on in a pot for a year, and then place it in back somewhere, or perhaps i'll find or make a hole up front. It would be helpful if it's one that can take a bit of shade.
---
| | | |
| --- | --- | --- |
| RE: spring pix, part 2: | | |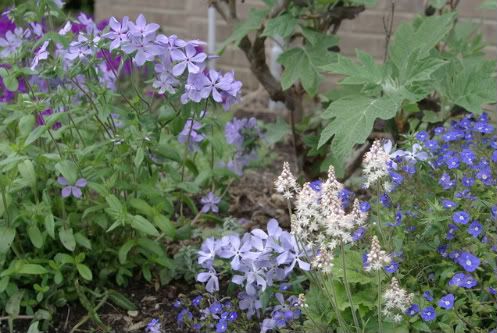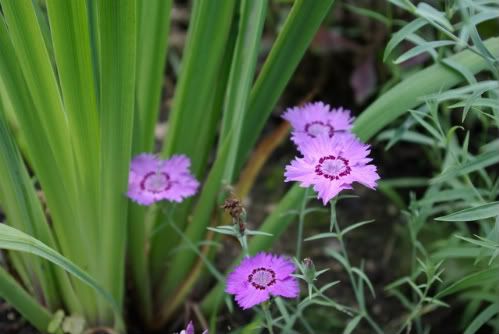 Wild Highbush Blueberry blooms.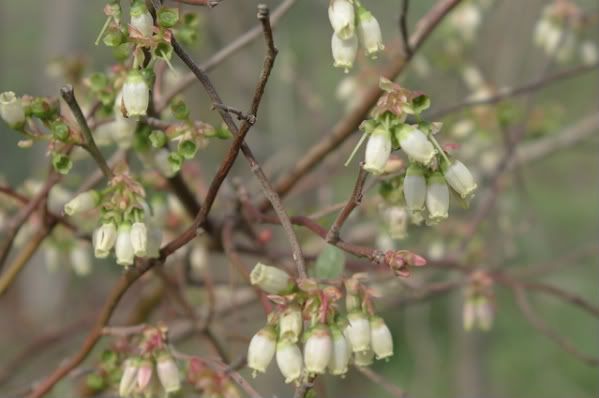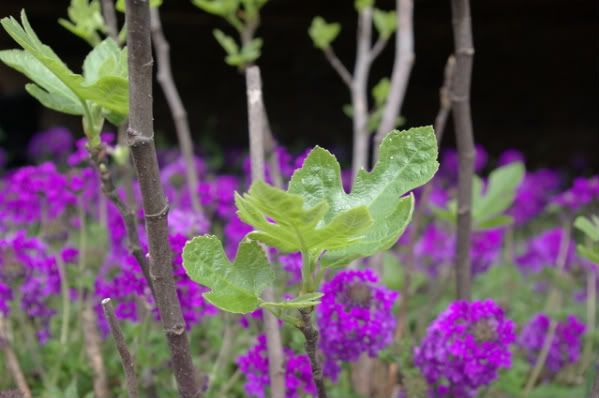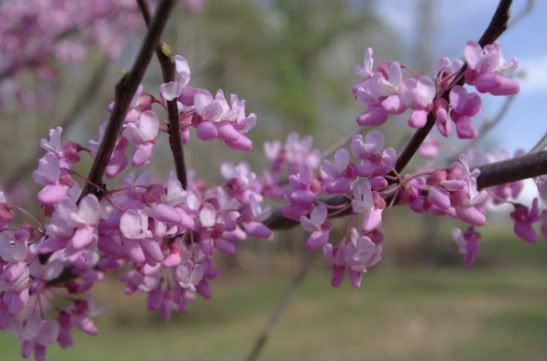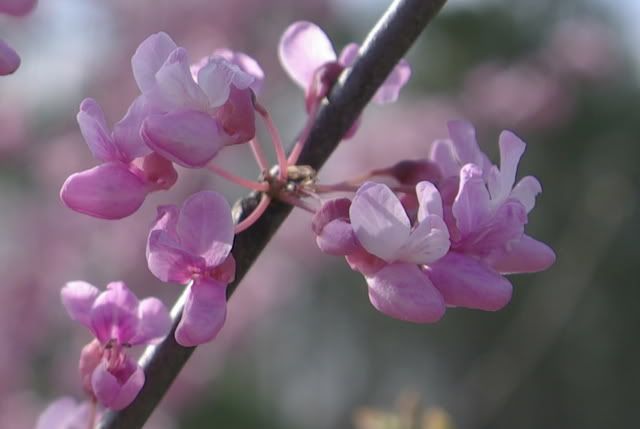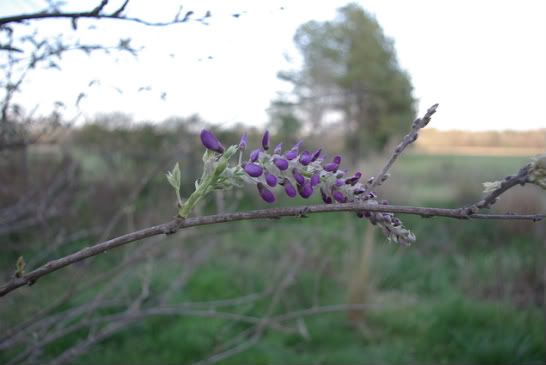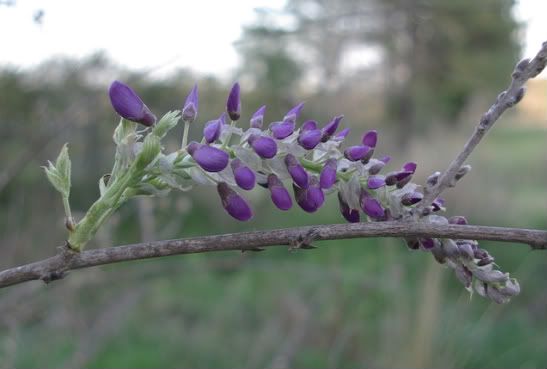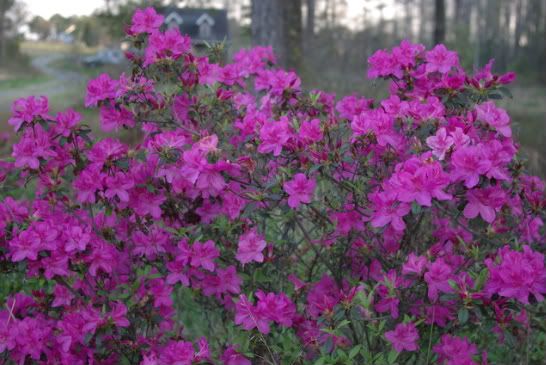 Saw this snapper crossing the driveway below the house this morning: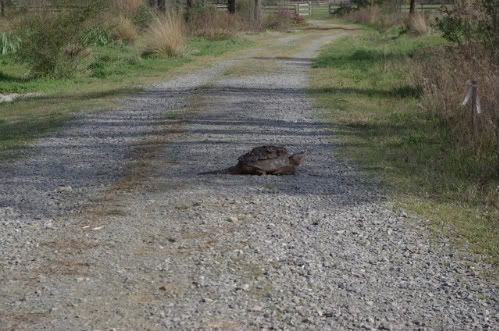 She's got mud all over her back -- she was probably burrowed in the big ditch on my property and was headed over to the neighbor's pond. Of course I don't know that this is a female but I've seen a female snapper laying eggs in my garden and I see a snapper every spring.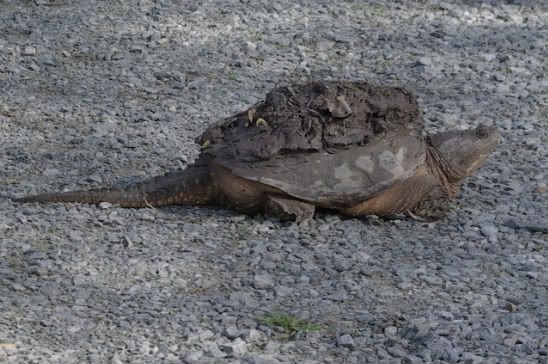 ---
| | | |
| --- | --- | --- |
| RE: spring pix, part 2:b | | |
Tammy I'll do that then. The shrub Devoniensis can take a bit of shade, as I've got mine on the eastern side of my house and it bloomed quite a lot, even though it was new in the ground as of last spring. The climber is supposed to be a monster, in contrast to the shrub. I just got the climber a couple of weeks ago and am putting it on a trellis near the house.

For rose info helpmefind.com is a great site. Now and then it'll have a wrong picture, but it has a lot of information about hundreds and hundreds of roses, including lineage.

Here is a link that may be useful: Roses at helpmefind
---
| | | |
| --- | --- | --- |
| RE: spring pix, part 2:c | | |
PS You'll notice I didn't get all that close to the snapping turtle, lol.
---
Post a Follow-Up
Please Note: Only registered members are able to post messages to this forum.
If you are a member, please log in.
If you aren't yet a member, join now!
---
Return to the Carolina Gardening Forum
Information about Posting
You must be logged in to post a message. Once you are logged in, a posting window will appear at the bottom of the messages. If you are not a member, please register for an account.
Please review our Rules of Play before posting.
Posting is a two-step process. Once you have composed your message, you will be taken to the preview page. You will then have a chance to review your post, make changes and upload photos.
After posting your message, you may need to refresh the forum page in order to see it.
Before posting copyrighted material, please read about Copyright and Fair Use.
We have a strict no-advertising policy!
If you would like to practice posting or uploading photos, please visit our Test forum.
If you need assistance, please Contact Us and we will be happy to help.

Learn more about in-text links on this page here