Return to the Carolina Gardening Forum
|
Post a Follow-Up
---
| | | |
| --- | --- | --- |
| Summer pics 2 | | |
Posted by
alicia7b
z7b/8aNC (
My Page
) on
Thu, Jun 12, 08 at 23:31
Scutellaria ovata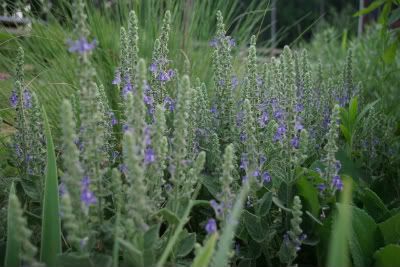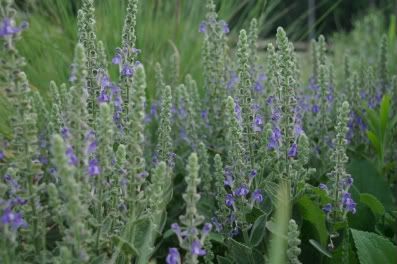 More Buttered Popcorn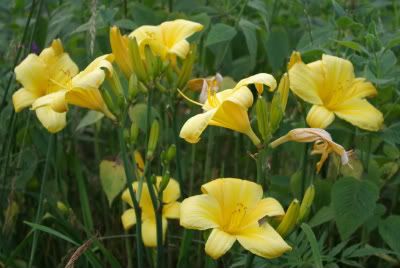 Four o' clock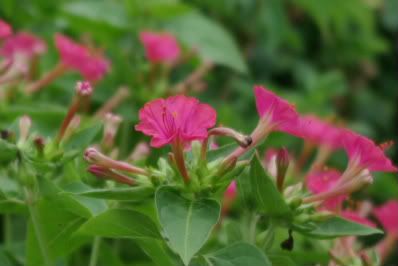 Daylily Buttered Popcorn with Monarda Raspberry Wine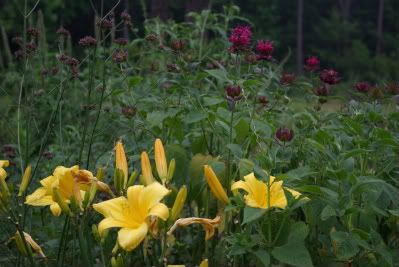 ---
Follow-Up Postings:
| | | |
| --- | --- | --- |
| RE: Summer pics 2 | | |
I love your Raspberry Wine. Mine is dwindling away in a spot that's way too dry, even when we do get rain.

bulbine

gasteraloe

my husband dug me this bed so I could plant it for mother's day

Amorph blooms

tradescantia

tillandsias on a chain

---
| | | |
| --- | --- | --- |
| RE: Summer pics 2 | | |
Karen your husband is very talented -- did he use a plan for the cabin?

My Raspberry Wine is currently in an area with a lot of new compost -- the bee balm spreads rapidly, gobbles up all of the food, and then starts dwindling again. There's a constant advance and retreat. My Claire Grace really looks terrible now because it's currently in leaner soil -- the achillea next to it looks fine.

I like your spiderwort. My pink and Zwanenberg blue have had several babies that were ice blue that I didn't like, but I like yours -- the color of the stamens and the light shading on the petals.

Prairie rose. I grew this from seed from a fellow GardenWebber a couple of years ago and am pleased to see it blooming a little this year. The only rose I have been disappointed in this year is the R. palustris I got from the NC Botanical Garden -- I've had it 2 years and it still hasn't bloomed. It's spreading everywhere and mildewing some but that's about it.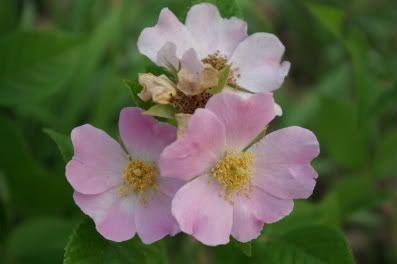 Daylily Gentle Shepard? My new favorite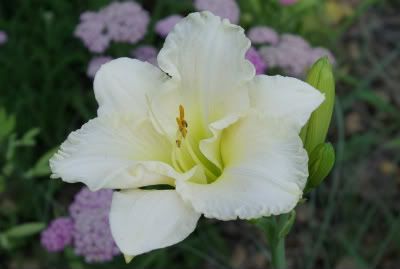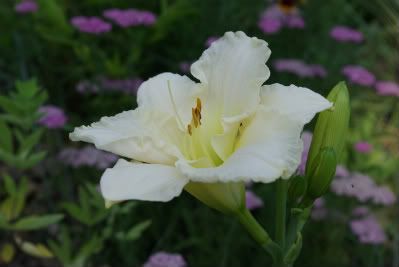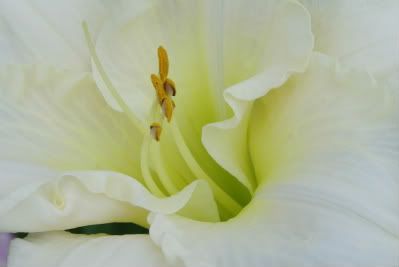 Another Ah Youth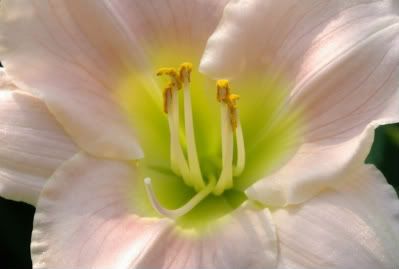 Commuter daylily. It has a wonderful fragrance.

---
| | | |
| --- | --- | --- |
| RE: Summer pics 2 | | |
Karen I can't get over how beautiful that cabin is. What did you plant in the new bed?
---
| | | |
| --- | --- | --- |
| RE: Summer pics 2 | | |
I agree...that cabin is a dream! My husband and I watched the DIY Blog Cabin TV show with great interest...yours is prettier! I love your unique plants.

In the butterfly garden: Miscanthus 'Cosmopolitan' (bronze fennel hiding on the left), echinacea 'Sundown', hypericum 'Sun Pat'
Outer garden in front:
Buddleia 'Adonis Blue' with B&B salvia foliage showing behind it (not yet in bloom).
Deep rose colored blooms ...saliva (don't know the name), echinacea 'Ruby Star' starting to bloom, rosemary, spirea 'Neon Flash'
Gaura 'Crimson Butterflies' (I think) behind hypericum 'Albury Purple'
Inside the fence:
Daylily 'Joan Senior'
Leucanthemum 'Broadway Lights'
Can anyone ID this agastache for me? I bought it in Spring 2006 at BB. It's orangish/pinkish. It smells great and it looks this great all summer without any deadheading. I've divided it so many times already!
---
| | | |
| --- | --- | --- |
| RE: Summer pics 2 | | |
White Japanese Iris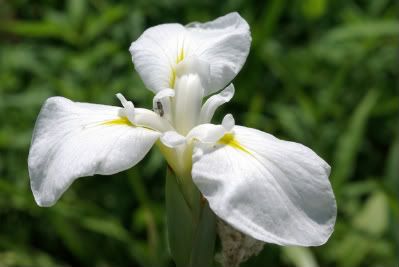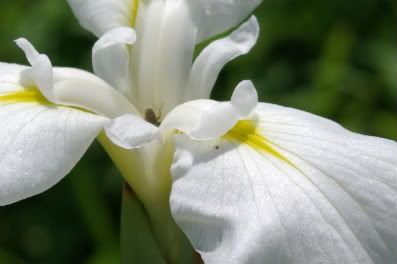 Spellbinder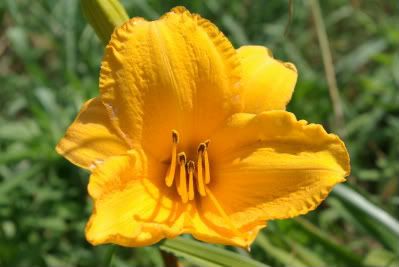 Sparkling Orange. Which ironically enough, assuming this daylily
was labelled correctly, is more yellow than orange.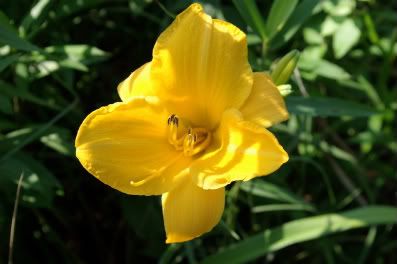 Chocolate Splash again. I love the velvety quality
of the petals and the richness of the color.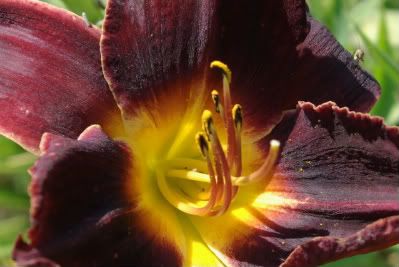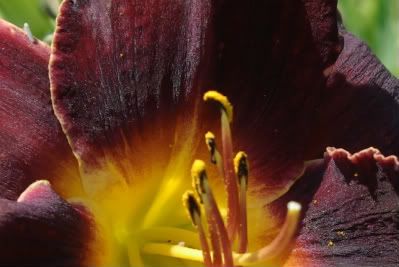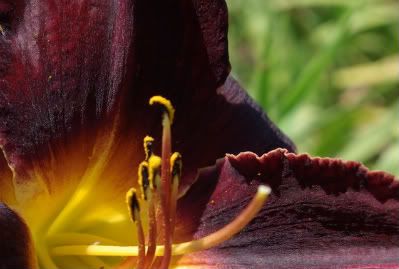 ---
| | | |
| --- | --- | --- |
| RE: Summer pics 2 | | |
I usually just look because everyone's photos are so much nicer than mine, but here are a few from my yard.

'Smokey Mountain Autumn'- my favorite daylily

'Pushmataha'

'Endless Summer'

'Together'

---
| | | |
| --- | --- | --- |
| RE: Summer pics 2 | | |
I really like both of those daylilies -- the Smoky Mountain Autumn is a very nice unique color.
---
| | | |
| --- | --- | --- |
| RE: Summer pics 2 | | |
Great pics everyone! I finally worked on mine. Included in the newest album are my "working on" beds. The wide angle shots taken from close to my house make it obvious that more work is needed,lol.

Blue porterweed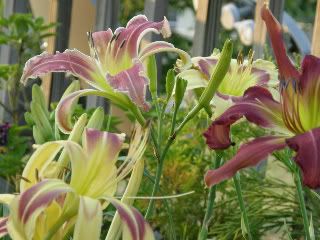 Russian Sage
Here is a link that might be useful: June 11-14
---
| | | |
| --- | --- | --- |
| RE: Summer pics 2 | | |
Shari -- What an awesome color in 'Highland Pinched Fingers'! You have such beautiful flowers.

It looks like you use some ornamental grasses. Which ones?
---
| | | |
| --- | --- | --- |
| RE: Summer pics 2 | | |
All these daylilies are killing me. I've got one of Dana's creations from a swap blooming out there now and need to take a photo before the deer visit again.

Cameron, your agastache could be one of the Acapulco series, maybe Acapulco Salmon and Pink. The foliage looks like it would be right for one of those, and I know that BB carries them.

Alicia, that spiderwort is T. ohiensis 'Mrs. Loewer'. It has narrow glaucous foliage that takes on purple tones in the winter. It's one of my favorites because it looks really good with the new rosettes of Sedum Frosty Morn and with the tommies until the squirrels eat them.

As for the cabin, there was no plan except the one that came out of my husband's imagination. He has a background in building and woodworking, but supplemented that with log cabin camp one summer, to learn how to make the dovetails on somebody else's logs. I've planted a Stachyurus salicifolia in front of the porch on the right and that will be the center of the bed, with Phlox David, Hakonechloa All Gold, Salvia van houtteii, Spiranthes, Spigelia, a variegated Aspidistra, and felt fern (Pyrrosia hastata) as supporting cast. In front of the stone retaining wall I've put a hodge podge including quite a few things from our swaps: Ais's phlox 'Bill Baker', Ralph's 'Salvia Cardona', Brenda's variegated Hydrangea, bloodroot, Kirengeshoma, and Goodyera, and some Lobelia that I can't remember who it came from. For anchors I've also planted a double mock orange, Manfreda maculosa and a peony, and the rest of the bed ranges from my very frilly new PDN ligularia to salvia seedlings that came up elsewhere in my garden. Like I said, a real hodge podge - I expect some will thrive, some will die, and some will get eaten by the wildlife. This is why my husband calls my gardens 'experiments'.
---
| | | |
| --- | --- | --- |
| RE: Summer pics 2 | | |
Cameron, I do have a few ornamental grasses. I really like them and would probably have even more if I didn't dislike the job of cutting them back so much. I'm cold natured and it's a big job during cold weather. I grow-

Miscanthus 'Cabaret'
Muhlenbergia capillaris
Lindheimer's muhly
Kalamagrostis 'Avalanche'
Blue Love grass
Mexican Feather grass
Miscanthus 'Little Kitten'- is still in a pot from digging it up to move it.
Bear grass- Nolina- not really a grass as we see it but I like it and would like to try more varieties.
---
| | | |
| --- | --- | --- |
| RE: Summer pics 2 | | |
Shari I really love that second shot. In fact I like a whole bunch of those daylilies -- oh no, I think daylily fever is contagious. I know I've said this before but Moonlight Masquerade is -- just gorgeous.

Karen I am very impressed by your husband's work. I need to look up several of the plants you listed -- I don't know what they are, lol.
---
| | | |
| --- | --- | --- |
| RE: Summer pics 2 | | |
Well, don't buy M.Masq because I think I have another small double fan. Hopefully it will bloom soon so I can ID it for sure. It's planted in a precarious place and needs to be rescued. I just went out in the drizzling rain and deadheaded. I have many new blooms that won't be the best in the world because of the rain but I'll be out taking pics as soon as the rain stops. I've got it bad,lol.
---
| | | |
| --- | --- | --- |
| RE: Summer pics 2 | | |
Shari, thank you. Here's hoping the offshoot is Moonlight Masquerade, lol.

Monarda Raspberry Wine bud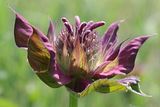 flower

White yarrow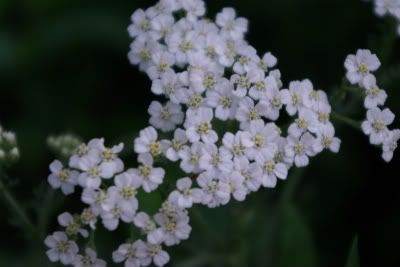 Commuter daylily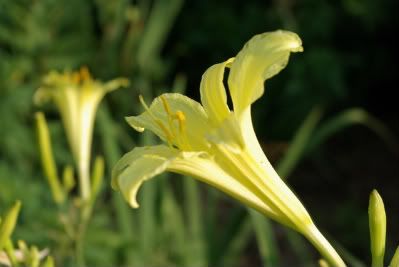 Northern part of big perennial bed (farthest from house)
Hubrect's Amsonia at the bottom in front, Achillea millefolium, Muhlenbergia capillaris or filipes, a Buddleia not yet in bloom, beautyberry and young Prunus mume.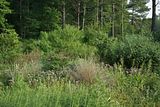 West of the old house site is a huge bank of wild Summersweet (Clethra alnifolia) that is budding up now. That is a volunteer Swamp Titi (Cyrilla racemiflora) in the middle.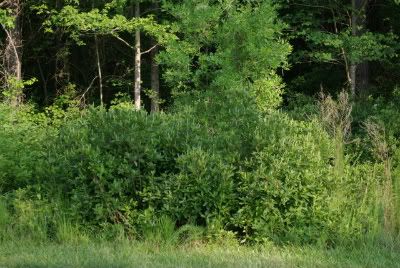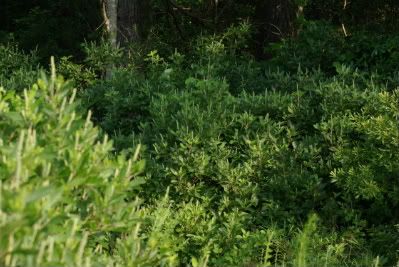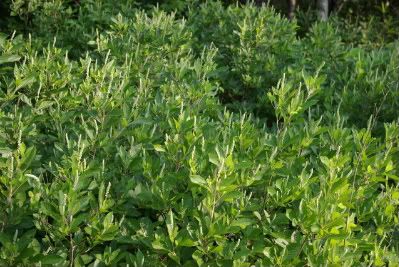 Swamp Cyrilla getting ready to open up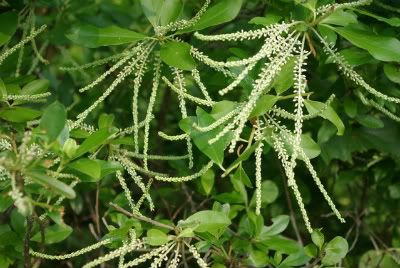 ---
| | | |
| --- | --- | --- |
| RE: Summer pics 2 | | |
Alicia, do you ever get suckers off your Cyrilla?
---
| | | |
| --- | --- | --- |
| RE: Summer pics 2 | | |
Karen, I haven't seen suckers from the three near the old house site, probably due to competition from pine trees.
---
| | | |
| --- | --- | --- |
| RE: Summer pics 2 | | |
I only have a couple of daylilies to add to this beautiful collection os summer bloomers, but they are different than what's already posted.
Here's "Bama Bound'


Here is Hemerocallis siloam 'Double Classic'. The catalog said "clear pink". I think someone is confused about pink 'cause I call this peach!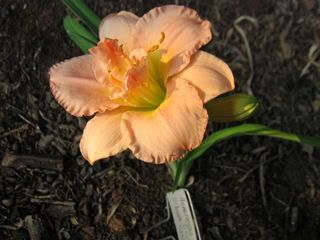 This one is called 'Squash Blossom'


hee hee hee, it really IS a squash blossom, I was just checking to see if y'all were paying attention!
---
| | | |
| --- | --- | --- |
| RE: Summer pics 2 | | |
| | | |
| --- | --- | --- |
| RE: Summer pics 2 | | |
Squash blooms are absolutely worthy of photographing. They are some of the most beautiful veggie flowers I think. Yours there is particularly nice!

Alicia - What a beautiful home you have. A log home seems so appropriate in that setting.
---
| | | |
| --- | --- | --- |
| RE: Summer pics 2 | | |
Tina my house has cedar siding, Karen has the log cabin. Her husband built the cabin near their house from trees that fell during Hurricane Fran in '96.

Lizard's Tail in ditch east of old house site

Pickerelweed

Pickerelweed and Sweet Flag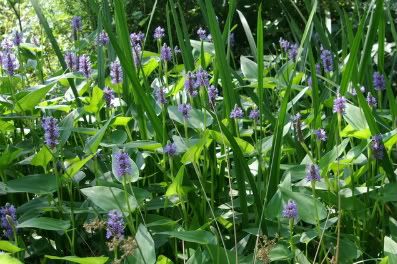 Iris brevicaulis still in bloom. The flowers that were nestled down in the leaves (plus the bed they're in gets shade in the afternoon) were spared getting fried in the recent heat.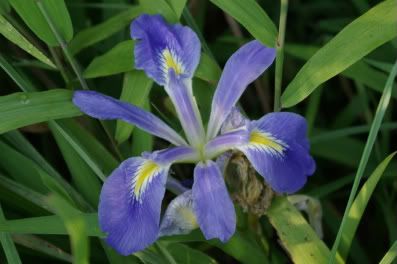 Spider on meadow beauty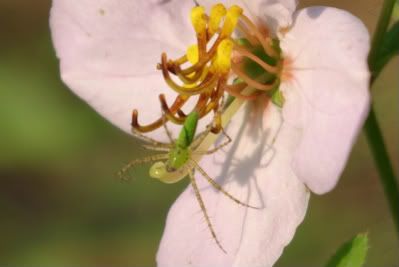 ---
| | | |
| --- | --- | --- |
| RE: Summer pics 2 | | |
Woops, must have missed the post break. That is awesome that they were able to put that together with their own hands. I am so impressed.....
---
| | | |
| --- | --- | --- |
| RE: Summer pics 2 | | |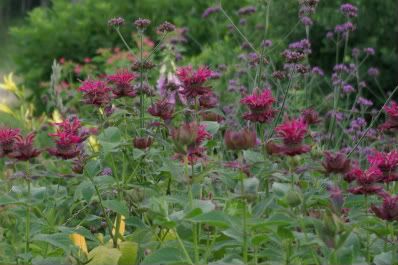 Achillea with Hansa rose (taking a break from blooming), Baptisia,
Muhlenbergia, and Monarda Claire Grace.

Border next to vegetable garden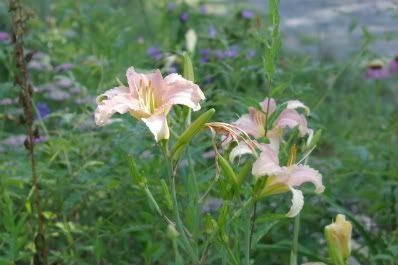 ---
| | | |
| --- | --- | --- |
| RE: Summer pics 2 | | |
Bog sage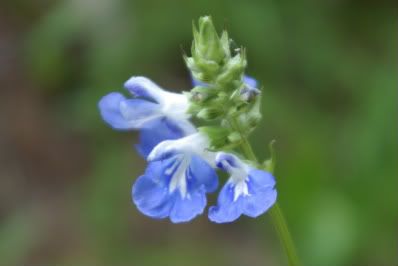 Salvia greggi "Diane" has started blooming again.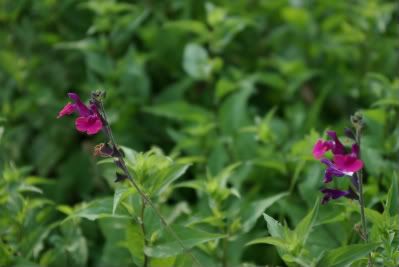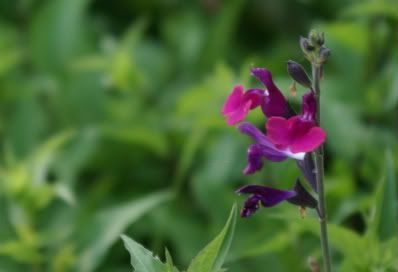 Monarda "Jacob Cline"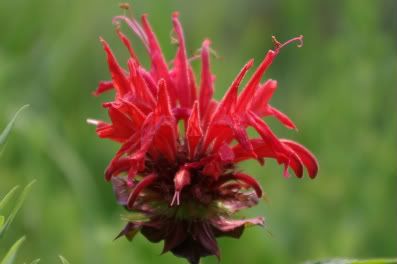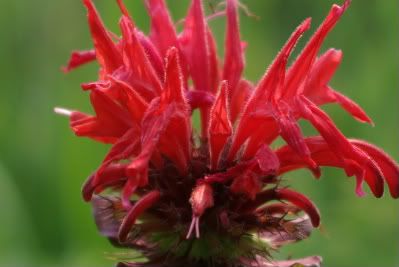 Bed by neighbor's pasture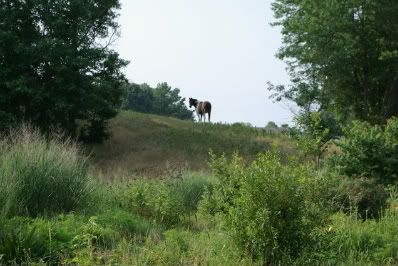 Sorrel tree between driveway and neighbor's pasture

---
| | | |
| --- | --- | --- |
| RE: Summer pics 2 | | |
Alicia, what is Lizard's Tail and how do I get me hands on some? That's one of the coolest things I've seen here in SC since I arrived. Also, the photo with the light pink daylilies that is closest to this message - is that the unknown one you posted earlier? It's very, very pretty. I know seed probably wouldn't come true but if you could save some for me, that would be great.
Sandi
---
| | | |
| --- | --- | --- |
| RE: Summer pics 2 | | |
Lizard's tail is a native bog area plant. The flowers & leaves are sweetly fragrant. It blooms for most of a month i'd say. Leaves turn pretty yellow in fall. If you had a wet area to grow it or grew it in a waterproof pot it'd do very well. Mine only gets about 4 hours sun and is quite happy in our pond. I don't know the botanic, but google it and it'd pop right up. It likes to spread if it's happy so be aware of that tendency. Something that looks a lot like it to stay away from is gooseneck loosestrife (lysamachia). It's beautiful but invasive as all get out. After my patch blooms this year i'm rounding it up.
---
| | | |
| --- | --- | --- |
| RE: Summer pics 2 | | |
Sandi Lizard's Tail grows wild in all of the sloughs and ditches on my farm. All it seems to require is moisture and it looks best with some shade. I'll save seed from that daylily. I don't know its name unfortunately.

Karen were you interested in the Cyrilla? I can try to start some cuttings once the new growth has hardened off a bit. Starting them from cuttings is supposed to be easy but I haven't had any luck yet.
---
| | | |
| --- | --- | --- |
| RE: Summer pics 2 | | |
Neither did i with the ones you gave me last fall, Alicia. So if you're sticking some, would you mind putting some in for me as well? It's very pretty.

It's good to know the lizard's tail actually prefers some shade. Maybe i'll start a second pot for the shadier pond. I love it. It's pretty well busted out of the pot it was in originally but i don't care. The leaves smell so good when i'm taking them out of the pond/off the plant in fall i don't mind a bit.
---
| | | |
| --- | --- | --- |
| RE: Summer pics 2 | | |
Alicia, I'd love it if you managed to start cuttings from the Cyrilla. I planted one several years ago right before we hit a severe drought (worse than last year in my little corner of NC) and it didn't make it. I haven't run into one since to try again. If I ever get my pond I'm going to hit you up for some of that lizard's tail. Unfortunately it would be really unhappy with anything I have to offer now.

One of Dana's daylily hybrids

Hydrangea from arboretum

Salvia viscosa

What's left from the white echinacea I planted years ago:

Hodgepodge in the side border

Sedum pruinatum

Drumstick allium

Cuphea Tiny Mice

Canna Intrigue

---
| | | |
| --- | --- | --- |
| RE: Summer pics 2 | | |
Karen I really like that daylily and hydrangea. The drumstick
allium and the Canna too. Very nice pictures.

This opened in my garden today. Moonlight Masquerade? Not
sure if the eye extends as far as the ones in Shari's pictures.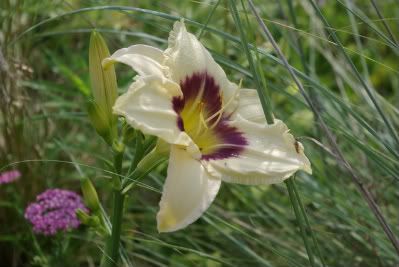 Phlox Robert Poore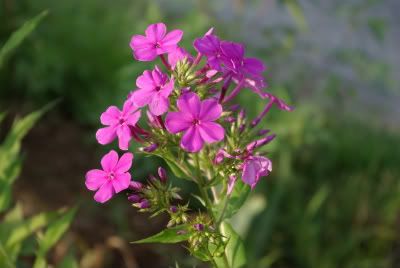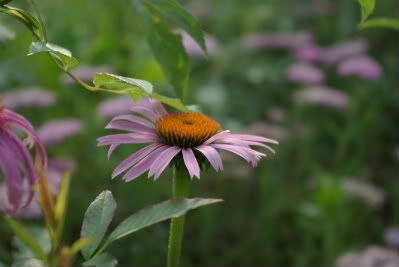 A very late Baptisia alba. I have 2 or 3 that are buried very deep
and always bloom several weeks later than my other albas.

Canna Princess Diana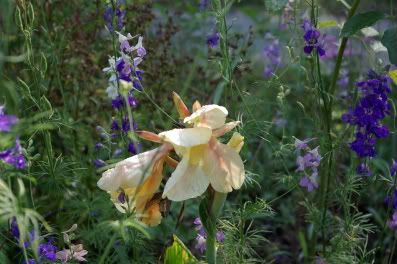 Duchesse de Brabant starting to bloom again, amongst the Blue
Love Grass seedlings.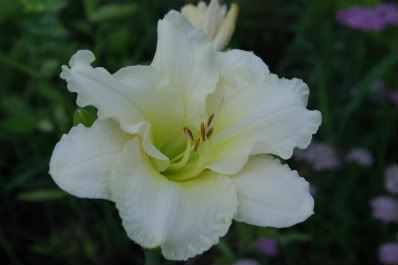 Part of bed by gate looking up toward house.

View of Achillea, Baptisia, and Rose Hansa from another direction.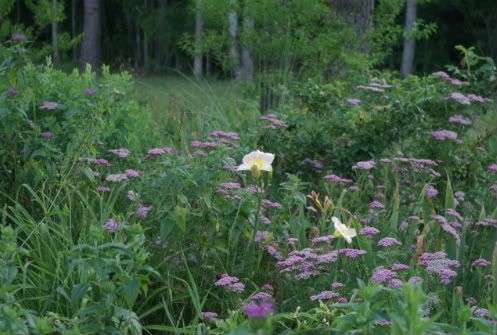 Part of big perennial bed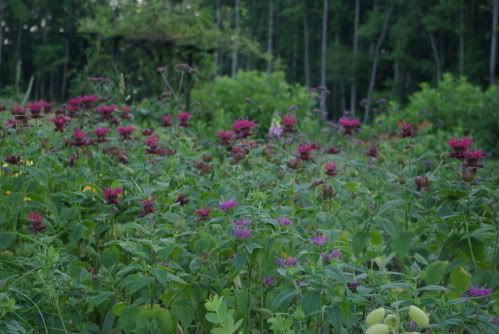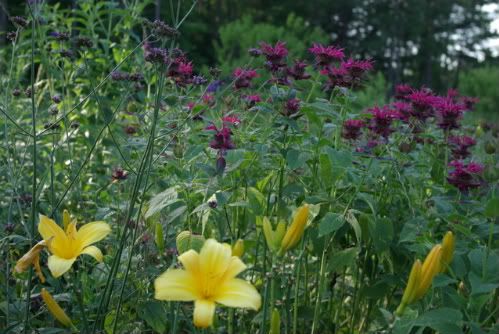 ---
| | | |
| --- | --- | --- |
| RE: Summer pics 2 | | |
| | | |
| --- | --- | --- |
| RE: Summer pics 2 | | |
Alicia- are your cypella growing in full sun? I moved most of mine from partial to more sun this past winter hoping they'd flower better. We'll see. Only problem is, where they are now i may not notice them as much when they bloom. I don't think mine have set buds yet. I love their flowers and foliage.

On your last post, what is the purple monarda in with the rasp wine? I have a short lavender one i got from carla that's getting ready to bloom but don't have an ID on it. I have some rasp wine & blue stockings from my plots last year that i need to get in the ground. I love the color of rasp wine. Your moonlight masquerade, if that is what it is, is beautiful! What a nice combo of colors. It's nice to see the big views of your garden to really get a sense of it.

Karen, your "hodgepodge" looks great. As always your gardens & shots are inspiring.
---
| | | |
| --- | --- | --- |
| RE: Summer pics 2 | | |
Tammy the Cypella is in full sun, but it's a new spot this year. It's never flowered for me that much either. I'll have to see how it does in this location. The Monarda is Claire Grace.
---
| | | |
| --- | --- | --- |
| RE: Summer pics 2 | | |
Good to know- thanks, Alicia!
---
| | | |
| --- | --- | --- |
| RE: Summer pics 2 | | |
I grew some Cypella from seed. I'm like a proud papa showing off his first born with them this year. Like the yard isn't full of other blooming plants!
---
| | | |
| --- | --- | --- |
| RE: Summer pics 2 | | |
Karen, I love your Hodgepodge shot. What is the blue-foliaged plant that is in the rear? Is it a Euphorbia? It's got great texture!
Alicia, your Monarda 'Claire Grace' and Raspberry Wine' look the same, and look like the 'Violet Queen' I used to have. I believe the Violet Queen was about 3 feet tall, are yours different heights are more resistant to Mildew?
Tam and Alicia, thanks for the Lizard's Tail info. I have no wet areas...yet... but I'll have to keep my eyes open for this plant. What does it smell like?
Sandi
---
| | | |
| --- | --- | --- |
| RE: Summer pics 2 | | |
Sandi the Raspberry Wine and the Claire Grace are not the same. The Claire Grace is resistant to mildew until late summer. Depending on moisture conditions they are anywhere from 2-4' tall.

The Lizard Tail foliage and flowers both smell good but different. However, I'm not good at describing fragrances. I think the foliage smells kind of lemony (especially if you brush again it) where the flowers smell sweet. Tammy do you want to give it a shot?
---
| | | |
| --- | --- | --- |
| RE: Summer pics 2 | | |
Karen...I love that Canna Intrigue foliage! What color is the bloom? How tall is does it get?

Cameron

Echinacea 'Sundown'

---
| | | |
| --- | --- | --- |
| RE: Summer pics 2 | | |
My Cypella coelestis hasn't set buds either, but the foliage is behind the drumstick alliums in that photo. C. herbertii has started blooming, but I've been spending too much time at work to catch anything but the spent,shriveled flowers.

Sandi, the blue foliage in the back is Euphoria characias var wulfuenii, which I consider to be one of the backbone plants in there. I've let it seed all through the side garden to try and deter the deer a little. Cameron, Intrigue gets about 7 feet tall for me. The flowers are orange and on the small side for a canna, but I grow it primarily for the foliage and form. It's in a location where it gets backlit in the late afternoon and then it really glows. It would look great with your orange echinaceas -- I pretty much struck out with those.
---
| | | |
| --- | --- | --- |
| RE: Summer pics 2 | | |
Karen, did you by chance ever work at Niche Gardens, and help create the white garden at the Raulston Arboretum?
---
| | | |
| --- | --- | --- |
| RE: Summer pics 2 | | |
Karen -- it's so difficult to find the color foliage of that Intrigue. I had considered a purple smoke tree, but (having one already, too) I didn't want to give up the space. The vertical form of a tall canna is perfect. I don't have drip irrigation in the butterfly garden, so I'd have to work on keeping it watered. The only canna that I have is Tropical Rose, short with green foliage...in my front outer garden in the moist area. I left those in the ground over the winter and everything was fine. It's just difficult to find lush foliage that is deer resistant and canna works. My colocasia esculenta leaves got scorched on the edges :-( in that recent heat wave.
---
| | | |
| --- | --- | --- |
| RE: Summer pics 2 | | |
I forgot to see if my newest dayliy had finally opened until 9 pm, so the shot was taken with a flash. Hopefully there will be another one opening this weekend that I can shoot during regular daylight.
These are called Lime Frost:

Here is a link that might be useful: Lime Frost description from Bluestone Perennials
---
| | | |
| --- | --- | --- |
| RE: Summer pics 2 | | |
karen__w I just love your Dana's daylily hybrid
the colors are breath taking.
Blueangel
---
| | | |
| --- | --- | --- |
| RE: Summer pics 2 | | |
Amy, do they let the Euphorbia have its way in those gardens too? To answer your question, no, I haven't worked anywhere except my own backyard. My first euphorbia did come from Niche though.

Cameron, Intrigue has been a very strong grower for me. I've got other cannas but none make quite the architectural statement this one does. And I almost never water back in there.

Thanks Blueangel. Just to clarify, this daylily came via one of our swaps from a Gardenwebber named Dana who hybridizes them, rather than being a daylily hybrid named 'Dana'.
---
Post a Follow-Up
Please Note: Only registered members are able to post messages to this forum.
If you are a member, please log in.
If you aren't yet a member, join now!
---
Return to the Carolina Gardening Forum
---
Instructions