Return to the Cottage Garden Forum
|
Post a Follow-Up
---
| | | |
| --- | --- | --- |
| Recent Pictures (very pic heavy) | | |
Posted by
carrieburgess3
5 NS, Canada (
carrieburgess3@hotmail.com
) on
Mon, Jul 12, 10 at 20:09
I thought I would share some recent pictures from the garden.

Polyantha Rose 'The Fairy'

I thought this was 'Mondiale' Tea Rose, the tag said 'Mondiale' Premium Cutting Garden Rose. But the kind folks over on the rose gallery forum straighted me and told me it was a Knockout. Although I still don't know what kind. Any guesses???

'Blue Girl' Hybrid Tea Rose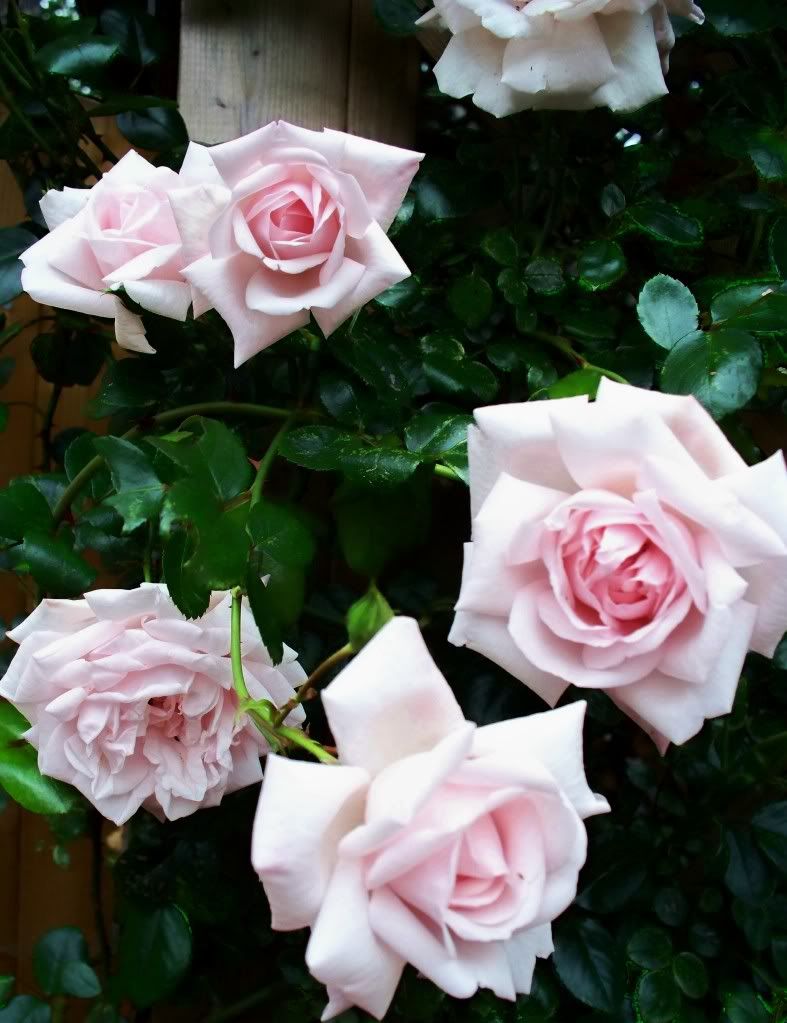 'New Dawn' Climbing Rose

'Miss All American Beauty' Hybrid Tea Rose

'Lillian Austin'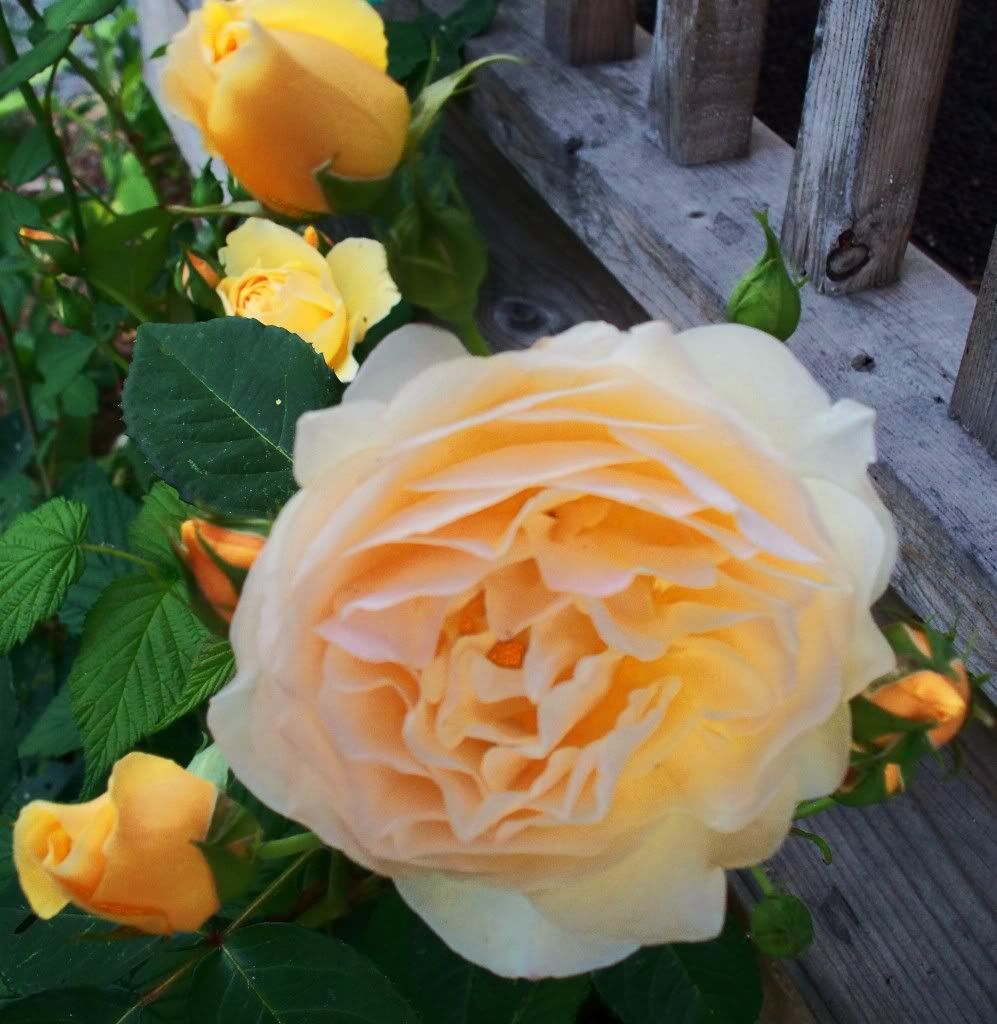 'Graham Thomas' Austin Rose

'Heritage' English Rose

'Margaret Merril' Floribunda Rose

Elle bloomed this peachy colour this week. I'm thinking it's because of the heat. I have never seen it from her before.

Asiatic Lily 'Tiny Athlete'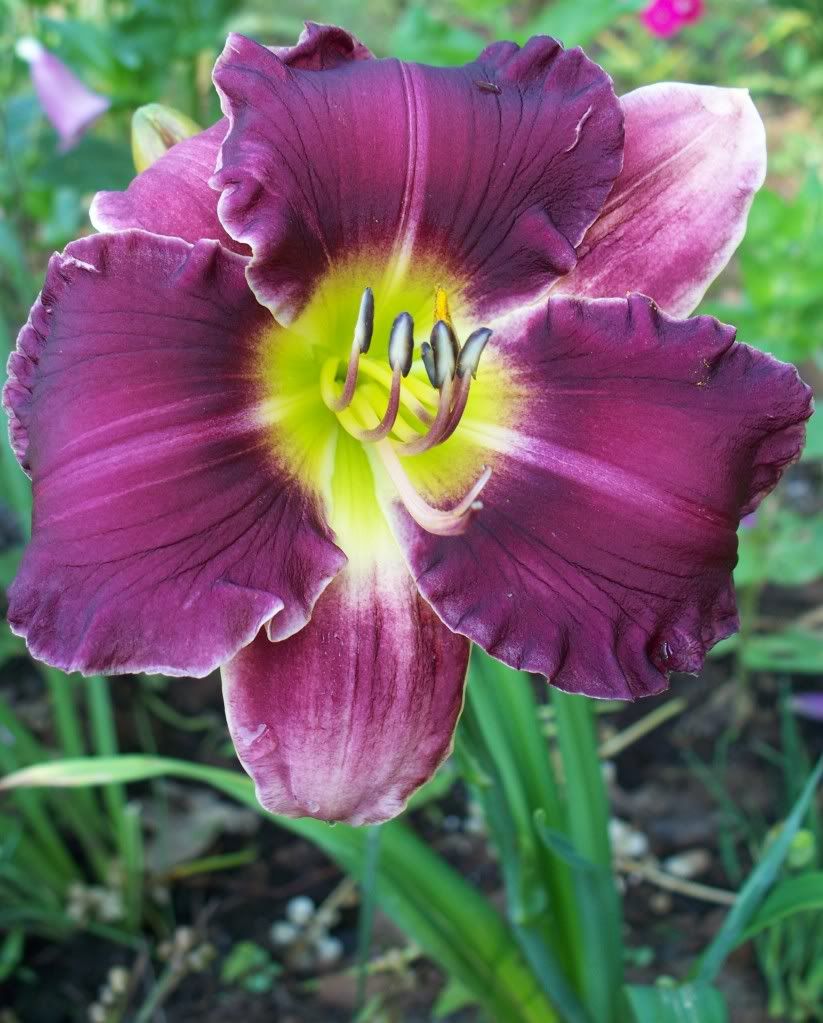 'Feeding Frenzy' Daylily
This year I start with some Dayilies, forty to be exact.
'Feeding Frenzy' was the first to bloom. I am so happy with her.

Astiatic Lily 'Landini'

'Orchid Mist' Cascading Double Petunias I planted from seed over the winter.

Chinese Houses

Zinnia 'Luminosa Pink'
This was my first year for trying Zinnia and I love them. I have bought lots of different varieties for next year.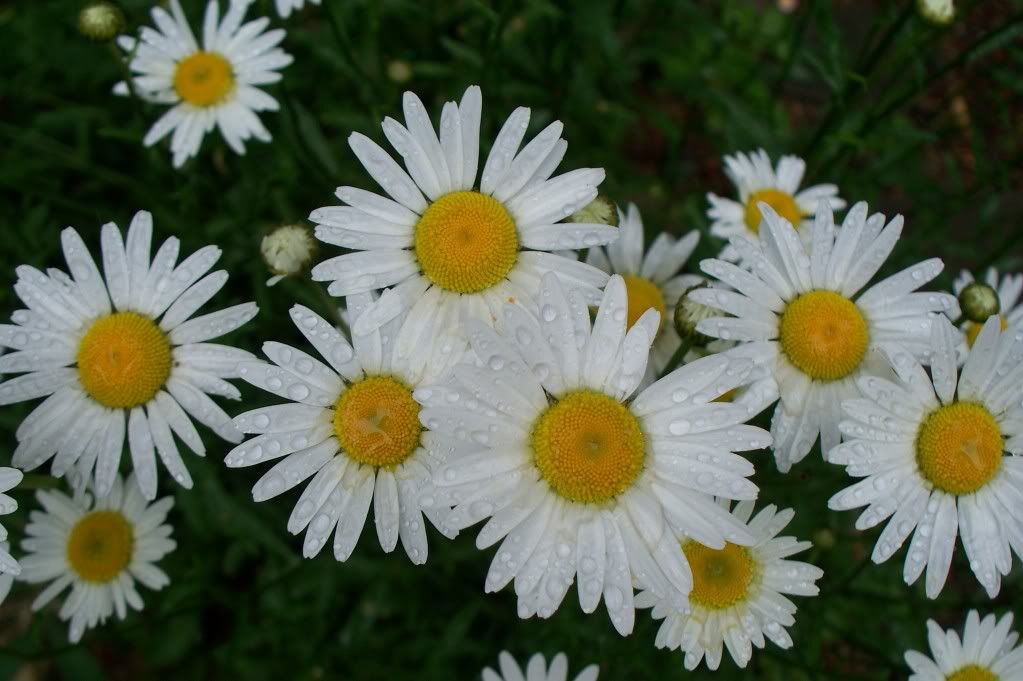 Ox Eyed Daisies

'Blue Angle' Clematis

Pink Ruffled Poppy

Shirley's Poppies
And finally I will end off with a bouquet.

Elle & Belinda's Dream Roses with White Astilbe and Snow Thimbles foxglove
I hope you all enjoy.
Carrie
Here is a link that might be useful: Cottage Garden Album
---
Follow-Up Postings:
| | | |
| --- | --- | --- |
| RE: Recent Pictures (very pic heavy) | | |
OMG!!
You flowers are so Beautiful!!!!
I am so jealous!
Oh, your blue rose is heavenly. I've never saw a real picture of it. Love that color.
All your roses are so pristine. I have seed to grow Chinese Houses. Going to have to dig it out and winter sow them. Beautiful.

And your bouquet. Very professionally done. Lovely arrangement.

I have never had success with Astilbe. I may try it again next year, you enabler you.

Thank you for sharing your garden. I can almost smell the roses. Mmmmm....

~Annie
---
| | | |
| --- | --- | --- |
| RE: Recent Pictures (very pic heavy) | | |
Oh, I just love lavender colored roses. I'm so envious. They are just so unique and beautiful. And I can't believe your poppies are still blooming! Must be because you're in a cooler zone. Keep up the good work, it's beautiful!
---
| | | |
| --- | --- | --- |
| RE: Recent Pictures (very pic heavy) | | |
Wow, your pics are beautiful. I love the petunias. How early did you start them?
I really love the clematis too!
Actually, everything is really lovely!! :)
---
| | | |
| --- | --- | --- |
| RE: Recent Pictures (very pic heavy) | | |
Wow you should be so proud of your beautiful flowers! What a great assortment of lovely colors. If you have any garden shots that show it as a whole id love to see it!
---
| | | |
| --- | --- | --- |
| RE: Recent Pictures (very pic heavy) | | |
WOW those are all absolutely gorgeous,hard to pick a favorite!! All those pink roses are awesome.I've never seen or heard of chinese houses.

I must plant some poppies this fall,i've never had any luck with astilbe either and my mom always had it when i was growing up,then again,that was on the east coast,and i'm on the west coast now.

I really love all the roses with the rain drops on them as well,and all the roses look so healthy.
TFS
Kathi
---
| | | |
| --- | --- | --- |
| RE: Recent Pictures (very pic heavy) | | |
What beautiful flowers! The roses are simply gorgeous. I always appreciate them in others gardens because I just don't do well with them in mine.
---
| | | |
| --- | --- | --- |
| RE: Recent Pictures (very pic heavy) | | |
Absolutely lovely! Orchid houses - how unusual! You have the most amazing roses, you keep them so healthy. Beautiful photos.
---
| | | |
| --- | --- | --- |
| RE: Recent Pictures (very pic heavy) | | |
Wow - what gorgeous flowers you have!!!
I agree with Lilyfinch, if you have whole garden shots I'd love to see them as well.
And I also never heard of chinese houses, I must go google :)

TFS!
~Andrea
---
| | | |
| --- | --- | --- |
| RE: Recent Pictures (very pic heavy) | | |
I am so impressed with your plants!
Your roses are incredibly healthy- do you spray with anything? My favorites are the Margaret Merril and that Blue Girl. What an amazing color on that last one- is it always that shade, or only in the cooler months? Does it change its shade to pink in hotter weather?

That 'Landini' Lily is nice. Wish now that I hadn't passed on them when I saw them last fall!

Also love those Chinese Houses, which I have heard about but never seen. Those petunias are so strong and healthy. Did you winter sow them or start indoors? Did you save seed from last year or buy a packet? I tried to collect seed from my Double Rose last summer but couldn't find a seedpod. I gave up, figuring the doubles were sterile.

Thank you soooo much for the pics Carrie! I have gotten so many ideas about what to add to my 'Want' list of plants, lol. ;-)
CMK
---
| | | |
| --- | --- | --- |
| RE: Recent Pictures (very pic heavy) | | |
Hey Guys, thanks so much for all the great comments.

I'll start with 'Blue Girl'. This is my first year with her. Her first flash of blooms started about two weeks ago and I remove the last spent bloom from her today. There are lot of buds on her for the next flush. My husband, who is not into gardening at all, went to The Home Depot to buy a tool and stumble upon some bare root roses. He brought her home to me that night along with Miss American Beauty and Pascali. You want to talk about a proud man. From that night in March until she bloomed he told anyone who would listen about the blue rose bush he bought for his wife. Now, if I had been a smart woman it would have accrued to me to sit him down and explain that the blooms would not likely be blue but some shade of purple. Like I said, IF I were a smart woman, no such luck. He went to check on her nearly every night after work. So the day she open I couldn't wait for him to see it. Well I found him staring down at her beautiful lavender blooms, thinking he would be so pleased. When he looked up at and said "I feel like a foul!" I laugh out loud. And told him that if we cut them and put them in some water with blue food colouring they would like turn blue. He was heart broken. I swear I will take this one to my grave. Too Funny.
Anyway all three of the roses he got that day are listed on Dave's Garden as being hardy to Zone 7a. So I think I will dig up Blue Girl, mulch the other two and hope for the best.

The Petunias I started the end of February from pelleted seeds I bought off E Bay. And put them out in the middle of April. They were so easy I had nearly 100% success rate. I used the lights from the two Aerogardens I got for Christmas to get them stared. After they were on their way I took the lights away to get something else start and they patiently waited to be put out.

And finally the Chinese Houses. They are not a wildflower here. I got the seeds as a free gift with some other seeds I bought. They are an annual. I laterally just through the seeds at the ground and forgot them. I was pleasantly surprised when the bloomed.

Annie- I do what I can ;) You should defiantly try Astilbe again. C'mon everyone else is donnin it!!! LOL


I got this shot this morning
I under planted astilbe between The Fairy and Heritage as they both droop. Now the droop down on astilbe instead of the mud. And The fairy offers shade since she is in front.
krycek1984- I only have a handful of poppies in bloom today and another handful left to bloom. Mine were late even for my area. I through the seeds down on the snow in February. I am really not sure why they were so late. This is my first year growing poppies.
Gerylady-gardener, I started the petunias in February.
For Lilyfinch and Craftlady
I find it so hard to take nice picture of the whole garden. But I gave it my best go.


Please excuse the mess we are in the middle of splitting wood. This bed runs along side the garage and has four margaret merril, one abe darby and white foxglove.
Christin- Every year I say, next year I'm spraying. But then I never do. I have to admit, used a bit of creative cropping. Although this has been a great year. Just a bit of blackspot on a few things and the roses only have a few half eat leaves here and there.
I really can't answer your colour question as this is her first flush. However it has been really hot here the last few weeks.
I bought the petunia seeds and have been really vigilant about dead heading. So I haven't looked for seed heads. I plan to just buy more. The pelleted seeds make it so easy.
Thank you again for looking.
Carrie
---
| | | |
| --- | --- | --- |
| RE: Recent Pictures (very pic heavy) | | |
Carrie, those photos are so beautiful. I'm not really a petunia fan, but WOW your petunias really won me over! They're on my list for next year!!

In the last batch of photos, what is the arch behind the bed in the first picture? Also, in the photos are the tall plants hollyhocks?
---
| | | |
| --- | --- | --- |
| RE: Recent Pictures (very pic heavy) | | |
Carrie,

What beautiful scenic country surrounds you! A fantastic backdrop, I must say. Your garden looks like a fairy tale garden. Just lovely.

I have Pink Fairy and Heritage roses. I will see if I can find a white Astilbe next year. Your combo has inspired me. I love soft pinks and antique whites together.

I read a magazine article several years ago about planting flowers in "bouquets" groups. I love that idea. You have pulled it off splendidly.

Gorgeous, gorgeous.

The little nursery I buy plants from has the Double Petunias. It has been too hot and too wet this year for my poor, poor Petunias. I have to grow them in pots becasue of the Pill bugs and slugs. They usually put on quite the show. Only 3 plants are surviving and blooming, but far from flourishing. I pinch mine off as soon as the flowers wither and that keeps them blooming. Sounds like that is what you do too.

OBTW - I believe plants that grow from the pelleted seeds are hybrids and will not reproduce true the following year. Not sure, but I think that is the case.

Your home and gardens are just pretty as can be. I have been back here to look at your photos four times now.
---
| | | |
| --- | --- | --- |
| RE: Recent Pictures (very pic heavy) | | |
Thank you Thyme2dig and Annie.

Thyme- The arch in the first picture is a half bird cage shape I made out of bramble canes to grow sweetpeas on. The sweetpeas are not getting as much sun as I had hoped now that other plants have gotten big. The are just now starting to peek over the tops of other plants. I will try to get a better picture of it today.

And yes, the tall plants are hollys. They are quite sick with rust and just came out in full bloom yesterday. I told myself when I planted the seeds that I would spray often and that rust wouldn't be an issue for me. Ha, I should have I known myself better than that! Although I must say I really don't mind the bare stems because they make the flowers stand out so much! I'm not sure I will plant them again next year.

Carrie
---
| | | |
| --- | --- | --- |
| RE: Recent Pictures (very pic heavy) | | |
What beautiful roses! The clematis and the daylilies and daisys are also beautiful, but Ah! The roses....that you for sharing the beauty.
kay
---
Post a Follow-Up
Please Note: Only registered members are able to post messages to this forum.
If you are a member, please log in.
If you aren't yet a member, join now!
---
Return to the Cottage Garden Forum
Information about Posting
You must be logged in to post a message. Once you are logged in, a posting window will appear at the bottom of the messages. If you are not a member, please register for an account.
Please review our Rules of Play before posting.
Posting is a two-step process. Once you have composed your message, you will be taken to the preview page. You will then have a chance to review your post, make changes and upload photos.
After posting your message, you may need to refresh the forum page in order to see it.
Before posting copyrighted material, please read about Copyright and Fair Use.
We have a strict no-advertising policy!
If you would like to practice posting or uploading photos, please visit our Test forum.
If you need assistance, please Contact Us and we will be happy to help.

Learn more about in-text links on this page here