Return to the Edible Landscape Forum
|
Post a Follow-Up
---
| | | |
| --- | --- | --- |
| paw paw varieties | | |
Posted by
catlady4444
7A (
My Page
) on
Mon, Aug 20, 07 at 0:31
Hello,

I have struck out in my attempts to obtain the supposedly superior grafted paw paw varieties. Can any one comment on the varieties available at Raintree? NC-1, Sunflower, Rebecca's Gold, Wells, Wilson, Prolific, Ford Amend, Mango, Pennsylvania Golden.

THANKS!
Ann
---
Follow-Up Postings:
| | | |
| --- | --- | --- |
| RE: paw paw varieties | | |
When you say you 'struck out', what do you mean?

There is Peterson PawPaws, run by Neal Peterson, who has had a 20 year breeding program for PawPaws - however by checking his web site, trees won't be available until 2009 (and you'd have to order now). He has also had some illness lately (described on web site and he is actually looking for donations to stay in business) so there's a potential you may not get your order if the business fails.

I have not tasted any of his PawPaws, I have the first 3 he released - Shenandoah, Susquehanna, and Rappahannock - but my trees have not fruited yet (it usually takes several years for a PawPaw to come into production) . Besides what's listed on the Web site, I know nothing about Allegheny, Potomac, and Wabash. Peterson also bareroots his trees, to which PawPaw don't always react well to (compared to other fruit trees such as apple), but he does pack very well, and if you follow his advice (or close to thereof) they should do well. When one of my first trees did not survive, he replaced it the next year.

Of the other PawPaws you asked about, I can't say that I've found one better than another. They were almost all selected from found wild trees. I used to love Paw Paws, but my wife (who has very sensitive senses of taste and smell), pointed out that many PawPaws have a subtle, but bitter aftertaste. Now I notice it all the time and it as decreased my appreciation of PawPaws (Peterson is supposed to have bred this out of his).

Sunflower is supposedly the only one that is reportedly 'self-fertile', i.e. it will set fruit without another PawPaw of a different variety present. "The reportedly" is because it's never been rigorously tested to see if the self-fertility is true. Generally with PawPaw, plan on planting two.

I wouldn't personally recommend planting seedlings as the fruit quality may be less.

I have producing on one tree (grafted myself) "Mary Foos Johnson", "PA Golden", and "Sweet Alice" - I wouldn't necessarily say one was better than the other. "Mary Foos Johnson" does tend to have larger fruit.

Check out this taste test done in 2005 (pages 5 & 6 of the pdf document).

http://www.ca.uky.edu/fruitfacts/ffJuly05.pdf

They did not have all the varieties sold by Raintree at the test. Of the ones they did, NC-1 seemed to have the highest rating. It was outscored by some of the newer varieties however.

Hope this helps.
Here is a link that might be useful: Peterson PawPaws
---
| | | |
| --- | --- | --- |
| RE: paw paw varieties | | |
Thank you! BY "struck out" I mean Peterson paw paws aren't available. But thanks to Gardenweb, I've become acquainted with an assortment of other nurseries that have other grafted trees, though none with the almost magical reputation of the Peterson trees.

Your info on Neal Peterson was new to me (new to his web site) but it explains a lot (delayed responses, etc.)

Your comments on the bitter aftertaste is a concern to me, since although I've been obsessing about growing paw paws for months, I've NEVER tasted one. Now, more than ever, I want the improved varieties. I don't know what I'll do now. 2009 is way too far away to wait for trees, and now perhaps even that is unsure...? I am so sad for him. And sad for my garden.

I guess I have no logical option other than to get other varieties for now, and wait and see if Peterson Paw Paws are available in the future.

Thank you VERY MUCH for your input!

Ann
---
| | | |
| --- | --- | --- |
| RE: paw paw varieties | | |
I would recommend planting of Pawpaws. They require no spraying, The flowers are interesting (but not beautiful), and the tree has a tropical feel with it's large, generally drooping leaves (all the relatives of Asimina triloba are either tropical or subtropical). They are the only catapillar host for Zebra Swallowtails (though I don't believe I've attracted any to my trees as yet).

Maybe peruse the information on the taste test and go with the best variety from their informal test (that is not a Peterson variety (NC-1?)), plus maybe Sunflower? If you have the room, order other varieties from Peterson as well. It still takes a while for them to bloom, and a year's difference won't matter all that much.

As to the bitterness, maybe you won't notice it. Of most of the varieties tasted, only a few of the tasters noted any bitter aftertaste for a particular variety with the exception of PA Golden (and the article noted that this was not a typical year for PA Golden).
Here is a link that might be useful: PawPaw Newsletter
---
| | | |
| --- | --- | --- |
| RE: paw paw varieties | | |
Hey. Glad to hear their are others out there growing paw paws. I am pretty alone in that regard here in VT. I am growing PA Golden as they are reputed to be some of the cold hardiest. Anyone have any other varieties to suggest?

If your questioning growing paw paws, check out 'Arboretum America' for an incredible chapter on the medicinal properties and other great information...
Here is a link that might be useful: Northeastern Permaculture Wiki
---
| | | |
| --- | --- | --- |
| RE: paw paw varieties | | |
My single sunflower has set big fruit year after year.
---
| | | |
| --- | --- | --- |
| RE: paw paw varieties | | |
Paw Paw Questions (3):

SUNFLOWER CULTIVAR SELF-FERTILE?

*The 'Sunflower' Paw-Paw cultivar is often commercially listed online as self-fertile; however, some websites which seem somewhat 'scholarly' seem to indicate that this cultivar has never been actually proven to be self-fertile. I've even seen is said that they are "partially" self-fertile – whatever that means (maybe it means unreliably, but occasionally; or maybe it means only a few of the flowers will be able to be self-compatibly fertile. Has anyone grown a single specimen and yet received fruit and/or knows the answer to this question?

NATURAL POLINATION OF PAW-PAWS

*I was considering, if the 'Sunflower' cultivar is not really self-fertile, planting 2 separate Paw-Paw cultivars. Since they are mostly only pollinated by flies and 'scavenging beatles', how far is the most I should keep them apart?

FORCED POLINATION OF PAW-PAWS

Can I detach the flowers of one Paw-Paw and then bring it over to the (attached) flowers of another Paw-Paw and fertilize the flower which is not detached in this way?

Thanks,
Steve
---
| | | |
| --- | --- | --- |
| RE: paw paw varieties | | |
see Greenhummer's response just before your post. I guess it's true about Sunflower! (unless his neighbors have paw paws)

Ann
---
| | | |
| --- | --- | --- |
| RE: paw paw varieties | | |
I planted Wells,Rebeccas Gold,Taytwo,and a few seedlings this year...........All are leafing out,but very small.Will be 3 years probably before getting too many on the trees.One Green World,and Raintree two great places to buy from.As far as taste goes,some people like them and some don`t.I think one of the keys is to make sure they are ripe before you pick and eat them.Try putting them in home made ice cream or banana bread recipes.LOL
Randy Bell
---
| | | |
| --- | --- | --- |
| RE: paw paw varieties | | |
Hi, Greenhummer,

I read your post where you mentioned that your Sunflower Paw Paw produces fruit without any other Paw Paw around - that it is self-fertile.

Does that meant that since your particular specimen of Sunflower Paw Paw is self-fertile, that all other Sunflower Paw Paws are also self-fertile or can there be some sort of genetic variation among clones that might mean that not-all of them are going to produce fruit without another unrelated Paw Paw to polinate them.

How many years did it take to cause it to fruit and does it produce a lot of fruit? Also, are there definitely no local Paw Paws?

Thank you very much,
Steve
---
| | | |
| --- | --- | --- |
| RE: paw paw varieties | | |
Sunflower is self fertile period. It takes six to seven years to fruit. For the first two years I built a overhead screen to protect the small plant from the sun. That why its referred as understory plant. My pawpaw is the only one in a three mile radius that I'm know of. Last I harvested three gallons of fruit from this six year old fruit tree.
This year it looks like it will double when I compare the blooms to last year. Here is a picture of the fruit.
---
| | | |
| --- | --- | --- |
| RE: paw paw varieties | | |
I ordered two of the Petersen Pawpaws also !!
---
| | | |
| --- | --- | --- |
| RE: paw paw varieties | | |
You might want to try these people also.
Blossom.Nursery@gmail.com
---
| | | |
| --- | --- | --- |
| RE: paw paw varieties | | |
I'm good to go! got Taytoo and Pennsylvania Golden from Nolin Nut Tree Nursery (I like that place---good service, nice people, 5' trees!) and I have 2 coming from Peterson next year, I hope!
Ann
---
| | | |
| --- | --- | --- |
| RE: paw paw varieties | | |
NC-1 was listed as not having a bitter aftertaste so I got one from One Green World. I hope it won't take too long for it to fruit. I have 2 seedling trees that are 8 or 9 years old, one fruited last year, hopefully they both will fruit this year. The blossoms were open today but I didn't get around to hand pollinating, hopefully I can tomorrow before it rains. The fruits were small, about 3" long, but the flavor was very delightful and no bitter aftertaste. Hopefully the fruit size will increase as the tree gets bigger.
---
| | | |
| --- | --- | --- |
| RE: paw paw varieties | | |
I`m going to try one from Nolin as well,I like diversity.Let me know how the one from nolins looks when it arrives.Randy
rbell2@insightbb.com
---
| | | |
| --- | --- | --- |
| RE: paw paw varieties | | |
THey've been in the ground a month and are starting to leaf out. They are 4' sticks with leaves, but healthy. I'm perfectly satisfied.
Ann
---
| | | |
| --- | --- | --- |
| RE: paw paw varieties | | |
I planted two bare root 3' paw paw trees that I bought from a place online in mid-May. It's been a little over a week with no change in status (i.e. they're still leafless sticks). How long does it normally take to start getting leaves from bare root plants?

Greg
---
| | | |
| --- | --- | --- |
| RE: paw paw varieties | | |
1 week isn't enough time!!

I wrote on May 20 that mine had been in the ground a month and had a few leaves. They're really coming to life now. I wouldn't worry about yours until at least mid June.

Ann
---
| | | |
| --- | --- | --- |
| RE: paw paw varieties | | |
Catlady, thanks for the info. I figured the plant would be developing roots before it started developing leaves, but I wasn't sure how long it would take. Good to know.

Greg
---
| | | |
| --- | --- | --- |
| RE: paw paw varieties | | |
Greg, any leaves yet?
: )
Ann
---
| | | |
| --- | --- | --- |
| RE: paw paw varieties | | |
Not even a bud. I think they're dead. I'm thinking of carefully excavating to see if there is any root growth. Any advice?

Thanks!

Greg
---
| | | |
| --- | --- | --- |
| RE: paw paw varieties | | |
No don't do it! There's still hope! It would be a shame if it were just starting to grow and you dug it up!

Where are they from?

Ann
---
| | | |
| --- | --- | --- |
| RE: paw paw varieties | | |
Hi Everyone,

I'm about were CatLady was a year ago. I'm looking to plant some improved varieties. Contacted Neil Peterson, but he's out of stock for 2009. I'd be interested in getting some seeds from Peterson varieties that are bearing fruit this spring if anybody is willing to part with them. I'm also going to try some plain ol' select stock from a local nursery http://www.ediblelandscaping.com/index.php?plantSearch=Paw+Paw

Might go to pick up some fruit from Jim Davis' stock this September at a local market and may be able to share some seeds from the tastier fruit if anybody is interested?
---
| | | |
| --- | --- | --- |
| RE: paw paw varieties | | |
Well, it's July now and they're still sticks. No leaves or buds. I didn't dig them up, but I'm pretty sure they're dead. The cicadas didn't even bother with them. :-)

I got them from Nature Hills online. I need to check to see if they are guaranteed. Fortunately, they were pretty cheap.

I had never planted bare root stock before. Nature Hills suggests soaking them in water for an hour or so prior to planting. I found that on their website AFTER I planted them. There were no planting instructions in the package other than "Plant Immediately!".

Greg
---
| | | |
| --- | --- | --- |
| RE: paw paw varieties | | |
so sorry....

Consider trying Nolin Nut tree Nursery...I was really impressed. (Peterson is too backordered.)
But I think Paw paws only ship in the spring...

Ann
---
| | | |
| --- | --- | --- |
| RE: paw paw varieties | | |
I have the varieties you mention planted but most are not bearing age yet. Of all the varieties I have tasted 'overleese' is fantastic with no bitter aftertaste that some can leave. It also has very large fruit and texture is excellent and it is quite good at different stages of ripeness. I have not been too impressed with the varieties 'mitchell', 'mango', or 'wells' for various reasons. I have tasted 3 of Petersons varieties and each was outstanding as advertised.
---
| | | |
| --- | --- | --- |
| RE: paw paw varieties | | |
Im with Va farmer
Im interested in seeds as well.(any type wild any thing)
I got some from a forum wild ones but they didn't take off.
(one looked like it had stringy web looking roots coming off of it though.

Any ways I read that it's best to NOT let them dry out, and that is why I think they didn't grow.

I pout them in a frigderate(cold stratification ) whan I got them, but I think they were dry when I got them, and I thought putting them in a fridge would help them be dormant.
Maybe they dryed from the generious man I got them from.
(it was on a forum, and he didn't know they needed to be kept moist)

Any advice on how to stiore the seeds I kbnow they need cold stratification .
---
| | | |
| --- | --- | --- |
| RE: paw paw varieties | | |
From what I've heard and read, seeds are not the way to go. They will be a cross of whatever type was the producing tree and the pollinating tree.
If you want to have a genetically undifferentiated plant, you'll need to grow it from a cutting.

I am also curious what they taste like, as I've never had the opportunity to taste a pawpaw. If you know of anyone growing them in Western PA, please let me know. Thanks.
---
| | | |
| --- | --- | --- |
| RE: paw paw varieties | | |
Does anyone know about hand pollinating paw paws? I just gave it a shot myself and found that some of the flowers on my larger tree were in the male stage, and some were in the female stage. Can flowers in the male stage be used to pollinate flowers in the female stage on the same tree or do they have to be from a different tree?
---
| | | |
| --- | --- | --- |
| RE: paw paw varieties | | |
You need pollen from another tree, atleast thats what I have read on multiple sites. If you only have room for one tree im sure you could graft a diffent variety onto one of the branches so that you can cross pollinate. I have seen people do that on apple trees and cherry trees.

thats what im gonna do to this one.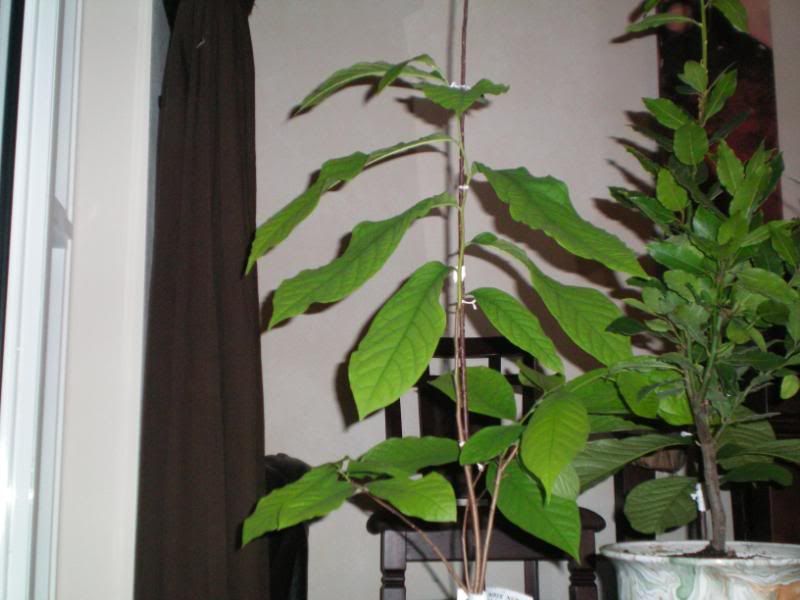 ---
| | | |
| --- | --- | --- |
| RE: paw paw varieties | | |
Hi!

I'm looking for wooden parts of the Peterson's pawpaws. If anyone have and want to trade, I'll pay all the costs, a reward and also to Neal Peterson for their license.

Thanks in advance.
---
| | | |
| --- | --- | --- |
| RE: paw paw varieties | | |
They are patented varieties! You can only get them from Neal Peterson.
---
| | | |
| --- | --- | --- |
| RE: paw paw varieties | | |
I only recommend Wells and Sunflower as they are, presently, the only two cultivars known to be (comparatively) low in their known compounds which all members of the Asimina (and related) family have been shown to cause atypical Parkinsons in high/frequent enough concentrations.

Could someone suggest to me how I can form a pawpaw colony out of two separate pawpaws (i.e. 2 separate rootstocks)? If I plant them a mere 6' apart and allow them to freely sucker in an area of 20' x 20', will the two rootstock-joined colonies form a single colony, or will there be a problem to arise from the competition; will the roots inosculate (fuse)?
---
| | | |
| --- | --- | --- |
| RE: paw paw varieties | | |
Ok, I understand from the above that Peterson has stopped selling Paw Paw trees, but does anyone sell seeds and the wood that you'd need to graft one at home? Mail me at manley123@yahoo.com if there is a nursery or source, thanks.
---
| | | |
| --- | --- | --- |
| RE: paw paw varieties | | |
From my experience in NE OK...about 80 percent of the pollination occurs when I take a flower from one tree (when it has the little tiny black pollen flecks) and rub it on the swollen female part of a flower on another tree. I use a flower to pollinate 3-4 others...then select a flower from the 2nd tree and return the favor on the first tree (I have two total).

It appears I can produce close to 100 percent pollination this way. Not sure for certain as I'm pleased with seeing fruit for my own enjoyment (I don't sell and am not in "the business").

Hope that helps.

BTW, I've had fruit hit the ground and not grow. So, its not THAT simple!

I've been told numerous times that paw paws are a bit cantankerous to grow. I got mine as 3-4 foot trees at a nearby nursery.

The first 3 summers they lost all their leaves in the middle of the OK heat but came back out the next year. I watered them a LOT those summers! I also responded to the leaf loss by taking a patio umbrella and placing it where each tree got a few hours of shade each day from the umbrella. Regardless of my luck and/or growing savvy they are very hardy now. Large and bountiful with little whimpering from direct sunlight during summers.
---
| | | |
| --- | --- | --- |
| RE: paw paw varieties | | |
Grew up in a small town in Ohio, formed a love of PawPaws there. The University of Maryland has been working on PawPaws for many years now, and you can contact them (I don't really know how, but they are agricultural). Also, there is a smalltown in West Virginia called PawPaw, and they have a PP fest every year (Aug., maybe). There used to be an organic fruit nursery in VA (I think) called Mc Conkey's who had PPs, but I don't know what kind.
I live in FL, now and they don't grow this far south (although their relatives do). Good luck to everyone.
---
| | | |
| --- | --- | --- |
| RE: paw paw varieties | | |
Does anyone know what time of year pawpaws leaf out and flower? I planted a couple last fall and I'm curious about what to expect. Is anyone else growing them in the willamette valley?

Thanks,
Amber
---
| | | |
| --- | --- | --- |
| RE: paw paw varieties | | |
Pawpaws bloom and leaf out in April. So far it looks to be a very fruitful year. My trees are loaded.
---
| | | |
| --- | --- | --- |
| RE: paw paw varieties | | |
I planted a Wells here in San Antonio and for a year it kinda just stood there and didn't do much. Then we moved and rented out the place. The new tenant cut the tree down- too much hassle to mow around she said. Just when you think you have heard it all! The worst part of it was that she also cut down about 6 other fruit trees for the same reason. We sold the house. This time if we move again, no renting. Just sell the place. Too much emotion involved in all these fruit trees!
---
| | | |
| --- | --- | --- |
| RE: paw paw varieties | | |
does anyone have any seeds or seedlings
---
| | | |
| --- | --- | --- |
| RE: paw paw varieties | | |
vendor list:

Table 3. Suppliers of pawpaw cultivars.
J.S. Akin
Sherwood's Greenhouses
P.O. Box 6
Sibley, LA 71073 Phone: (318) 377-3653
Cultivars: Davis, Mango, Overleese, Rebecca's Gold, Sunflower, Sweet Alice, and Wilson
Send Self-Addressed Stamped Envelope for price list
Annie Black
Hidden Springs Nursery
Rt. 14, Box 159
Cookville, TN 38501 Phone (931) 268-9889
Cultivars: Sunflower and Taylor
Catalog $0.40
Corwin and Letha Davis
20865 Junction Road
Bellevue, MI 49021 Phone (616) 781-7402
Cultivars: Davis, Overleese, Prolific, Sunflower, Taylor, and Taytwo
Include Self-Addressed Stamped Envelope.
Michael Dolan
Burnt Ridge Nursery and Orchards
432 Burnt Ridge Rd.
Onalaska, WA 98570 Phone: (206) 985-2873
Cultivars: Sunflower and Ford Amend
Send Self-Addressed Stamped Envelope for free catalog
J.H. Gordon, Jr.
1385 Campbell Blvd.
Amherst, NY 14228-1404 Phone (716) 691-9371
Cultivars: PA-Golden, SAA-Overleese, and SAA-Zimmerman
Louisiana Nursery
Rt. 7, Box 43
Opelousas, LA 70570 Phone: (318) 948-3696
Cultivars: Mitchell, Overleese, and Wilson.
Catalog $5.00
Northwoods Nursery
28696 S. Cramer Rd.
Molalla, OR 97038 Phone (503) 651-3737
Cultivars: Mary Foos Johnson, Prolific, Rebecca's Gold, Sunflower, and Wells
Oregon Exotics Rare Fruit Nursery
Jerry Black
1065 Messinger Rd.
Grants Pass, OR 97527 Phone: (503) 846-7578
Cultivar: W.L.W. Mason
Robert Seip
Lennilea Farm Nursery
R.D. 1, Box 683
Alburtis, PA 18011 Phone (215) 845-2077
Cultivars: Mango, Sunflower, and Sweet Alice

see link below for info on seed propogation
best,
mindy
www.cottonarboretum.com/
Here is a link that might be useful: good pawpaw info-purdue
---
| | | |
| --- | --- | --- |
| RE: paw paw varieties | | |
Biomed, thanks for the links.

Sunflower, Sweet Virginia, Kentucky Champion and Prima 1216 to be self-pollinating variety.

Ivan.
---
| | | |
| --- | --- | --- |
| RE: when to pollinate paw paws | | |
After 7-8 years, my 2 paw paws are finally putting out blossoms, and last spring I pollinated by hand with a fine-bristled make-up brush, but all the blossoms withered up and died. I pollinated as soon as the blossoms opened up enough to reach inside for pollen. Any ideas about what I may have done wrong?
---
| | | |
| --- | --- | --- |
| RE: paw paw varieties | | |
I've read that sometimes,the year they first flower,the blossoms will drop off and each succeeding year be better for fruiting. Brady
---
Post a Follow-Up
Please Note: Only registered members are able to post messages to this forum.
If you are a member, please log in.
If you aren't yet a member, join now!
---
Return to the Edible Landscape Forum
Information about Posting
You must be logged in to post a message. Once you are logged in, a posting window will appear at the bottom of the messages. If you are not a member, please register for an account.
Please review our Rules of Play before posting.
Posting is a two-step process. Once you have composed your message, you will be taken to the preview page. You will then have a chance to review your post, make changes and upload photos.
After posting your message, you may need to refresh the forum page in order to see it.
Before posting copyrighted material, please read about Copyright and Fair Use.
We have a strict no-advertising policy!
If you would like to practice posting or uploading photos, please visit our Test forum.
If you need assistance, please Contact Us and we will be happy to help.

Learn more about in-text links on this page here