Return to the New England Gardening Forum
|
Post a Follow-Up
---
| | | |
| --- | --- | --- |
| wanted: ct. fall plant swap '05 | | |
Posted by
ronr
z6 ct (
My Page
) on
Tue, Aug 23, 05 at 23:26
Wow!! is it time for the fall swap already???...seems like we just had the spring swap...like...two weeks ago.
well anyway,I'd like to invite everyone and anyone back to the nursery for another wonderful day of plant swapping and pot luck lunch. I'll bring the hot dogs,hamburgers,rolls,and condiments.
I'll probably set things up very similar to the way i have in the past...gas grill,coffee,tables,chairs,tours of the growing fields if anyone is interested,the nursery has once again donated a $50.00 gift cert. to be raffled off,and is offering 25% discount on anything in the nursery to all plant swappers,and of course I'll have to come up with another silly contest for the 'mystery prize'...he he he.
Ideally I would like to hold this galla event on sunday sept. 18 starting around 10:00 a.m. at Young's Nurseries 130 washington rd. (rt. 47) in woodbury CT.
Anyone interested? if so just chime in and let me know so i have a rough idea as to how many burgers and dogs I'll need.
If anyone has any questions just ask,and if anyone has any recomendations or requests just let me know.
the rules are as follows:

everyone has fun and no one gets hurt...thats it.
just getting started in the garden and don't have anything to swap,no problem come on down,you'll leave with plenty to get your garden started.
can't find a babysitter...no problem,kids and pets are more than welcome (mine will probably be there) and bring a fishin pole,the swap is right along side of a small lake.
how much does it cost?...nothing everything is free,even the raffle,so leave your wallet at home unless you want to take advantage of the 25% off deal but thats entirely up to you.
The last two swaps have been an absolute pleasure to host,I cant wait to see you all again!
happy gardening,
Ron
---
Follow-Up Postings:
| | | |
| --- | --- | --- |
| RE: wanted: ct. fall plant swap '05 | | |
Ron, big thanks for invitation and I'm sure we'll hold you up on your offer. :-)))
I know it was busy time at the nursery and you might missed the recent thread about fall swap where we were discussing the possible dates. It seems like Sunday, Oct 2 was the date most of the people would prefer.
I know, beggar can't be a chooser, but if that date is not in a conflict with yours and nursery plans, maybe you could accomodate us on Oct 2 instead of Sept 18?
To me personally any of those dates would be good.

I definitely would like to take an advantage of 25% off offer and I already know what I'd like to get from Young's.
Could you hold certain plants for me till event (they are in stock right now in Wilton)?
One more thing, I'm looking for landscape size Hydrangea 'Teller Blue' aka 'Blaumeise' and wondering if you have one in Woodbury stock as I don't see it in Wilton.

Big thanks again for your hospitality and generocity.
Here is a link that might be useful: CT Fall'05 swap thread
---
| | | |
| --- | --- | --- |
| RE: wanted: ct. fall plant swap '05 | | |
Hi Ron, thanks for your generous invitation! I'm game whenever it is. Do you have any Kalmia 'Sarah' at the nursery?
---
| | | |
| --- | --- | --- |
| RE: wanted: ct. fall plant swap '05 | | |
jeez,you guys are two steps ahead of me.
I was completely unaware of that thread (thanks george), october 2 is fine with me,it's actually the first day of my vacation...gonna be a busy week,plant swap oct 2,my 36th birthday is 0ct. 5,leaving for florida with wife and kids oct 6 ,comind back to ct oct 15.
george,I could certainly hold plants for you,what plants where you interested in? also I'll look into the hydrangea even if its not something we have in stock,maybe i can get it for you,same for your kalmia saypoint,I'll see what I can come up with. can't wait to see you all!! hey how did those cork screw willow and red twig dogwood cuttings make out? any success?
see you soon
Ron

---
| | | |
| --- | --- | --- |
| RE: wanted: ct. fall plant swap '05 | | |
Ron, they have this new perennial, Leucoseptrum stellipilum.
I bought one last year at Young's and I'm very happy with it, so I'd like to buy another one.
Also in Wilton they have several unlabeled and unpriced hydrangeas with very distinct red/burgundy coloration on a leaves tips and edges (they are in a kind of weird 2.5G pots, I think they were repoted recently). I'm most certain that it's a H. serrata 'Preziosa' and I'd like to take a chance if price is right. LOL.
Actually, I'd like to make an endorsement for Leucoseptrum and maybe somebody else will be interested.
It's a woody perennial whose leaves are very similar to hydrangea. Tolerates full to part shade as per label. Mine planted in part shade with emphasis on shade. Early riser, but late bloomer. Very floriferous. Last year it bloomed for me toward the end of October for two weeks. Leaves are perfectly clean and so far were not bothered by any pests or resident rabbit and groundhog. So far it stays at about the same height as last year(12"), but is twice as wide than it was last year at about 12"+ width now. I heard that variegated version with white flowers also exist, but I never saw it myself.
Last October picture: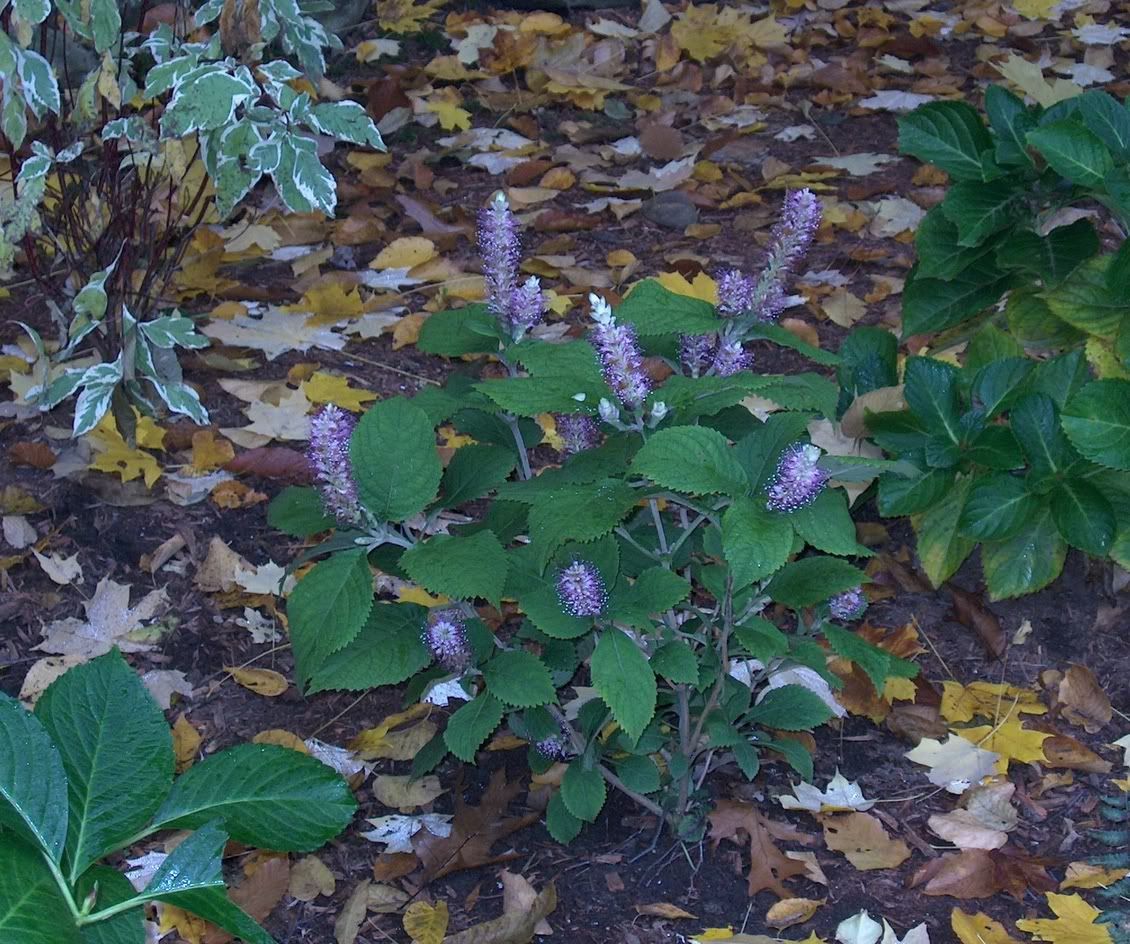 ---
| | | |
| --- | --- | --- |
| RE: wanted: ct. fall plant swap '05 | | |
Thanks Ron, I will also be happy to show up whatever the date is! I have a huge wishlist of shrubs, I'll have to check the Young's website to see what I can get there. Actually the earlier date might be better as far as getting new plants established before the cold weather sets in.

I won the raffle for the gift certificate last year and I ended up getting a bunch of perennials. They all did wonderfully and are huge and thriving, some need dividing already.

I'm off to start digging out plants for the swap. Shasta daisies, purple bee balm and tall orange daylilies, enough for ten gardens.
---
| | | |
| --- | --- | --- |
| RE: wanted: ct. fall plant swap '05 | | |
I've already got the Oct 2nd date marked on my calender and was not available on the 18th so glad it didn't change :) George, I have a couple of variegated Leucosceptrums that I got at VFN this year. They haven't bloomed yet though. If I get out there again before the swap, do you want me to try and pick one up for you?

Sue
---
| | | |
| --- | --- | --- |
| RE: wanted: ct. fall plant swap '05 | | |
Sue, I'd appreciate that. Pick me the nicest one. :-)))

I'll be bringing Carex 'Ice Dance' for those who ask for it during mid-season meeting and maybe some extras.
I'll also have rooted Spireas 'Magic Carpet' in 1g and 'Goldflame' in 2g.
Some hydrangeas rooted well and some not (paniculatas in particular).
If anyone is interested I think I still have enough time to root sedums 'Tricolor' (groundcover) and 'Matrona'.
I'll schedule my lily digging for Sat, Oct 1 to have them fresh and I'm sure there will be plenty of bulblets, especially asiatics. They would need another year or two to be a blooming size.
Maybe some peony and Iris ensata if I'll have time to divide them before the swap.
Also, if anyone interested to keep coleuses indoor for the winter I could propagate 5-6 different varieties from my 'collection'.
Could spear some ajuga 'Chocolate chips', as well.
Any takers for Bog Rosemary (Andromeda polifolia)? I can't provide the right conditions (constantly wet full sun) for this beautiful looking (in nursery pots) plant.

I'll be interested in blue Iris sibirica (I think 'Ceasars brothers' is the most common) and any bright or dark (bold colored) bearded Iris.
As always still have room for pachysandra and ferns (not evergreen).
Looking for more pink Dicentra eximia.
If by any chance you'll be dividing your hosta 'Minuteman' I'll gladly take them all as I need them for mass planting.
Division(s) from 'Francis Williams' will be appreciated too.
---
| | | |
| --- | --- | --- |
| RE: wanted: ct. fall plant swap '05 | | |
George, I have Dicentra eximia. If you have time to root it, I would love some sedum 'Tricolor.'
---
| | | |
| --- | --- | --- |
| RE: wanted: ct. fall plant swap '05 | | |
I have Heuchera Palace Purple, Sedum Matrona and Autumn Joy, the usual Shasta Alaska and Rudbeckia fulgida Goldsturm, see my trade list if anyone is wanting anything.
---
| | | |
| --- | --- | --- |
| RE: wanted: ct. fall plant swap '05 | | |
Ron, the cuttings of red twig and a gold twig? rooted beautifully for me. They even flowered and got berries! Gary and I are planning on being there. We have Montauk daisy, purple monarda, also monarda Earl Grey. I will have 4 o'clock seeds and ajuga.

I always need rudbeckia and shasta daisy, coneflower etc. Does anyone have Rudbeckia Cherokee Sunset and seeds for a big gaudy red zinnia? /Abi

George, I would love some bulbets.
---
| | | |
| --- | --- | --- |
| RE: wanted: ct. fall plant swap '05 | | |
George, I'm planning on bringing ferns and pachysandra. I'd love a bog rosemary to plant by the lake. I'm planning on bring nepeta subsessilis (Jo how did the one I gave you do?) among other things. Anyone interested in carex muskimensis (palm sedge)? I also have penstemons, campanulas, icelandic poppies and other things I'll find. I'd love a hardy hibiscus - I lost them and a lot of my winter sown seedlings with the drought.
---
| | | |
| --- | --- | --- |
| RE: wanted: ct. fall plant swap '05 | | |
sienna (Tina?), 'Tricolr' for you already in a pot and rooting.

Abi, 'Limelight' didn't rooted and I'm affraid will not, considering time of the year. Would you like 'Tardiva' instead? There should be plenty of lily bulblets for all.

Hedy, Andromeda polifolia is for you. It looks like a hell now, but well alive. What kind of campanula do you have? Are I. poppy suitable for rock garden? Part sun? Invasive?

Just had to save very large and old unknown (no name and no color either) peony from construction site. It fell apart during the digging and transportation and now I have 4-5 pots with 3 to 5 eyes divisions. Anyone willing to give them a good home? Don't expect bloom till Spring'07, though I found older 'classic' cultivars are less sensitive to moving/dividing than the newest one. So there is a slight chance for '06 bloom, but I wouldn't bet on it.
---
| | | |
| --- | --- | --- |
| RE: wanted: ct. fall plant swap '05 | | |
George, I'd love to have a Peony.
Jo
---
| | | |
| --- | --- | --- |
| RE: wanted: ct. fall plant swap '05 | | |
George, Tardiva will do just fine. If you have any more bog rosemary's,I'll take one. just put in a tiny pond. I will have salvia May Night and is any one interested in agastache "apache Sunset"? /Abi
---
| | | |
| --- | --- | --- |
| RE: wanted: ct. fall plant swap '05 | | |
Here are a few things I plan to bring:

Peony-cultivar not known-flowers are large and magenta
Rudbekia 'Goldstrum'
Any rose that developed blackspot-so far there are two, and apricot called 'Acadia' and a white Meidiland called 'Panda'
Assorted named daylilies-probably 'Happy Returns' and 'Black Eyed Stella'
Hostas-many of mine got huge and need dividing but I don't know how much of that I'll be able to get done before the swap.

I'm sure there will be more but I won't know what until I start digging.

Sue
---
| | | |
| --- | --- | --- |
| RE: wanted: ct. fall plant swap '05 | | |
Sue, I could use BE Stella. Are they good for part-shade or they need full sun only?
---
| | | |
| --- | --- | --- |
| RE: wanted: ct. fall plant swap '05 | | |
Sue, I will take the Meidiland. Is the apricot fragrant? I have a snowfire, (very small) and a Tamora. Anyone interested? Possibly a fair bianca and a falstaff. Can anyone tell I'm not an Austin lover? Anyway I am not sure how much I can fit in my small car so unless it is pre-claimed, it might not get brought along. /Abi
---
| | | |
| --- | --- | --- |
| RE: wanted: ct. fall plant swap '05 | | |
The BE Stellas should be fine in part sun, George. Obviously the more sun the better they bloom. Mine are out by the street in rather harsh conditions. They bloom heavily for about a month starting in June. In better conditions they would probably rebloom.

Abi, the rose is yours. I haven't noticed any fragrance in Acadia. It's a beautiful color but has turned into a BS magnet in my garden.
Sue
---
| | | |
| --- | --- | --- |
| RE: wanted: ct. fall plant swap '05 | | |
Sue, I'll take BES, txs.
Re: JB and roses. All light colored (peach/yellow/light pink) and fragrant roses are JB magnets and while such roses present in a garden they'll ignore dark and non-fragrant ones. Unfortunately eliminating light colored roses from the garden wouldn't solve the problem. Once JBs unable to find anything light they will destroy dark colored and non-fragrant roses as well. So, to keep at least one peach fragrant rose and use it as a decoy is very helpfull. I use Sultry and Gene Boerner as such.

Abi, if nobody else will be willing to claim Tamora, I'll take it.
I have two of them already, but what the heck, if I'd have three it could give me an option to plant them as a grouping or use as a cut flower plant, since it's one of the few Austins that could last more than 2 days in a vase.
If somebody else want it, it's fine with me.
---
| | | |
| --- | --- | --- |
| RE: wanted: ct. fall plant swap '05 | | |
George, Tamora is yours. Sue I looked up Acadia and I'll take it. Always wanted to try a National Park rose. A few years ago (and it might have been you) someone gave me a Betty Boop saying it was a BS magnet in her garden. In my garden it's a star! /Abi
---
| | | |
| --- | --- | --- |
| RE: wanted: ct. fall plant swap '05 | | |
Ooh, Sue, how could you part with that beauty? BS or not, that rose is gorgeous!

I will be coming along to the swap, but most likely just for the people, not the plants, lol! I can't think of much of anything I have to bring, except possibly some unnamed hostas and a few unnamed dwarf irises, (why is it that it's always the unknown stuff that does so great in my garden?!) and I don't know if I'll have time to dig things up (this farmer's market is taking up all my gardening time!) but I would love to see everyone again. Don't worry, I won't take anything home if I don't bring anything. It's not like I don't have stuff still to plant (just see the 'Fess Up thread, lol!). Not that you guys care who brings and who takes, I know that, but I feel funny taking without bringing something to share.

Looking forward to seeing everyone again!
:)
Dee
---
| | | |
| --- | --- | --- |
| RE: wanted: ct. fall plant swap '05 | | |
Dee, those 'unnamed dwarf irises' are not earliest to bloom Iris reticulata by any chance?
If so, I'm interested.
---
| | | |
| --- | --- | --- |
| RE: wanted: ct. fall plant swap '05 | | |
No George, they not iris reticulata. I think they're a dwarf bearded iris, and they bloom, oh, is it early June? I bought them many years ago as Royal Knight, but have since been told that they're not Royal Knight, so who knows? They're rather nice, though, a dark purple, about 2 feet high at the most, sometimes shorter. I once had them reblooming in November.

:)
Dee
---
| | | |
| --- | --- | --- |
| RE: wanted: ct. fall plant swap '05 | | |
Dee, I'm sure you need a snowfire rose or perhaps falstaff? No fair showing up and NOT taking something. Most of us already have too much to plant anyway. But it will be nice to see everyone again. /Abi
---
| | | |
| --- | --- | --- |
| RE: wanted: ct. fall plant swap '05 | | |
LOL. Abi, yes I *need* another Austin - or any other plant, at this point! - like I need another head, lol! But I do absolutely love Austins, so perhaps if you were to bring one, and perhaps if no one were to take it, perhaps I could be persuaded...

:)
Dee
---
| | | |
| --- | --- | --- |
| RE: wanted: ct. fall plant swap '05 | | |
will anyone have any cannas?
---
| | | |
| --- | --- | --- |
| RE: wanted: ct. fall plant swap '05 | | |
I could bring cannas (Tropicana or....?). They overwintered in a ground for me, but sprouted very late and is much shorter than they were. Also spot become more shaded than it was and they just start forming buds. Too late.
---
| | | |
| --- | --- | --- |
| RE: wanted: cannas | | |
Would like some tropicana, intrigue and australia cannas if anyone has them. I did not know you could leave them in the ground in CT. If I can make it, I would bring some ground covers and common hostas. (I'll check on the hyperion daylily)We have lived in our first home for a year now and are limited to trading what the previous owner had planted. Hopefully the date will stay as oct 2nd since I will be busy the middle of sept.
---
| | | |
| --- | --- | --- |
| RE: wanted: ct. fall plant swap '05 | | |
Who has the salvia may knight, and what are you looking for in trade?
---
| | | |
| --- | --- | --- |
| RE: wanted: ct. fall plant swap '05 | | |
Noticklish, I'm not positive about my cannas ID, but they are yours. I don't think you could routinely overwinter them in ground in CT, they were planted in generally warm location + warm winter'05 made a trick.
I'll have some salvia, 'Blue Queen'.
---
| | | |
| --- | --- | --- |
| RE: wanted: ct. fall plant swap '05 | | |
I am having trouble figuring out who wants what because no one here seems to have a want/trade list posted!!!It seems a lot easier to keep things straight when someone posts a wanted list (separate from this post) so the emails get sent directly to them. Did that make any sense???!!
ego45-I have pachysandra and can bring a couple divisions of blue siberian iris. Interested in the cannas(what color leaves n flowers are they?), and blue salvia. What color ensata iris do you have? Any rooted tall sedums, too? Thx.
---
| | | |
| --- | --- | --- |
| RE: wanted: ct. fall plant swap '05 | | |
Hi Everyone -

Dena and I are hoping to be there. We have been absent from the forum for a while since with our home business we have been busy working around the clock for the past few months on 3 large simultaneous projects. Better busy than not.

Also, in the midst of this we bought a house!! We haven't had much time to work on it or work on the yard yet. Hopefully things will calm down in the next week or so.

Not sure what we'll bring yet, but it will be great to get together and see everyone again!

Bill & Dena
---
| | | |
| --- | --- | --- |
| RE: wanted: ct. fall plant swap '05 | | |
Noticklish, you don't necesaarily have to bring specific things for specific people. Mostly I'd say our swaps are just bringing what we have, putting it out on tables, and letting folks pick and choose. Certainly you can arrange specific trades, but I wouldn't worry too much if you feel like you're losing track of things. I know me personally, I don't always know what I want till I see it, lol!

Bill, sounds like you and Dena have been busy! I was thinking of you guys just today as I was looking for buds on the passion flower I got from you two years ago. (BTW, I'm quite proud of myself for successfully overwintering it, lol!)

:)
Dee
---
| | | |
| --- | --- | --- |
| RE: wanted: ct. fall plant swap '05 | | |
I have five goldfish, comets about 3 inches long, that started out as 15 cent feeders in my patio pond. I think they're a bit too large and numerous to overwinter in my 10 gallon aquarium, and in any case, since we haven't built our permanent pond yet, will have no place to go in spring anyway.
Anyone have an outdoor pond or large enough aquarium to give these guys a home? Let me know.
Jo
---
| | | |
| --- | --- | --- |
| RE: wanted: ct. fall plant swap '05 | | |
can we get a confirmation on date and time?
---
| | | |
| --- | --- | --- |
| RE: wanted: ct. fall plant swap '05 | | |
Sunday October 2, at 10:00AM...no?

:)
Dee
---
| | | |
| --- | --- | --- |
| RE: wanted: ct. fall plant swap '05 | | |
yes,oct. 2 starting around 10:00,ending whenever.
sorry I havn't chimed in lately,tommorow is our annual open house so I've been tremendously busy getting everything in order for that. sooo now that that is all set I can start getting ready for the swap,A.K.A. scrumaging around to see what we can throw into the plant kitty.
see ya soon,
ron
---
| | | |
| --- | --- | --- |
| RE: wanted: ct. fall plant swap '05 | | |
Hi Everyone,

I am really looking forward to the upcoming swap! I missed the Spring swap but this one is on my calendar for Oct 2nd. I hope to bring a good friend from work who has a fabulous garden in the New Haven area.

I have started a list of what I am planning to bring - please let me know if you want me to put something aside for you.

Perennials:
Kniphofia Hybrid 'Border Ballet'
Monarda didyma 'Marshalls Delight'
Alchemilla mollis
Lysimachia clethroides
Lamium maculatum 'White Nancy'
Allium tuberosum
Calamintha grandiflora 'Variegata'
Chrysanthemum superbum
Penstemon digitalis 'Huster Red'
DICENTRA Spectablis Alba
Houttuynia 'Chameleon'
GERANIUM Biokovo
Lychnis chalcedonica
Euphorbia dulcis 'Chameleon'
Eryngium planum 'Blaukappe' (Sea Holly)
Lobelia cardinalis 'Queen Victoria'

Shrubs:
Paeonia lactiflora (double white)
Salix integra 'Hakuro Nishiki'
Physocarpus Opulifolius 'Diabolo' (small, rooted cutting)
Weigalia florida 'Variegata' (small, rooted cutting)

Annual cuttings (not rooted):
Coleus 'Dipt in Wine'
Coleus 'The Flume'
Coleus 'Felix'

Looking for:
Ajuga – any kind
Persicaria 'Firetail'
Rudbeckia Goldsturm
Shade plants

See you @ the swap!

Liliane
---
| | | |
| --- | --- | --- |
| RE: wanted: ct. fall plant swap '05 | | |
lidigentry: I'm interested in the queen victoria lobelia, white alba bleeding heart and coleus cuttings. I believe I have some ajuga. In a previous post I listed some of the things I'm bringing.
---
| | | |
| --- | --- | --- |
| RE: wanted: ct. fall plant swap '05 | | |
Liliane, I have tons of Rudbekia Goldsturm. Usually I don't bother to bring it to the swaps because everyone tends to have enough. I'll get you a big chunk.

Sue
---
| | | |
| --- | --- | --- |
| RE: wanted: ct. fall plant swap '05 | | |
Sue, thanks for the offer. I have a couple of areas I am trying to fill in with some later-season color, so anything you can spare is very much appreciated!

Liliane
---
| | | |
| --- | --- | --- |
| RE: wanted: ct. fall plant swap '05 | | |
Right now I think I can make the swap. Is there any interest in small plants of Salvia patens 'Blue Angel'? I think they are only hardy to 7b, so they would have to be wintered over inside. I started them from seed last spring, but they are still small. I've also got some 4 year old cordyline plants that I'm not planning on winter over this year. They were in 1 gal pots last winter, and I think they'll have to go into 2 gal if I get them out of the planters. I won't bother with either if there is no interest, but will just bring whatever hardy perennials I can find. I know there are a lot of russet daylilies and self seeded knautia. I'll have a better idea next week.

At least we finally got some rain so digging plants out isn't digging concrete. Last week I had to get out the digging fork and almost needed a pickaxe to plant a 3" perennial.
---
| | | |
| --- | --- | --- |
| RE: wanted: ct. fall plant swap '05 | | |
liliane- I checked and found I have ajuga that has mostly purple leaves. Interested in it?
For anyone else reading this: I'm looking for mini daylillies like the siloam or candy series that are any color other than solid yellow. This will be the first year that I try the mini daylillies. Thanks !
---
| | | |
| --- | --- | --- |
| RE: wanted: ct. fall plant swap '05 | | |
Lidigentri, I'd love some calmintha and lobelia. I also have rudbeckia for you. Jo,if you have any more sweet woodruff, I'd love some of that too. I'm also looking for coreopsis moonbeam. So far, I'm bringing:

rudbeckia
pachysandra for George
several ferns (look like lady ferns)
palm sedge ( a shade grass)
penstemon grandiflora
geranium yoshino 'confetti'
iceland poppy 'queen rose'
nepeta subsessilis (like siberica but bushier)
agastache 'blue fortune'
maybe foxglove 'pam's choice'
and anything else I can find this weekend

Hedy
---
| | | |
| --- | --- | --- |
| RE: wanted: ct. fall plant swap '05 | | |
Hedy, I'll see if I can scare up some Sweet Woodruff for you. My big patch didn't survive the drought but I have some smaller patches. I dug up a couple of Malva 'Zebrina' for you. The Nepeta you gave me at the spring swap is doing great.

I have an assortment of things that needed dividing or were in the way of progress, and will just see what looks interesting when I get there. I don't really need anything, though if anyone has any Vinca minor, I still have some areas to fill in. I keep telling myself I'm not bringing anything home that I didn't have a plan for. Yeah, right.
Jo
---
| | | |
| --- | --- | --- |
| RE: wanted: ct. fall plant swap '05 | | |
Hedy, I have some Coreopsis Moonbeam. I don't need anything either. What I bring will largely depend on how much I can get dug this weekend. I have a wedding to go to on the 1st that between the ceremony, reception and "after party" starts at 10:30 AM and lasts all freakin' day and into the night. Can you tell I'm excited about that? lol

Sue
---
| | | |
| --- | --- | --- |
| RE: wanted: ct. fall plant swap '05 | | |
Hi,

I'm not sure I can come now. My SIL is having a birthday party for my MIL. I'm not too thrilled that they decided the 2nd would be the perfect day...If I can swing up to Woodbury for just an hour or so and then meet my family in Danbury it might just work.

I'll keep you posted. I don't really need anything except empty pots. Quart size are best. We use them at a plant sale in the spring for our garden club.

Virginia
---
| | | |
| --- | --- | --- |
| RE: wanted: ct. fall plant swap '05 | | |
saypoint-I have some vinca groundcover.
---
| | | |
| --- | --- | --- |
| RE: wanted: ct. fall plant swap '05 | | |
Sue, I know how you feel. I have a wedding this Saturday. One of the only two nieces I have in the world, had to get married right after I seeded the lawn and need to water it twice a day. The nerve.

thanks, noticklish, I'll have some vinca if you'll pull some up. No need to get fancy, just stuff it in a plastic bag.
Jo
---
| | | |
| --- | --- | --- |
| RE: wanted: ct. fall plant swap '05 | | |
I'll bring purple monarda, shasta daisies, and by request I have virginia creeper, lemon balm, red and white nicotiana alata seeds and snapdragon seeds- 'rocket mix'. Also some seedpods from honesty/money plant. I think I'm forgetting something too. Oh and George's fringed bleeding heart, which looks horrible right now. :)

I'm going to try not to bring much home, but I am looking for vines, and something that can survive in a very hot, dry location with afternoon sun. Anything, perennial, shrub, whatever.
---
| | | |
| --- | --- | --- |
| RE: wanted: ct. fall plant swap '05 | | |
saypoint-do you have the white liatris, rose campion and zagreb coreopsis available?
---
| | | |
| --- | --- | --- |
| RE: wanted: ct. fall plant swap '05 | | |
noticklish, I think I can locate the white, it's not marked, and they're all brown right now. :o)
Yes to the rose campion and coreopsis.
---
| | | |
| --- | --- | --- |
| RE: hot dry location | | |
siennaCT, I have some Caryopteris 'Worcester Gold' seedlings might work for you.
---
| | | |
| --- | --- | --- |
| RE: wanted: ct. fall plant swap '05 | | |
I've been feeling really bad since I don't have much to bring, and those un-named hostas I was planning on bringing have died since I last posted, lol! Sizzled in the heat - didn't help that my DH cut back some low-hanging tree branches against my wishes and now the hostas are (were) in full sun.

Anyway, I will have some columbine and primrose denticulata plants to bring. I winter-sowed these this past winter and they came up like gangbusters. Several columbines are decent-sized, but the primroses are kind of small. I was just going to pot them up and try to overwinter them in my garage, but I will bring some to the swap if anyone wants some. And I suppose I can always find a named daylily or two.

:)
Dee
---
| | | |
| --- | --- | --- |
| RE: wanted: ct. fall plant swap '05 | | |
I'm looking forward to seeing you all again. This Spring was my first swap and it was amazing! I'm bringing a friend, and we'll both be bringing a variety of goodies (monarda, lemon balm, herbs, gooseneck loosestrife, etc). Look forward to seeing you all again!

Virginia, not sure what time you'll be there (or we'll be there--most likely earlyish) but I'll try and gather up some pots for you.

Amy
---
| | | |
| --- | --- | --- |
| RE: wanted: ct. fall plant swap '05 | | |
Sounds like another fun get together, not to mention the variety of plants! I won't be able to make it, since it's already a party weekend for me. Saturday is my great-uncle's 75th b-day and Sunday is a double celebration: house warming/30th b-day.

I must be getting old since I just can't figure out a way to squeeze in another party!
---
| | | |
| --- | --- | --- |
| RE: wanted: ct. fall plant swap '05 | | |
Dee, I'd love a primula denticulata. I lost all my seedlings with the drought. Jo, you don't have to bring the sweet woodruff. It'll probably fill out next year. I also don't have as much to bring. The shade plants especially didn't grow too well with the trees soaking up all the available water.

Virginia, do you want pots and does anyone else want pots?

Noticklish, I have some rose campion but it doesn't look too good this time of the year.
---
| | | |
| --- | --- | --- |
| RE: wanted: ct. fall plant swap '05 | | |
Hi Casey,
Yes please bring pots. Quarts or larger are best. We use them at the Garden Mart in spring.

I'm bringing alchemilla mollis, Ajuga 'Catlins Giant', probably athyrium nipponicum 'Pictum' and some small hosta. I can only stay until about 11:30.

Can't wait to see everyone. I want to ask Bill and Dena how come my Passaflora never bloooms.

Virginia
---
| | | |
| --- | --- | --- |
| RE: wanted: ct. fall plant swap '05 | | |
I have an unexpected situation and have to fly overseas on Sunday.
I'm still trying to figure out how to make to the swap and be on time for boarding, but just in case I'll not be able to attend, Dee was very kind to offer me her help and she'll bring my plants (along with a list of what and whom I promised).

Please remind me if I forgot someone.
Here it goes:
Hedy----carex 'Ice Dance' and bog rosemary,
Virginia----carex 'ID',
Debby (c9)----veronicastrum 'Purple Tower',
Tina (sienna?)---sedum tricolor,
Jo---peony (I have some named cultivars and some that just going by color, all double to bomb-type. Please let me know your preferences),
noticklish----cannas and salvia 'BQ'.

Beside that I have other stuff:
-phlox 'David' (with possible some unknown, but also mildew resistant pink mixed into it),
-spirea 'Magic carpet' (rooted and poted cuttings),
-spirea 'Goldflame' (1 y.o. poted plants),
-abelia 'Edward Goucher' (freshly rooted cuttings which I wouldn't put in a ground this fall, but rather overwinter in a basement or somewhere warm enough),
-sambucus 'Sutherland Gold' (ditto),
-cl.hydrangea (one rooted stem),
-unknown white asiatic lilies flowering size(poted) and mix of white/pink asiatic/orientals bulblets, which I promised to Abi, but I think she is not going to be there, but they have to be planted ASAP,
-freshly dug tulip bulbs (mix, may or may not bloom in spring).

If you need anything from this list, say so now and I will beg Dee to try to squeeze it in her car.
---
| | | |
| --- | --- | --- |
| RE: wanted: ct. fall plant swap '05 | | |
So far I've dug and potted the following:

Daylily 'Hello Dolly'
Herrenhausen oregano
Campanula glomerata 'Joan Elliot'
Iris siberica 'Caeser's Brother'
Chrysogonum virginiana
some unpotted hunks of Echinops
a few potted coleus that I rooted from cuttings

I plan to bring some Rudbeckia 'Goldsturm' for Liliane and some Coreopsis 'Moonbeam' for Hedy and pots for Virginia and whoever else needs them. A rose for Abi if she plans to come. Because time is short this week I won't dig any more plants unless someone specifically wants them. Here are some potential candidates:

Nepeta 'Walkers Low'
Sedum 'Frosty Morn'
Echinacea (Magnus maybe)
Becky shasta daisy
Daylily 'Happy Returns'
Daylily Black eyed Stella

If I promised something that you don't see listed, give a yell.

Are we bringing food too?

Sue
---
| | | |
| --- | --- | --- |
| RE: wanted: ct. fall plant swap '05 | | |
Sue, did i promise you Iris ensata 'Good Omen'?
If yes, i'll divide clump tomorrow, otherwise it may stay one more year undivided.
Also, did you have a chance to pick up variegated leucoseptrum for me? If yes, I'll give a check to Dee.
---
| | | |
| --- | --- | --- |
| RE: wanted: ct. fall plant swap '05 | | |
George, I'm sorry to hear you can't make it! I hope everything is ok with your family.

Tina
---
| | | |
| --- | --- | --- |
| RE: wanted: ct. fall plant swap '05 | | |
Jo, thank you, I'd love a caryopteris. I'll bring a dessert, not sure what yet.
---
| | | |
| --- | --- | --- |
| RE: wanted: ct. fall plant swap '05 | | |
Tina, family is fine, just a scheduled business trip that I have to make instead of my partner at his request.

If you could save dicentra till spring for me, it will be great. If it's already dug and potted, I'm sure Dee could find a good home for it. Thanks.
---
| | | |
| --- | --- | --- |
| RE: wanted: ct. fall plant swap '05 | | |
George, sorry to hear you may not make it. On the Peonies, anything will be fine, but if you haven't got them dug up, don't worry about it if you're busy. I'd love to have any Lilies you can spare. If the Abelia and Sambucus are ready to go, I wouldn't mind some of those either.

Liliane, I'd love the Kniphofia, Allium tuberosum, Calamintha, and double white Peony if they're not taken. Also Dicentra Alba if there was more than one.

Dee, if you have enough primrose and columbine, me too, please.

So far I'm bringing:
for Hedy- Malva Zebrina

for noticklish - white liatris, rose campion, coreopsis zagreb

for sienna - caryopteris WG

Let me know if I forgot anything, or any requests from my trade list. I'll have other stuff as well.
Jo
---
| | | |
| --- | --- | --- |
| RE: wanted: ct. fall plant swap '05 | | |
George, no you didn't promise me any iris. Right now I need nothing but thanks for the offer :)

Have a good trip.

Sue
---
| | | |
| --- | --- | --- |
| RE: wanted: ct. fall plant swap '05 | | |
George, we're all going to miss you. You're a big part of this swap. Have a good trip and we'll see you in the spring.

If you have any bomb-type peonies that haven't been promised, I'll take one. Should I wait til spring to bring you pachysandra or can Dee can bring you a bagfull?

Sue, I'd love some echinops. I'm going to try again after the voles decimated the one I had.

Anyone else have something they're looking for? This year I'm trying to have more of a fall garden so I'm lookinf for grasses and hardy hibiscus.

We should also decide on the food we're bringing. Ron, are we having a barbecue? The weather will be spectacular so it'll be great being outside.

Hedy
---
| | | |
| --- | --- | --- |
| RE: wanted: ct. fall plant swap '05 | | |
Hedy, you just reminded me...I have a peony I can bring if you want. It came with my house so I don't know the name. Take a look.
Sue
---
| | | |
| --- | --- | --- |
| RE: wanted: ct. fall plant swap '05 | | |
ego45 do you have someone to take the siberian iris and pachysandra if you do not make it?
---
| | | |
| --- | --- | --- |
| RE: wanted: ct. fall plant swap '05 | | |
Sue, that color peony would be perfect.

I just dug 2 carex muskimensis (palm sedge). I grew it from seed so I have more if anyone wants it. It's a bright green, short grass that grows in the shade.

Hedy
---
| | | |
| --- | --- | --- |
| RE: wanted: ct. fall plant swap '05 | | |
After careful deliberation (with my wife, haha) I think I could make to the party.
I'll be there at 10am and have to leave not later than 11am. This way I'll be on time to JFK.
I'll bring all I promised and probably more (have to clean up my pot ghetto, LOL).

Tina and noticklish, since I'll be not able to put in a ground anything for two weeks, would you be so kind to pot dicentra and sib.iris in a such way that they'll survive untill my return.
Pachysandra is virtually undestructable and could wait for me in a shopping bags.

See you on Sunday.
George
---
| | | |
| --- | --- | --- |
| RE: wanted: ct. fall plant swap '05 | | |
George, I will be coming with Dee! So I would still love those lilies. Sounds like her car may be cramped so I can always give you the Tamora in the spring. I have been too busy to dig it.

Sue, I'd still like the Meidiland and Acadia, and I always need rudbeckia and echinacia and other stuff.

I have Montauk daisy and If I have time to dig, salvia May Night, 4:o'clock seeds and whatever else I can find. So much of my garden got PM and BS during the weeks traveling back and forth to hospital and some of the weeds are taller than me!
---
| | | |
| --- | --- | --- |
| RE: wanted: ct. fall plant swap '05 | | |
Abi, I would love some Montauk daisy. Would it be better to plant that in the spring though? I'll dig the Acadia tonight (don't know if I'll be able to get the Meidiland) and bring extra bags of Rudbekia and try to grab a chunk of Echinacea.

Sue
---
| | | |
| --- | --- | --- |
| RE: wanted: ct. fall plant swap '05 | | |
Sue, I planted my Montauk in the fall and it did quite nicely. Now after 4 years it is a monster size plant. I actually took these cuttings in the spring so they should have a great root system. The baby plants are blooming now. /Abi
---
| | | |
| --- | --- | --- |
| RE: wanted: ct. fall plant swap '05 | | |
Abi, glad to hear from you.
I'll bring lilies for you, rooted 'Tardiva' (have to check on that, but think she rooted OK).
Tamora definitely could wait till spring.
I'd like to have a 'May Night' if you could pot it, otherwise maybe for spring?
---
| | | |
| --- | --- | --- |
| RE: wanted: ct. fall plant swap '05 | | |
P.S. Hedy, I dug up and gave away all of my hardy hibiscus last year, so none left, sorry.
---
| | | |
| --- | --- | --- |
| RE: wanted: ct. fall plant swap '05 | | |
George, if you want I'll save the dicentra for spring too. It looks horrible right now anyway, I think the drought has stressed it. Then you won't have to worry about it sitting in the pot ghetto while you're gone.
---
| | | |
| --- | --- | --- |
| RE: wanted: ct. fall plant swap '05 | | |
I have Dicentra spectabilis in containers already, as they were in an area I had planned for something else, if anyone wants some.
---
| | | |
| --- | --- | --- |
| RE: wanted: ct. fall plant swap '05 | | |
I noticed that someone was going to bring seeds. Does anyone have extra red love lies bleeding, blue bachelors buttons, medium height cutting sunflowers, or zinnias? Slugs ate all my zinnias and sunflowers this year so I didn't see a single bloom !
---
| | | |
| --- | --- | --- |
| RE: wanted: ct. fall plant swap '05 | | |
ego45 -I would like a david phlox if you have the time and space.
---
| | | |
| --- | --- | --- |
| RE: wanted: ct. fall plant swap '05 | | |
Jo - I will bring Peony, Kniphofia, Allium tuberosum, and calamintha for you

Hedy - wll bring Calamintha for you. I would be interested in the geranium and foxglove if no one has claimed these.

Noticklish - Any Ajuga will be great!

Sue - if you have time, I would like to try some Campanula. Does this tend to flop over or do you pinch it back?

Are we bringing food/drinks? I would feel terrible if Ron showed up with burgers, etc. and all I'd show up with was inedible vegetation....

Liliane
---
| | | |
| --- | --- | --- |
| RE: wanted: ct. fall plant swap '05 | | |
Ron, let us know if you need anything in particular - paper goods, plastic utensils, condiments, etc. Otherwise, since I'm so fond of junk food, I'll bring chips and something chocolate!

:)
Dee
---
| | | |
| --- | --- | --- |
| RE: wanted: ct. fall plant swap '05 | | |
looks like we are going to have a perfect day,yes I'm definitely bringing burgers and dogs,rolls,condiments,etc.
if anyone wants to bring other food or drink stuff to add to the buffet great. looking forward to seeing you all on sunday,it should be a great time.
ron
---
| | | |
| --- | --- | --- |
| RE: wanted: ct. fall plant swap '05 | | |
I'm coming, but I won't know what I am bringing till I dig it up tomorrow. Sorry I haven't had time to post possibilities to take requests from. The boys have kept me hopping!

Foodwise I will bring deviled eggs since they were such a nonPC hit this summer.
Deb
---
| | | |
| --- | --- | --- |
| RE: wanted: ct. fall plant swap '05 | | |
So far, I have a half dozen pots of Festuca glauca, a couple of black-eyed Susans, regular calamintha, and some knautia. For food, I was thinking of making some oatmeal cookies, since we don't seem to have unbelievable quantities of dessert :-)
---
| | | |
| --- | --- | --- |
| RE: wanted: ct. fall plant swap '05 | | |
I would like to thank you all for the nice time I had at the swap and all the waonderful plants I picked up. I already put them all in the ground and watered them twice :)

Maya.
---
| | | |
| --- | --- | --- |
| RE: wanted: ct. fall plant swap '05 | | |
We're relatively new to the Woodbury/Litchfield area and I've just come across this thread from last fall -- can anyone give me more information about this terrific-sounding plant swap (which sounds as if it takes place in Woodbury?) I'd love to take part in the next one! Thanks for any info!
---
Post a Follow-Up
Please Note: Only registered members are able to post messages to this forum.
If you are a member, please log in.
If you aren't yet a member, join now!
Please Note: Only registered members from Massachusetts, Maine, New Hampshire, Vermont, Connecticut, Rhode Island and New York are able to post messages here (this may be indicated by the title of the forum. All exchanges not indicated otherwise are restricted to those living in the U.S.)
If you are a member from an area mentioned above, please log in.
---
Return to the New England Gardening Forum
Information about Posting
You must be logged in to post a message. Once you are logged in, a posting window will appear at the bottom of the messages. If you are not a member, please register for an account.
Please review our Rules of Play before posting.
Posting is a two-step process. Once you have composed your message, you will be taken to the preview page. You will then have a chance to review your post, make changes and upload photos.
After posting your message, you may need to refresh the forum page in order to see it.
Before posting copyrighted material, please read about Copyright and Fair Use.
We have a strict no-advertising policy!
If you would like to practice posting or uploading photos, please visit our Test forum.
If you need assistance, please Contact Us and we will be happy to help.

Learn more about in-text links on this page here