Return to the Northwestern Gardening Forum
|
Post a Follow-Up
---
| | | |
| --- | --- | --- |
| Catalpa bignonioides 'Aurea' | | |
Posted by
sweetpea_path
Z8 no 7! WA maritime (
My Page
) on
Sat, Oct 31, 09 at 22:05
...so for my husband's birthday, we planted this tree (he wanted one baaahhhd). The one we planted is only 2 feet tall, OMG!!! But it's "fast growing", he says. I found a very good description of this tree over at the Great Plant Picks website but I'd like some firsthand feedback - anyone grow/have/know something about this tree? Please, tell me more about it.

Many thanks,
Sweetpea
Here is a link that might be useful: Catalpa bignonioides 'Aurea'
---
Follow-Up Postings:
| | | |
| --- | --- | --- |
| RE: Catalpa bignonioides 'Aurea' | | |
I have one and it is a beautiful tree. The foliage and flowers are beautiful. I got mine from a mail order catalog so it was tiny. It is 9 years old and only 5' tall. It has grown slow for me. I have it in a crowed flower bed in front of an arborvitae hedge. It was always getting shaded out by the perennials and the cedar hedge made for dry growing conditions. I was planning on cutting it back every year, but it was always so small I never did. It's finally taller than the surrounding perennials and finally starting to grow. It flowered for the first time this year. The flowers look like impatiens. I am afraid to cut it back now as it took 9 years for it to get this big for me. Here is a close up of the flowers. Karen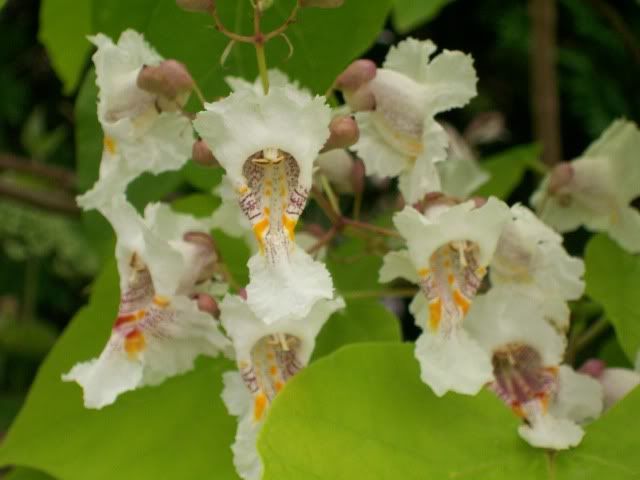 ---
| | | |
| --- | --- | --- |
| RE: Catalpa bignonioides 'Aurea' | | |
If you pollard it you won't get flowers. However, it's not a dwarf: one in Poland was 42' tall by 1973; another, in Port Coquitlam was 51' across in 1994.
---
Post a Follow-Up
Please Note: Only registered members are able to post messages to this forum.
If you are a member, please log in.
If you aren't yet a member, join now!
---
Return to the Northwestern Gardening Forum
Information about Posting
You must be logged in to post a message. Once you are logged in, a posting window will appear at the bottom of the messages. If you are not a member, please register for an account.
Please review our Rules of Play before posting.
Posting is a two-step process. Once you have composed your message, you will be taken to the preview page. You will then have a chance to review your post, make changes and upload photos.
After posting your message, you may need to refresh the forum page in order to see it.
Before posting copyrighted material, please read about Copyright and Fair Use.
We have a strict no-advertising policy!
If you would like to practice posting or uploading photos, please visit our Test forum.
If you need assistance, please Contact Us and we will be happy to help.

Learn more about in-text links on this page here