Return to the Peonies Forum
|
Post a Follow-Up
---
| | | |
| --- | --- | --- |
| 10' + tall peony [images] | | |
Posted by
shic_2006
4a 5a (
My Page
) on
Fri, May 19, 06 at 13:16
---
Follow-Up Postings:
| | | |
| --- | --- | --- |
| RE: 10' + tall peony [images] | | |
Wow! Those are fantastic. I can only hope my tree peony will multiple to more than 3 blooms.
---
| | | |
| --- | --- | --- |
| RE: 10' + tall peony [images] | | |
I'm sorry, but have to make a correction, picture #2 show 20+ centimetres, not inches.
20cm is roughly 8". My 'Taiyo' produces sometimes such flowers. Not every year though.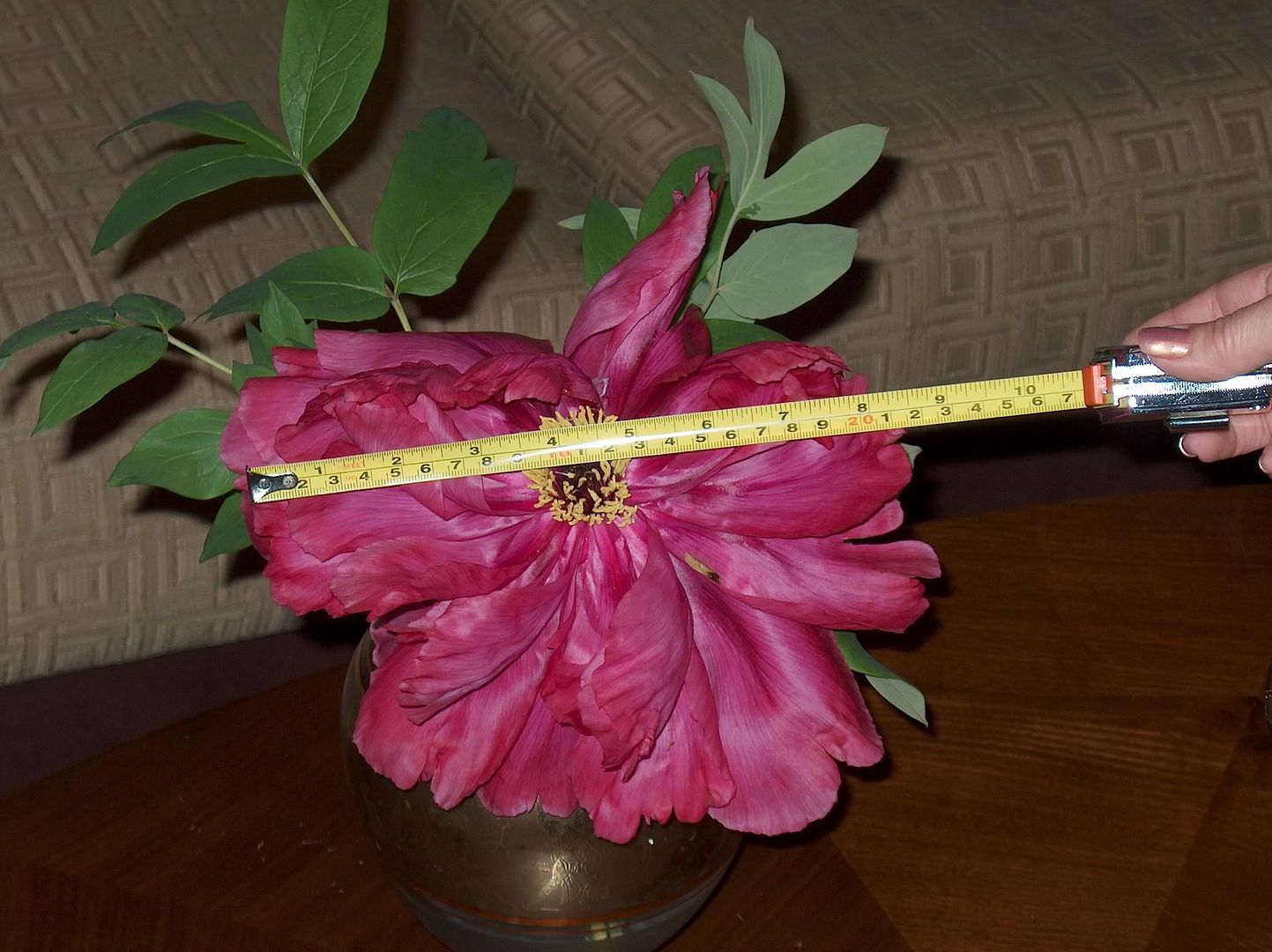 ---
| | | |
| --- | --- | --- |
| RE: 10' + tall peony [images] | | |
The ten footer is probably Feng Dan Bai or Phoenix White. I have two plants under this name purchased as Phoenix White seedlings. Both were two year old plants when purchased. One was three + feet tall. The other was two 1/2 feet. The taller one leans with a single split stem length of about 5 foot. The other is growing like a shrub with lots of shoots. This type makes a nice shape but next year I will have to provide support for the flowers. They truely are wonderful. This was my first peony to bloom this year.

I enjoyed your pictures very much even if I can not read the captions please post more????
---
| | | |
| --- | --- | --- |
| RE: 10' + tall peony [images] | | |
Maifleur,
That was also my guess on the variety in the photo. Mine bloomed last year for the first time. Be aware. Each flower of P. osti/Phoenix white/feng dan bai will result in loads of seeds and just about every seed will sprout. Just plant them as soon as the pods begin to split open. I have probably 25-30 seedlings.
Leon
---
| | | |
| --- | --- | --- |
| RE: 10' + tall peony [images] | | |
My voles and mice must eat the seeds unlike you I have had very few seedlings come up. I did cut the seedpods off last year but never planted them. One of my cats that had never caught a mouse before has suddenly become a active hunter of voles so I might have seedlings one of these days.
---
| | | |
| --- | --- | --- |
| RE: 10' + tall peony [images] | | |
Thanks for the pictures. I don't think they will ever get that big up north here but those flowers look as big as a platter!! An inspiration to us all!

My Tree Peonies are just starting to open, Hooray! The last 10 days have been cold rain, so I was afraid the TP flowers would rot out. My Fernleafs just couldn't shed the water well enough. Half open buds got so wet inside the petals browned up on the tips. New buds coming look OK, such a pretty red color.

I have tons of buds on the older TP plants, 3-5 years. The others have 1-2 buds, trying real hard. I guess the milder winter was good for Tree Peonies. The new plants I put in this spring (Apr.) are putting out leaves, so I am happy to see them just growing in this horrid weather. Those new ones were overwintered at the sellers, who couldn't get them to me before our ground froze hard and early last fall.
---
| | | |
| --- | --- | --- |
| RE: 10' + tall peony [images] | | |
I accidentally found these pictures. I would be interested to put two 10' phoenix white TPs in front of my entrance. With their large flowers on top, I guess my neighbors will come ask what trees they are. lol!
---
| | | |
| --- | --- | --- |
| RE: 10' + tall peony [images] | | |
Wonderful photos! Thank you for posting them.

Diann
IA Z5a
---
Post a Follow-Up
Please Note: Only registered members are able to post messages to this forum.
If you are a member, please log in.
If you aren't yet a member, join now!
---
Return to the Peonies Forum
Information about Posting
You must be logged in to post a message. Once you are logged in, a posting window will appear at the bottom of the messages. If you are not a member, please register for an account.
Please review our Rules of Play before posting.
Posting is a two-step process. Once you have composed your message, you will be taken to the preview page. You will then have a chance to review your post, make changes and upload photos.
After posting your message, you may need to refresh the forum page in order to see it.
Before posting copyrighted material, please read about Copyright and Fair Use.
We have a strict no-advertising policy!
If you would like to practice posting or uploading photos, please visit our Test forum.
If you need assistance, please Contact Us and we will be happy to help.

Learn more about in-text links on this page here