Return to the Potager Gardens Forum
|
Post a Follow-Up
---
| | | |
| --- | --- | --- |
| espalier vine on circular wire | | |
Posted by
mrtoad
7b NC (
My Page
) on
Fri, Oct 2, 09 at 8:06
i saw something like this a few years ago at the castle of leeds in southern england – and ask a friend to make this metal structure – it is about 8 feet tall and has approximately 28 feet of wire for the vine to run – now – i need a suggestion – a flower / or fruit / or nice leaves / i am not sure a grape or scuppernong would work here – full sun –
i do not want to cover and hide the structure – i would like a vine that could be trained and have one main trunk – this structure is located in yard near entrance to potager

Any ideas to share – thanks so much

The structure at leeds had a grape vine that was over 75 years old – vine was arm size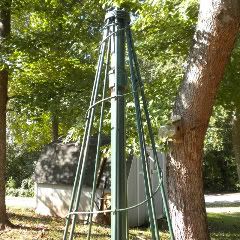 ---
Follow-Up Postings:
| | | |
| --- | --- | --- |
| RE: espalier vine on circular wire | | |
If they had a grape vine in England, why do you think it would not work for you? I don't know that much about grapes :)

How about a honeysuckle? We're in zone 4, but my Mom has one she trained over an arch that winds around the curved metal up the sides and shows off the design of the arch.
---
| | | |
| --- | --- | --- |
| RE: espalier vine on circular wire | | |
Honeysuckle will be very invasive and you will have to trim it, but it is a nice bee plant! Great home remedy for poison oak, sumac, or ivy! I used the leaves of it to get rid of a stubborn case, cut them up small, put the juice of it on my rash 4 or 5 times a day and it worked better than the zinc cream!

If you make homemade soap, sachets, candles, or perfunes, you will love honeysuckle! I believe it grows in vine and in bush form. I had tons growing around the house I live in last year!
---
Post a Follow-Up
Please Note: Only registered members are able to post messages to this forum.
If you are a member, please log in.
If you aren't yet a member, join now!
---
Return to the Potager Gardens Forum
Information about Posting
You must be logged in to post a message. Once you are logged in, a posting window will appear at the bottom of the messages. If you are not a member, please register for an account.
Please review our Rules of Play before posting.
Posting is a two-step process. Once you have composed your message, you will be taken to the preview page. You will then have a chance to review your post, make changes and upload photos.
After posting your message, you may need to refresh the forum page in order to see it.
Before posting copyrighted material, please read about Copyright and Fair Use.
We have a strict no-advertising policy!
If you would like to practice posting or uploading photos, please visit our Test forum.
If you need assistance, please Contact Us and we will be happy to help.

Learn more about in-text links on this page here