Return to the Rose Gallery Forum
|
Post a Follow-Up
---
| | | |
| --- | --- | --- |
| Especially for Serena, Jim and Harold ! | | |
Posted by
rosemeadow_gardener
(
My Page
) on
Sun, Aug 9, 09 at 14:59
Souvenir de Madame Leonie Viennot
Madame Hardy
I would have done heaps more but the loading thing on Photobucket wouldn't take me to the next step. Also I should have gone to bed at least 5 hours ago.
So I will have to add on tomorrow. These were taken at my friend Lynette's garden. Next time I will show a few more of her garden and then mine. I wanted to redo these ones properly. I should of followed your first instructions, but I forgot about it eventhough I wrote it down too. I kept going the other way you said instead. Anyway its easy now. Thanks !

Sold to Lynette as Mme Berard, but Lynette thinks it is E. Heyrat Hermanos. Which I read on HMF is correct.

---
Follow-Up Postings:
| | | |
| --- | --- | --- |
| RE: Especially for Serena, Jim and Harold ! | | |
There you go! Very nice pics! Glad to see your pics!
Post more when you get time. Thanks for sharing with us!

JIM
---
| | | |
| --- | --- | --- |
| RE: Especially for Serena, Jim and Harold ! | | |
| | | |
| --- | --- | --- |
| RE: Especially for Serena, Jim and Harold ! | | |
WOW!!! Now that was worth waiting on, such beautiful roses. THANKS for sharing with us and can't wait to see more soon.
Harold
---
| | | |
| --- | --- | --- |
| RE: Especially for Serena, Jim and Harold ! | | |
wow and hurrrrrray! hahaha! me and you too I was up wayyyy past my bedtime. Wow, your Madame Hardy is soooo prolific!

Madame Viennot is very beautiful too. I am very much looking forward to alllll your roses. What fun to have a fellow gardener buddy to share roses with! My BF always jokes about getting the salt shaker for mine, hee-hee!

Jim and Harold, everyone, this is the time difference that I grabbed from Google.

"If you live in United States and you want to call a friend in Australia, you can try calling them between 4:15 PM and 8:15 AM your time. This will be between 7AM - 11PM their time, since Australia is 14.75 hours ahead of United States.
If you're available any time, but you want to reach someone in Australia at work, you may want to try between 6:15 PM and 2:15 AM your time. This is the best time to reach them from 9AM - 5PM during normal working hours."

Hahaha, looks like the 2:15 a.m. would work for me since I'm the late night owl, hehehehehe! speaking of which, whooops, my post is at the wroooong time currently since it's 2:38 p.m. lol! ah, well. Have a nice sleep Karen!
---
| | | |
| --- | --- | --- |
| RE: Especially for Serena, Jim and Harold ! | | |
Thanks Harold and Serena for your wonderful replys. I can't wait to post some more tonight, got more roses to plant now, and also get some own roots to sent in the mail that I am selling to once person and swapping with friends.
---
| | | |
| --- | --- | --- |
| RE: Especially for Serena, Jim and Harold ! | | |
We will be waiting to view your roses! Post away...LOL

JIM
---
| | | |
| --- | --- | --- |
| RE: Especially for Serena, Jim and Harold ! | | |
hee-hee, Jim I bet you and Sue are now sleeping. Me, I'm awake and it's midnight, LOL! Rosemeadow, I bet you may be still out gardening since it's probably only 3:00 p.m. Australian time, if I calculate correctly. Wow, rootings to trade...Hmmm, Rosemeadow, about a month ago I saw someone post up a photo of a light tent for their rootings; it almost looked like one of those child tents that kids set up inside their bedroom. Do you have those by the way? I tried to find the photo but eventually gave up because it was buried within a thread that had a completely different originating message and so the rooting tent could not be easily found since it was a "side topic".
---
| | | |
| --- | --- | --- |
| RE: Especially for Serena, Jim and Harold ! | | |
Hi Serena, its 9.00p.m now, so it would be about 7.00 a.m. for you, going on what you worked out. I only got a few roses planted today, had to catch up on house work and a quick trip to town, which is 16kms away. Didn't post the ownroots, I have decied to do it Wednesday morning instead.
Tomorrow I want to spend all day planting. We might be geting some rain over the next day or so. The Hybred Tea, Florribunda, modern climber and minature rose planting in the old vegetable garden was so easy. But I have started planting the Heritage roses now, and the last spot was very dry so I put a bucket of water in the whole to make it good digging tomorrow. It would be fanstastic if we could get some good rain to save me alot of work. I have about 140 roses left to plant of this order. The order I just finished planting was 48 Hybred Teas and the other types I mentioned above.
After that I have another order of 110 roses to come from another rose nursrey. My main aim this Spring/Summer/Autum is to keep every one of them alive. I have less then a month to plant them all. If it warms up enough near the end I will start planting at night with a spot light. I have planted all night before on moonlit nights with a torch or car headlights, in a previous garden ( thats another story ).
I laughed Serena when you said your boyfriend teased you about shaking salt around them. My partner calls my roses blackberries, which are noxious plants over here.
Here are some photos of the climbing rose that was on this block of land before I bought it. The women from the Australia Heritage Rose Society found the identidy of my rose after I emailed them some photos a rose friend had taken of it for me. IT's name is Fourtune's Double Yellow. It is a Climbing Tea rose brought from China. It is only once blooming and has a fragrance .
Well as you can see, I am proud of my adopted rose that was grown from a cutting by the man I bought my place off, taken from a old Wattle and Dabe house that was just up on the hill from here, before it was bulldozed down about 15 years ago I was told. It blooms like this for about 3 to 4 weeks. I have collected some seeds from it and after having them in the bottom of the fridge for about two months I have taken them out and hope they will start germinating soon. I also used its pollen to hand pollinate some of my roses in my garden. So I hope their seeds germinate too. The first time I have done this, thanks to people helping me through forums. As you have helped me to achieve this thread. Thankyou all very much !
---
| | | |
| --- | --- | --- |
| RE: Especially for Serena, Jim and Harold ! | | |
WOW!!! What a gorgeous and health climing rose. But it's got nothing on your last picture, what a little cutie.
Rosemeadow; here's another picture DON JUNA it's third blooming this year. THANKS for sharing. Harold
---
| | | |
| --- | --- | --- |
| RE: Especially for Serena, Jim and Harold ! | | |
Wow! Nice pics of your roses rosemeadow_gardener and Harold!

rosemeadow, those rose bushes of yours are huge...Wow!
Sounds like you will be quite busy planting all those roses you have to plant yet. Best wishes on doing that task!

I didn't know serenasyh boyfriend uses salt instead of fertilizer on her roses...LOL...Just teasin! LOL

Be waiting for your rose pics on Wednesday!

JIM
---
| | | |
| --- | --- | --- |
| RE: Especially for Serena, Jim and Harold ! | | |
Hi Jim and Harold, I meant the post above to be addressed to you too. I hope there was not too much of that same colour of Foutune's Double Yellow. Here are some photos of my garden and our house.

The roses here, except for the Weepers, are all roses I grew from cuttings.
The roses along the side of the house I also grew all of them from cuttings, except for the weepers. We no have a window on that wall so we can look out on the garden in that direction now.

I wanted to show more but that will have to do for tonight. See ya !
---
| | | |
| --- | --- | --- |
| Will be counting roses in my sleep ! | | |
I love your Don Juan, what a rich colour, can't wait till mine is like that.
Yes Jim, I will certainly be busy so I better get to bed ! Luckily my partner fixed my sharp spade that started to brake when I come to the dryer ground yesterday.
---
| | | |
| --- | --- | --- |
| RE: Especially for Serena, Jim and Harold ! | | |
Yes, you better get some sleep, so, you have enough energy to plant all those roses.

Very nice pics of your garden and house!

JIM
---
| | | |
| --- | --- | --- |
| RE: Especially for Serena, Jim and Harold ! | | |
Such a nice place you have and to think you grew all those roses from cuttings; that thumb must be mighty green, but not as green as I am. Boy with all that space you have I would kill myself planting roses. I can see now that this winter when it's cold here I'll be able to enjoy some AWESOME roses from down under. THANKS and keep them coming.
Harold
---
| | | |
| --- | --- | --- |
| RE: Especially for Serena, Jim and Harold ! | | |
Wow, oh, woooooow! What gorgeous! photos of the roses! darn I missed out on you. Thank goodness we have early risers (Harold and Jim) here! I'm the opposite, a late night owl. At the beginning I used to force myself to wake up at the crack of dawn but that'd meant getting just 3-4 hours of sleep and as my roses got older and less care was needed I started getting up later! Usually when I train Eluane for agility, I prefer taking her at 11:00-midnight that way it's just she and I instead of having to share practice time with other people and with the long distance we have to drive I often don't come home until 1:30 a.m. So as you can see I have very bad nighttime habits.

Fortune's Double yellow is magnificent! and a real treat and oh what a beautiful little girlie you've got photographed there. For some reason, hardly anyone visits here who grows tea roses, so this is a super treat. Everyone will love and think your roses are very special because of this, in addition to their beauty! I hardly get to see any what I term Romantic Roses, the tea roses.

Those weepers are also magnificent! I can't wait until you start posting the descriptors for those. I bet they'll be roses that we rarely see in the U.S. But I guess I'll have to hold my breath and wait. So you too are growing Don Juan like Harold? Harold got tons of compliments when he first posted his. My baby climbers have such tiny buds on them right now. Hope they don't stay that way, LOL! I've got Pennylane and America, but Pennylane is particularly miniscule, lol! the plant looks big and huge for a "baby" own root beginner rose, but the buds so itsy-bitsy!

The color arrangement of the weepers are gorgeous and so are the companion plants that you've got going. Fabulous just fabulous!

P.S. Harold was joking about being "green". I'm not sure how much of Australian and American jokes/slang is shared. He was contrasting your extra green thumb (gardening genius) with him being ultra "green" (which means a "novice") Harold, that was funny! but at least you don't have the perfect moniker that I have, which is "lopsided gardener". People enjoy Harold's roses for the right reasons, whereas my roses are comedic relief. Jim I have to show you my latest lopsidedness. One of my Lincolns is acting very berserk! it is so embarrassing at the joke it's playing on me right now! Just like Fragrant Cloud did when a heavy rainstorm hit....
---
| | | |
| --- | --- | --- |
| RE: Especially for Serena, Jim and Harold ! | | |
I find it hard to believe that you can grow roses that are SO prolific and ablaze with color. I tip my hat!!

Thanks for the lovely pictures.

Carol
---
| | | |
| --- | --- | --- |
| RE: Especially for Serena, Jim and Harold ! | | |
Thankyou Harold, Jim, Serena and Canadian Rose for your sweet comments. The roses on their own roots infront of my house, right to left are Pierre de Ronsard on the verandah post, Souvenir de St Anne, Trevor Griffiths, Kathleen Harrop, Benjamin Britten ( the last are David Austins ).
The pink weeper is Renae, and the white weeper is Heideschnee.
I went through some of your prevous posts, I loved your Gemini photo, Serena ( I planted one the other day, I have been wanting it for a while ) and I adorted your Fragrant Clould. Mine is only a small bush so far.
Canadian Rose, that photo was taken in the middle of late Spring/ early Summer. It looks pretty awlfully drab now.
I am happy with what I have been able to plant today.
I am glad you are keen to see my photos as I enjoy posting them.
---
| | | |
| --- | --- | --- |
| RE: Especially for Serena, Jim and Harold ! | | |
whoo-hoo, Pierre de Ronsard, Souvenir de St. Anne, Trevor Griffiths, Kathleen Harrop, Renee and Heideschnee are alllll new to me! I'm so excited! I've heard the name Pierre de Ronsard and Benjamin Britten, and am looking forward to getting closeup views too once your prime season hits. Well, I'm thrilled for you that you're getting your Gemini. It is such a beautiful rose and I hope yours ends up being a fragrance sport like mine. There's a pretty big debate about how can a Gemini have fragrance. I forgot to argue that I have a Queen Elizabeth at my house and it's got no! fragrance whereas my Dad has a Queen Elizabeth and his has significantly more fragrance than mine. hee-hee, so my feeling is that indeed even roses can vary in which fragrance gene they inherit. lol!

JeffAurora's Gemini is absolutely amazing. He posted his about one month ago.

Well, hope this time you'll have better luck with sorting out your photos. There's actually 2 ways of doing it. I put the alternate way in your other thread called "Photos from Rosemeadow in Australia". You see sometimes when you are in the middle of deleting and adding posts to your Photobucket, the HTML code changes. That is why you get the wrong photos. The second way is actually a little bit easier because it allows you to get the most current and correct HTML code and there's no extra window blocking your view from the rest of the photos. I drew out a diagram for you. You can always give it a try and see if this works out better for you.
---
| | | |
| --- | --- | --- |
| RE: Especially for Serena, Jim and Harold ! | | |
Here are some more photos everyone. I have been spending tonight loading photos onto Photo Bucket so I have a stack to choose from for a while.
Serena, thankyou for your trouble of posting the imformation about the other way of posting photos through Photo Bucket. Anything to make it all faster so I have more time to read other posts, which I haven't been able to much yet. I was answering that other post this morning while in from planting roses, but then I hit the wrong key and yet again lost another post. My daughter is going to show me how to make a copy so I can't loose them anymore.
Here are some photos. I will use Jim's way tonight so I don't have to go back to the other thread and take some notes, its already 1.10 a.m. and I had planned to go to bed earlier tonight.


Glamis Castle is at the front ( I forgot to mention it last night ), Trevor Griffiths down closer to the ground ( lovely strong smell ), Kathleen Harrop is the pink up higher, Souvenir de St Anne is to the right og Glamis Castle, and Benjamin Britten the red/orange up higher then them all.

Pierre de Ronsard in a latter flush, which it does very regular. The weeper Renae is to the left in the photo.
I have just found another way to load photos, it might be the way you said Serena. I have the photo enlarged and to the left of it is the Html code and the share word. Also I can then just go through the photos enlarged there to see if they are good enough to post.

Showing my garden last growing season. Hiedisommer is the weeper that you can see a little bit of it. All the bushes to the right further away from the house are my Heritage roses. I have made anothe garden room to the back of that now.


Climber Mme Drouit is in the front here.

Weeper Renae


As you can see my roses etc. needed weeding here, the main thing is the roses are growing and they can always be weeded latter.

Three bushes of Pinkie that I grew from cuttings.

The photo above and the photos from now I took one day but didn't write the name of each as I went, but I still think they would give you a look at what my young garden started producing last Spring/early Summer.

Madame Hardy, grows really easy from cuttings, which is what this one was.

My partner got some cuttings for me from a place he worked at, this is the one that survived. I can see it from my kitchen window while I wash up and it lasts for ages.
[IMG]http://i609.photobucket.com/albums/tt171/rosemeadow_photos/S5000577.jpg[/IMG]
I dunked these in the bird bath one day and thought it deserved a photo. Though the lawn behind is unmown.
A few more I found of Fortune's Double Yellow

I love Photo Bucket now, that was so much quicker and enjoyable. Next instalment will be of how my garden has changed during Winter.
---
| | | |
| --- | --- | --- |
| RE: Especially for Serena, Jim and Harold ! | | |
Very nice photos! Love all your different types of rose blooms!
Keep those photos coming!

JIM
---
| | | |
| --- | --- | --- |
| RE: Especially for Serena, Jim and Harold ! | | |
Rosemeadow, I am absolutely gaa-gaa over your roses! They are gorgeous and spectacular. I hope everyone has the chance to see them on this forum! wow, oo-wowww! Believe me, no one is going to be even thinking weeds, those roses totally take over everything! Spectacular. I would call them Moulin Rouge (as in the movie) roses. Just curtains and curtains of roses and pure color! I just love your Pinkie, Renae, Pierre do Bonsard, and that magnificent Double Fortune yellow, but the single up close blooms are unforgettable as well--Hardy, Gloire de Guillan. And I am actually skipping several roses already in the names! Like 10 other roses you labeled, LOL! I am totally impressed!!!! Well, I am actually a little jealous that your s.o (significant other) gave you such pretty rose clippings; my s.o. glares at my roses, hee-hee! and just barely tolerates my orchids. But he does loooove Eluane!

Here he is smiling with my Eluane on her birthday. The shot is from a children's little red playhouse at a park.

---
| | | |
| --- | --- | --- |
| just thought I'd put this diagram here... | | |
1. go to your photo album. Mouse over the photo you want. A hand symbol should appear and a yellow box with the words, HTML code.

2. copy the code in your HTML code and paste into your message.

3. go to the next photo you want. Mouse over that photo. Select the HTML code on that yellow box, copy and paste that into your next photo.

This saves you from having to go from screen to screen and allows you to select your photos faster.

Here is a screen shot of the yellow box. Notice how the other photos don't have this box showing up. The reason why is because the mouse is only hovering above that specific image.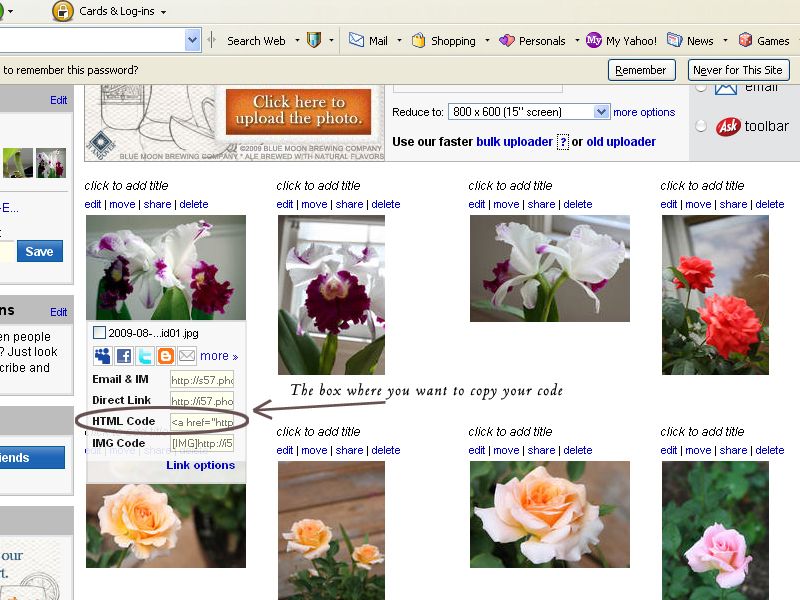 ---
| | | |
| --- | --- | --- |
| RE: Especially for Serena, Jim and Harold ! | | |
Thanks Jim and Serena, I am real pleased you liked the rose photos and it has helped me learn how to use these great tools - the computer and Photo Bucket.
Your boyfriend is very handsome, Serena, and thats a great photo.
I will try the above way tonight, its real handy that you can do the loading quickly as Thumbnails or when you are looking through the enlarged photos. Now I really will be able to load some photos this growing season. Also store photos and use Photo Bucket as a very clever photo albumn.
---
| | | |
| --- | --- | --- |
| RE: Especially for Serena, Jim and Harold ! | | |
Well, Rosemeadow, hee-hee, now I am really going to be in a quandry. I started collecting/clipping out Boxofrox's photos and JeffAurora's photos and now I've got to add yours too to the collection. I am so mad that GardenWeb only allows 50 clippings. Hmmm, maybe it's time for me to give a request whether this rule can be bent. LOL! O.K. I'll be back! I'm clipping right now!
---
| | | |
| --- | --- | --- |
| RE: Especially for Serena, Jim and Harold ! | | |
Rosemeadow; I'm lost for words to decribe all of the roses you have posted. Soo many beautiful roses I'm so impressed. Some time you'll have to share your secerts of rooting.THANKS for sharing.
Harold
---
| | | |
| --- | --- | --- |
| RE: Drab winter photos. | | |
Thanks Harold for your comments. Certainly I will tell
you about growing ownroot roses from cuttings. Next time.
Serena I didn't know about the Clippings link, thanks
for telling me. You flatter me, to say you are collecting my photos too !
Here are some Winter photos of our place with the poles and arches I put in,
and the extension in the length of the garden. The arches are not pefect as they are a bit twisted how I have put the post in, but I am hoping the roses covering them in the future will make them perfect.
When all the bareroot roses for this Winter are planted I should about 400 more different varieties
of roses in my garden to fill it up much more. I have planted about 100 of them so far.
Some of these photos are taken from the upstairs
sunroon and also a stand outside.
The black pots are where I have planted my own ownroot roses, to give them a bit of protection from frosts, wind, Kangaroos or human feet. In at least one the photos you can see my green shade house near the road, which is where I grow my cuttings. I use to have young cut roses growing in the hot house at the end of my garden, they grew fanstastic in there but when I put too many in there they got mildrew and covered in alwful sticky black stuff from insects. I wasn't spraying them, the organic stuff didn't work so I pulled them all out and planted them outside before last Spring. They should look better this year.
On the right side of the garden is where the Heritage roses are, also some David Austins infront. On the left hand side of my garden are the modern roses plus a row of Old Fashioned Climbers and two rows of Noisettes. Well there will be once the roses are all planted ! The steep creek bank is just across from the hot house.
---
| | | |
| --- | --- | --- |
| RE: Especially for Serena, Jim and Harold ! | | |
Wow, that is a labor of love and some major, major rose-planting there! And yes, I did see your green shade house too peeking out of one of your photos and another white tent-like structure as well. You have a sunroom too???? I am so jealous! Had I a sunroom I'd put both! my tree roses there for the winter... I hate to put them into the cold dark garage, and will be a nervous wreck during winter, hoping they'll be o.k.!

So where are your dogs and sheep? It's hilarious that you have to worry about bouncing Kangaroos. My most hated nemesis is the bouncing Monster Rabbit. Boy do I hate those furry greedy fat little creatures. They breed like crazy and they eat baby roses until nothing is left! Grrrrrrr!

So you don't get snow? I notice you say Winter and yet you are still planting so many roses. Wowwwwww!

By the way do you grow Penny Lane by any chance? or know anything about this climbing rose? I originally freaked out when I saw my young Penny Lane's first blooms because they were so tiny. The plant itself is very large for being so young (I feel a little bit better because the final bloom is not as miniscule as when they first start opening up...

Here is my Penny Lane: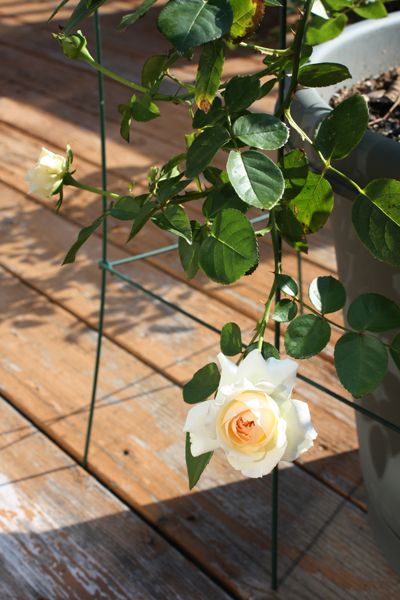 ---
| | | |
| --- | --- | --- |
| RE: Especially for Serena, Jim and Harold ! | | |
1 yr sleep, 2nd year it creepes, 3rd yr it leaps.
Generally true for most plants.

I've heard alot of rose growers comment on they never expect to much out of there roses the first couple of years.
Got to be patient and let them mature...LOL
That's the way it is.

When I'm done, I will have roses that bloom a large part of the season. If they don't by the 4th year, they are getting shovel pruned and replaced...LOL

JIM
---
| | | |
| --- | --- | --- |
| Pics | | |
AWESOME PICS ROSEMEADOW!
You have some very nice roses and I always love to see landscape pics!
Those rose catalogs only show the bloom. I enjoy seeing the bloom itself and the entire rose bush to see how it grows.

JIM
---
| | | |
| --- | --- | --- |
| RE: Especially for Serena, Jim and Harold ! | | |
I am glad you mentioned Penny Lane, Serena. I had a young grafted Penny Lane around 8 years ago and I thought it was very pretty when it bloomed but the it and then atleast a couple of hundred other rose I had got were killed by a bushfire.
It was heart breaking when it happened and I at first said I would never garden again if nature could do that to your work. It didn't take young before the garden spirit kicked back in though.
Not long after that my husband and I seperated and latter divorced. With the settlement money I bought this 30 acre block of land in the same area. My ex still had his property and house and our two girls are with me during the week and with their dad most weekends unless he is off to a dog trial. They also go to dog trials sometimes too.
With lived in a few caravans and a old truckvan with a fireplace in it for a few years before the bank let me have a loan to built a two story barn shed which are becoming very popular as houses on properties. I love it and it was the cheapest option for me. I really wanted a two story once I saw them, I wanted that more than haveing a fully lined one story for the same price.
My partner now, filled in the upstairs verandah ( it had no walls or flooring to start with, just the beams and the roof ), to make it a sunroom with a wonderful view of our property. Also he built the upstairs bedrooms for the girls. The last job he did was was to do the bottom bedroom.
Back to Penny Lane. I now have a ownroot I grew from cuttings I got at my friend, Lynette's large rose garden.
It is about the same age as your one. So we can compare as they mature. Mine hasn't bloomed yet I don't think. Its slowly growing.
I met Lynette back when she opened her garden in the Open Garden Scheme when I still had my 1st garden before the fire.
Back to about the first garden I had - The nice rose garden around the house that had been there when we had bought the place had't got burnt, only the rose garden I had extented into the paddock. One day I will post some photos of it, eventhough it doesn't exist anymore. My ex ended up selling that property and bought another one in the area. The fellow that bought it I latter saw had knocked out every single rose around the house and put natives in.
Here are a few photos from Lynette's garden.
I better get to my rose planting. It has warmed up a bit outside I reckon. My youngest girl is still sleeping. Bye !
---
| | | |
| --- | --- | --- |
| RE: Especially for Serena, Jim and Harold ! | | |
I'm just amazed at all the work you'ved done and the roses are just captivating. You have made my day-week THANKS
Harold
---
| | | |
| --- | --- | --- |
| RE: Especially for Serena, Jim and Harold ! | | |
Wow, so many life changes you've had to endure Rosemeadow! I am so glad that things are settling for you and that you have new roses, a new lovely home that your partner built for you, and beauty galore where you've now settled at. Reminds me so much of the tons of happiness after the hardships. Isn't it awful how things like a brushfire and a different homeowner can wipe out all our hard work so quickly. It never ceases to shock me. There was another person on the forum who had tons and tons of beautiful roses over 200 of them. When he ended up moving, he had to get an entire trailer to house his 100 roses but had to leave the rest of them behind. None of those roses survived the person he sold his home to.

Well it's wonderful that we have sister! roses--Penny Lane! whoo-hoo! I love Lynette's huge rose bush! It was fun learning how you and she met. James and I used to work at the same architectural firm for a few years (I was a 3D animator there; James did video/multimedia and marketing). Within a month after I left the company, James asked me out and we've been together ever since. How is your s.o. doing with his health? Jim's wife Sue has to undergo treatment this Friday. I am keeping you both in my prayers.

Anyway, I am thrilled to have an Australian friend with gorgeous roses! I am just so amazed at the wonderful things you have and are continually developing with the new roses. Have fun gardening and many hugs to your children. I've seen your youngest and am looking forward to photos of your other daughter. Is she old enough to start learning how to do trialing?
---
| | | |
| --- | --- | --- |
| RE: Especially for Serena, Jim and Harold ! | | |
I am real glad I have made your week Harold. I slacked off last night and went to look at Helpmefindroses so I could check out some of the roses I am planting.
Serena, I am excitted about having you all here as friends too! You do such lovely replying posts. Last night though I read your very nice posts but decied to wait til morning to reply.
That is a very romantic story about your boyfriend and yourself.
The photo I wanted to post here of my family has a invalid file size, so I will have to look into that.
I forgot to say the photo of your Penny Lane looked good, mine isn't that big let. Also one day I would love you to show me how to make a little video of my kelpies working to put here. We should do it with garden videos, why don't people do that here if it can be done ?
---
| | | |
| --- | --- | --- |
| RE: Especially for Serena, Jim and Harold ! | | |
Rosemeadow, I am very much looking forward to your family photo! Do you have an image editing software like Photoshop? Any image editing software? Make a copy of your photo file and give it a new name. Resize it down to either 800x600 or 640x480. Interestingly camera formats reduce down to exactly 600x400 and preserves the same ratio. I'm not sure why this is.

Videos--do you have it in .wmv format? That is the format that can be viewed on the web. Or is the video still "stuck" inside your video camera. Let me know and I'll try to help. If the video is still stuck inside your camcorder, the steps can get quite complicated to get from your camcorder into your computer. It requires getting the right connector and opening up a video editing program to get your video file converted to a .wmv.

There are photo places that can help you convert your videos as well I believe. Just be sure to ask for both .wmv files besides regular DVD files. The two are completely separate from each other: DVD files play on DVD players and computers but only .wmv files can be played on the web.

Once you have the .wmv you need to upload it to Vimeo. This is an even better! site than Photobucket. Photobucket has so much annoying advertisements. Vimeo bans advertisements and keeps their site clean. Vimeo is our number one site for dog agility videos because you can place exceptionally high quality video there without paying extra. UTube you get these nasty, blurry pixelated videos if you try to do it for free, plus I'm just not a fan of UTube. Lots of weird videos there whereas Vimeo is more for artists or people who have a real passion for their hobbies and want to get the highest quality video possible.
---
| | | |
| --- | --- | --- |
| RE: Especially for Serena, Jim and Harold ! | | |
That Fortune's Double Yellow is amazing. It makes me want to find a Eucalyptus tree to grow it on.

That rose that grew from a cutting from your partner's work looks like it might be Passionate Kisses. I just got one, and I really love the really vivid neon color.

- Becky
---
| | | |
| --- | --- | --- |
| RE: Especially for Serena, Jim and Harold ! | | |
Rosemeadow, I'm just setting here with mouth wide open in awe of your posts. It's like a good book you can't wait to turn the page to see what waits you, and in your case I'm never disappointed. THANKS SOO MUCH. Got to go to bed so I can beat the sunrise in the morning.
Harold
---
| | | |
| --- | --- | --- |
| RE: Especially for Serena, Jim and Harold ! | | |
Thankyou Serena, Becky and Harold for your truely lovely messages for me to come back to see. I had a break from posting photos as it does take time to do, but all your coments surely make it worth it. I have been spending my computer time just looking on Helpmefindroses to see the roses I have been planting. Do you all like to go there ? Such wonderful rose photos there.
Serena, my daughter and I ( and my 2 year old ) had to spend another night in hospital, as she had to have another operation ( well the first wasn't a real operation I surpose but it seemed like it as they did put her out to it when they set her arm )so they could put some screws and a plate in her arm rather than the cast which hadn't put her arm where it should have been to mend right. She is alot happier without the heavy cast now, anyway, and went back to school today.
My partner got the biopsy done today and we saw a speacialist the other day, so we go back next week to see him and see what has to be done.
I saw your post the other day but I left it to answer later as I was tired that night. Re reading it now I realize how much valuable imformation you gave so I can learn to do other things. I am sorry I was rude in not ansewring you straioght away.
When I sugested about sending you a tape of my Kelpie Laura working in a trial, and also some Border Collies, I was thinking I could send you a video tape through the mail after I got around to making a copy. But we have a camcorder now and I could take some footage of my present kelpies working too as I need to learn to do this as I need to make a web site to start selling my pups. I will go to the photo shop and get them to copy my tapes for me. Thanks for telling me about that, we haven't learnt to copy them ourselves yet.
At the moment though I need to concentrate on planting my new roses. Also I bought 28 more fruit trees ( 8 are Citrus trees ) to fill up that part of our garden, I nearly have all the trees planted. The ground is drying out here, so I have to start pre watering the spot for each rose. I was going to load up a photo or two but Photo Bucket is not loading up properly for me tonight so I will have to try tomorrow.
---
| | | |
| --- | --- | --- |
| RE: Especially for Serena, Jim and Harold ! | | |
I have been trying to upload some photos onto photo bucket but it just won't work for me. It goes straight to 100 %, and when it does that I know its not going to work. I don't know what I am doing wrong. I have already resized them.
---
| | | |
| --- | --- | --- |
| RE: Especially for Serena, Jim and Harold ! | | |
Never had that happen rosemeadow.
Maybe serenasyh can shed some light on that problem.

JIm
---
| | | |
| --- | --- | --- |
| RE: Especially for Serena, Jim and Harold ! | | |
Hi, Rosemeadow! I missed out on your thread because it keeps getting buried by other threads! so sorry I missed on them, I usually get here in the late afternoon, and by then other threads have pushed down your thread.

Actually when you are ready to send your new photos just start a new thread and we can help you with your photos.

Rosemeadow I suspect that you are worrying too much about your photos. I bet they will work! Photobucket usually has an automatic resizing feature anyway. Do you mind sending me the link so that I can take a closer look? Or you can email me 2 test photos and I will test them out on my Photobucket account for you.

O.K. about video and website! it is a very laborious process that takes a minimum! of a couple of hours of work just for one video. Usually web design for a professional take a month to design and getting video into your own website requires several software programs that cost uhhhh, three thousand dollars (requires Adobe Dreamweaver, Adobe Photoshop, Adobe Premiere and either Adobe Illustrator or Fireworks). So it's something that you have to hire someone to do. On the other hand you can just have a hyperlink to a video like Vimeo. The only bad part is that Vimeo has a rule that you cannot use videos for commercial purposes, it is strictly for sharing purposes-that is how they keep spammers and annoying commercials out. They want their services to be free and clear of those complications; . Maybe what you can do is if people are interested in your pups you can email them the hyperlink instead.

Here is a link to Vimeo.

Videotapes you definitely have to send to a store to get it translated into a compatible format. They involve a completely! different process than Camcorder videos. Camcorder videos are much easier to get into your computer compared to VHS. VHS you need to buy actual computer components/computer parts to translate VHS.

If you have more questions on the process, you can email me and I'll try to help explain more about what is involved.

So when is the day that you will find the results of the Biopsy? I hope your daughter's arm is feeling much better too. Ouch! poor girl. I am sorry to hear that the cast didn't do the right thing uggggggh!
---
| | | |
| --- | --- | --- |
| whoops! | | |
Karen, I keep forgetting to say Karen! hee-hee! I always revert to Rosemeadow by accident when I am just talking with you. Sheesh, I'm such a goofcase!
---
| | | |
| --- | --- | --- |
| RE: Especially for Serena, Jim and Harold ! | | |
Hi Serena, thanks for all your knowledge and time. I will try again with photobucket and then do a private email if I have trouble still. Thanks !
We are going to wait for the results of the biopsy from our specialist when we see him on the 28th of August. My daughter has gone back to shcool now, she is using a computer to do her work at school, only thing she has got to learn to type quicker. She is coping really well now but counting the days weeks down.
I don't care wether you call me Rosemeadow or Karen. Just really glad to have you all as friennds. I better go plant some more roses. I am pre soaking the ground the night before now before I plant. I am still having fun planning and planting!
---
| | | |
| --- | --- | --- |
| RE: Especially for Serena, Jim and Harold ! | | |
Hi, Karen! I am keeping prayers for every one. I have to highlight August 28th too (next Friday)! Hope and hope for a really accurate diagnosis and hopefully a good-result (benign) cause of the symptoms. It's real important, crucial to get an accurate diagnosis so that we can get everything treated. That is the most important. So am keeping my fingers crossed!
---
| | | |
| --- | --- | --- |
| RE: Especially for Serena, Jim and Harold ! | | |
Thankyou for your prayers Serena.
I will have to get someone to look at my computer and tell me why my photos are not loading onto Photo Bucket now.
---
| | | |
| --- | --- | --- |
| RE: Especially for Serena, Jim and Harold ! | | |
Karen, you are in our prayers! Hopefully, everything works out for the good!

JIM
---
| | | |
| --- | --- | --- |
| RE: Especially for Serena, Jim and Harold ! | | |
Karen, I tried to click on your profile but there's no email. You can try to email me 2 photos, and I'll try to load them "raw" into my Photobucket account and see why Photobucket isn't automatically resizing them for you.

If you click on my name you should be able to see that email option. Everything is there, my email and my clippings.

I have 2 emails:

SerenaSYH@sbcglobal.net

animate@galileomediaservices.com
---
| | | |
| --- | --- | --- |
| RE: Especially for Serena, Jim and Harold ! | | |
rosemeadow, I was googling images of 'Souvenir de Madame Leonnie Viennot', and came across yours.

Then, I saw your spectacular pics of Fortune's Double Yellow. Wonderful! Such a beautiful, gentle spot where you live. The first photos I've ever seen, of the plant in its entirety. Our Decorator in Mississippi grew that rose at his office: in a tiny pocket of soil, maybe three by six feet. Two sides were bordered by retaining wall, one by the corner of the building, and one by the AC Compressor Pad. So, you had this windswept corner...hot winds coming off black Asphalt parking lots... hot air coming from the AC Compressor Fans...in Mississippi, which is nearly as hot a place as is Australia. The 'soil' in that spot was a mixture of red clay and construction derbris (mortar, sand, rebar, cinderblock, styrofoam, plastic stucco slop, wood scraps...). A more miserable and dessicating spot I cannot imagine. But that Rose was SPECTACULAR. It looked like a Chinese painting on Silk.

I will note that he cut branches of that Rose for a couple of events. The blossoms continued to open, in the way that forced fruit tree branches continue to blossom. And the Apple Green foliage was so lovely.

So interesting to see Fortune's Double Yellow grown in a less stressing spot.
---
| | | |
| --- | --- | --- |
| RE: Especially for Serena, Jim and Harold ! | | |
Oh. My. Gosh. Thank you for the photos. Fortune's Double Yellow blew me away. I'll be back.
---
| | | |
| --- | --- | --- |
| RE: Especially for Serena, Jim and Harold ! | | |
I was very close to comming back to Garden Web to tell you about what I am starting to do, and then I got a email from Serena who I haven't talked with for a while. What a lovely surprise ! And she also told me how two recent comments had been made about a old post of mine.
Thankyou Plan9fromposhmaidison and hosenemesis.
My news is that the neighbouring properties and myself have been bought out by a future coal mine that the N.S.W. goverment is planning to build. We couldn't stay here and fight as I was very worried for our health.
I am in the process of buying a 3 bedroom brick house with 13 and a half acres in Tasmania. I was very lucky to get it very cheap. I think it will be perfect for my future garden, my children and I went down to look at it last week and we loved it.
I am starting to dig up my roses to take down in just under 6 weeks. The roses have to be dipped by a quaretine inspector before I can take them to Tasmania. I have roughly 900 different varieties to dig up, but I do have a year before I have to move from here. I want to take as many as I can this first trip and I will spend a month planting them at my new place. I actuall won't be living permanently in Tasmania for 5 and a half years, we will just go down for all our holidays. I want my two eldest daughters to finnish their schooling here in the same school untill the coal trains start going through our town and then I will move them away to the next town which is bigger. The trains are said not to go throug the bigger town but if they do, I will leave this area and go to Tasmanian early. I don't want my children exposed to coal dust. The other main reason I am staying for ther time being is so my older two daughters can visit there father, my ex of ten years, every weekend still.
First I dug out my huge Martine Guillot, another day I dug 19 young shrub roses I planted last year. Today I dug out my Banksia Normalis which was my biggest rose, its only a real heavy thing to carry now. I have to cut most of the roses back, espeacially the big ones. The Normalis is on its own roots. Tomorrow I
---
| | | |
| --- | --- | --- |
| RE: Extra | | |
My keyboard stopped working so I had to post without finnishing my post. I was going to say, tomorrow I start in earnest, least now I know I can dig out any rose here I reckon, after practising on the Banksia today. Except the Fortune's Double Yellow which I never planted. That rose has been covered in a blackberry that took over it very quickly. I thought why bother doing anything with it when it might be dug up as part of the coal mine one day anyway, but I never expected it to take it over so quicky. They were the best Blackberries to eat though. I have a small FDY I got from very close to the mother bush, so I will take it to Tasmania. IF I could I would dig the big one, save it from the black berry and mines, I will have a look, but it is so huge and thorny.
I am sorry about the mistakes earlier, I couldn't correct them because of the key board not working.
It was good to hear how tough FDY is Plants9poshmadison, and your lovely discription of it.
---
| | | |
| --- | --- | --- |
| RE: Especially for Serena, Jim and Harold ! | | |
Great to hear from you Karen! I hope your move goes well for you & your roses...
---
| | | |
| --- | --- | --- |
| RE: Especially for Serena, Jim and Harold ! | | |
Thanks Jim, its very good to talk with you again too. I hope things are going well for you as well.
---
| | | |
| --- | --- | --- |
| RE: Especially for Serena, Jim and Harold ! | | |
Wow, so many roses to transport too, Karen! Keeping my fingers crossed all will be smooth moving for you.

As soon as I got your email I let Jim know you had written on your thread! I was going to write, but the scary truth is that I woke up at 4:33 p.m. (am battling this terrible chest cough, sore throat and meds have been knocking me out) and then saw your email. Then I had to do rush emergency planting right before the thunderstorm hit (just received roses from Palatine yesterday) and I needed to get everything into the ground before the storm. Well all that labor caused me to get sick again around 8:50 p.m. which is why I didn't write back yet... But I'm real happy that Jim has helped write for me, lol!

Karen, I just don't see how you can do all this hard work! I had to throw up my hands and give up many a time....My soil in unbroken new ground is as hard as a rock and basically needs a jackhammer it seems...I just can't get my shovel into that rock hard clay. It's been soooo frustrating...And Australia just seems very desertlike, and it would take great strength to dig into that soil I'm thinking.....

I am so glad Ray had real good foresight on providing for you and the girls when he knew he had cancer; and that you could purchase the Tasmania property. With this place that you can take time to develop while you maintain your current home. Be sure to update us on your progress. Smiles and hugs, Serena
---
| | | |
| --- | --- | --- |
| RE: Especially for Serena, Jim and Harold ! | | |
Dear Serena, I am sorry to hear you are sick. I hope you get well soon.
So far with one good watering the roses are provng easy to lift the root ball with a crow bar, after having cut all the canes low down with a branch saw, then cutting the thick roots with the branch saw and any thinner roots with a knife that haven't already snapped. I have dug up some really big roses aready, its not hard after all.
We have had three cool wettish Summers and it is so rare that I have had to water my roses, that I could count the times on one hand I think.
The reason I can buy the place in Tasmania is that the future coal mine is buying me out at present, and the bank is letting me swap my loan over to the new property in Tasmania. I can stay on here for a year if I want because that is the deal the coal mine management has been letting people do when the properties are sold to them.
I will post some photos of my new place when we go back down.
Serena, no more planting roses before storms while you are sick !
---
| | | |
| --- | --- | --- |
| RE: Especially for Serena, Jim and Harold ! | | |
In general things are going well here Karen...
Here's a pic of our grandson. My wifes daughters son...
That's a long story but Serena can fill you in by e-mail.
---
| | | |
| --- | --- | --- |
| RE: Especially for Serena, Jim and Harold ! | | |
Karen, dear rose forumers, I wish you could see Baby Gunnar's Christmas videos! They are soooooo adorable! I have suggested Vimeo for Jim. It's a great place for video. The dog agility folks in England loooooved Vimeo, but now many want to go viral so they use YouTube instead.....With Vimeo there is more privacy. The disadvantage with Vimeo is that you can only upload one HD video per week unless you want to upgrade. YouTube there is no limit. You can make videos more private on YouTube, but you have to sift through hoops and a lot of settings....

How is your Kelpie breeding going Karen?

Will talk to you soon! I have to rush and explain some of my garden experiments to the Peter Beales forum before I sound like the Alice In Wonderland Mad Hatter, haha! Hugs and be sure to post your rose photos at our Gallery!
---
| | | |
| --- | --- | --- |
| RE: Especially for Serena, Jim and Harold ! | | |
Jim, your grandson is very adorable, he must bring you alot of joy.
Serena, my working Kelpie breeding is going the best it ever has in giving me some really good sheepdogs, and I have been told by quite a few people, will be appreciated by people in Tasmania.
How is your Boarder Collie going ?
Tomorrow I am going on a bus to Sydney to attend a march to Parliament House against so much coal minning and future coal seam gas. Farmers and country people are very anoyed that the goverment is letting it happen when we are worried about loosing our valuable water and good farming land. I feel a bit hypocrital because I sold to the mines but I couldn't sacrifice my children's and my health, and my dogs and roses health, to stand up to them and not move. They would have confiscated my land in the end anyway - though hopefully coal minning will stop. I want to still help in some way.

---
| | | |
| --- | --- | --- |
| RE: Especially for Serena, Jim and Harold ! | | |
Our grandson sure does light up our life Karen!
---
| | | |
| --- | --- | --- |
| RE: Especially for Serena, Jim and Harold ! | | |
Wonderful to hear about the Kelpie breeding.

When I have time I'll dig up some of my dance videos with Eluane and also her agility photos. But you can also see her in my 2012 Lumpy Lopsided thread.

Pretty Eluane photos with Cornelia going gangbusters

Today, much to my shock James wants me to put her on a diet...I love calling her the chubby puppy, but I didn't realize she put on that much weight!!! :O! Even my dad who normally spoils her to death says she's a bit too chubby????? I was sick for 3 months so she didn't get as much exercise as she used to. Do you think she's too chubby?? The dancing videos were way back in early January. I'll find them later when I have time....I have to finish up some freelance deadlines!

And no you are not!!! being hypocritical. Safety for one's family and oneself is the most important. Hurray on your march, Karen. Saving Nature and the environment is very important, and I applaud you.
---
Post a Follow-Up
Please Note: Only registered members are able to post messages to this forum.
If you are a member, please log in.
If you aren't yet a member, join now!
---
Return to the Rose Gallery Forum
Information about Posting
You must be logged in to post a message. Once you are logged in, a posting window will appear at the bottom of the messages. If you are not a member, please register for an account.
Please review our Rules of Play before posting.
Posting is a two-step process. Once you have composed your message, you will be taken to the preview page. You will then have a chance to review your post, make changes and upload photos.
After posting your message, you may need to refresh the forum page in order to see it.
Before posting copyrighted material, please read about Copyright and Fair Use.
We have a strict no-advertising policy!
If you would like to practice posting or uploading photos, please visit our Test forum.
If you need assistance, please Contact Us and we will be happy to help.

Learn more about in-text links on this page here