Return to the Tennessee Gardening Forum
|
Post a Follow-Up
---
| | | |
| --- | --- | --- |
| Happy Independence Day | | |
Posted by
bigorangevol
Nashville (
jtoothmanindadj@comcast.net
) on
Fri, Jul 4, 08 at 15:45
I pray that we all have a safe and happy holiday weekend. Please remember all of our service personel in your prayers and that we are here able to celebrate because of a huge number of brave Americans who have given and continue to give their all. If you see a soldier this weekend give them a hung or handshake and thank them for their service.
God bless America and the REAL heros that make our lives, freedom and this celebration possible!

What is a Soldier?

A "Soldier" -- whether active duty, discharged, retired, or reserve - whether Navy, Air Force, Army or Marine is someone who at one point in his life wrote a blank check made payable to The United States of America and her citizens for an amount up to and including his life. That is dedication and honor. There are way too many people in this country today who no longer understand that fact. Thank goodness there are still a lot of us left that do.

Navy SEAL Code:
"In times of war or uncertainty there is a special breed of warrior ready to answer our Nation's call; a common man with uncommon desire to succeed. Forged by adversity, he stands alongside America's finest special operations forces to serve his country and the American people, and to protect their way of life. I am that man.

My Trident is a symbol of honor and heritage. Bestowed upon me by the heroes who have gone before, it embodies the trust of those whom I have sworn to protect. By wearing the Trident, I accept the responsibility of my chosen profession and way of life. It is a privilege that I must earn every day.

My loyalty to Country and Team is beyond reproach. I humbly serve as a guardian to my fellow Americans, always ready to defend those who are unable to defend themselves. I do not advertise the nature of my work, nor seek recognition for my actions. I voluntarily accept the inherent hazards of my profession, placing the welfare and security of others before my own.

I serve with honor on and off the battlefield. The ability to control my emotions and my actions, regardless of circumstance, sets me apart from other men. Uncompromising integrity is my standard. My character and honor are steadfast. My word is my bond.

We expect to lead and be led. In the absence of orders I will take charge, lead my Teammates, and accomplish the mission. I lead by example in all situations.

I will never quit. I persevere and thrive on adversity. My Nation expects me to be physically harder and mentally stronger than my enemies. If knocked down, I will get back up, every time. I will draw on every remaining ounce of strength to protect my Tteammates and to accomplish the mission. I am never out of the fight.

We demand discipline. We expect innovation. The lives of my teammates and the success of the mission depend on me — my technical skill, tactical proficiency, and attention to detail. My training is never complete.

We train for war and fight to win. I stand ready to bring the full spectrum of combat power to bear in order to achieve my mission and the goals established by my country. The execution of my duties will be swift and violent when required, yet guided by the very principles I serve to defend.

Brave men have fought and died building the proud tradition and feared reputation that I am bound to uphold. In the worst of conditions, the legacy of my Teammates steadies my resolve and silently guides my every deed. I will not fail."

Much love to you all from Lavonne and I!!!
---
Follow-Up Postings:
| | | |
| --- | --- | --- |
| RE: Happy Independence Day | | |
> A "Soldier" -- whether active duty, discharged, retired, or reserve -
> whether Navy, Air Force, Army or Marine is someone who at one point
> in his life wrote a blank check made payable to The United States of America
> and her citizens for an amount up to and including his life.

I'll hoist a pint to all my brothers and sisters who wear the cloth of our nation,
who are in harms way, or have paid for our freedom with their freedom, bodies, and lives.

--
Very Respectfully
The SandSquid (OIF/OEF/ONE-'06)
Petty Officer Second Class
Unites States Navy
---
| | | |
| --- | --- | --- |
| RE: Happy Independence Day | | |
Those are some tough tours Squid! Your service is greatly appreciated by all of us!!!

Major props to all those in the CVBG's of Johnny Reb; Big John; Big E; Abe; HTS; Ike; Reagan; Connie; Kitty Hawk; Old Salt; Chuckie V.; T.R. and G.W. Without question we have the Worlds greatest Navy; boats and crews! For 232 years now the USN has been a force NOT to be messed with by any country. God help any idiot that even thinks about it today.

Speaking of CVBG's...it sure will be a sad day when Big E is decom'd and replaced by the G.R. Ford. Since 1936 we've had a Big E, either CV-6 or CVN-65, on order or on the water excluding only 10 years. CV-6 had 20 Battle Stars to her credit and CVN-65 has 5. The history of those two boats is nothing short of incredible. By the time they replace her, a Big E will have served our Navy 66 out of 80 years. Not a bad run for two boats huh?

HOOYAH Squid!
---
| | | |
| --- | --- | --- |
| RE: Happy Independence Day | | |
IMO the must UNSUNG heroes, and bravest Patriots of our Country were these men:

• George Read
• Caesar Rodney
• Thomas McKean
• George Clymer
• Benjamin Franklin
• Robert Morris
• John Morton
• Benjamin Rush
• George Ross
• James Smith
• James Wilson
• George Taylor
• John Adams
• Samuel Adams
• John Hancock
• Robert Treat Paine
• Elbridge Gerry
• Josiah Bartlett
• William Whipple
• Matthew Thornton
• Stephen Hopkins
• William Ellery
• Lewis Morris
• Philip Livingston
• Francis Lewis
• William Floyd
• Button Gwinnett
• Lyman Hall
• George Walton
• Richard Henry Lee
• Francis Lightfoot Lee
• Carter Braxton
• Benjamin Harrison
• Thomas Jefferson
• George Wythe
• Thomas Nelson, Jr.
• William Hooper
• John Penn
• Joseph Hewes
• Edward Rutledge
• Arthur Middleton
• Thomas Lynch, Jr.
• Thomas Heyward, Jr.
• Abraham Clark
• John Hart
• Francis Hopkinson
• Richard Stockton
• John Witherspoon
• Samuel Huntington
• Roger Sherman
• William Williams
• Oliver Wolcott
• Charles Carroll
• Samuel Chase
• Thomas Stone
• William Paca

They were the brave men that signed their names to this document knowing full well the penalty for doing sou would be DEATH, if they were captured by the British Army.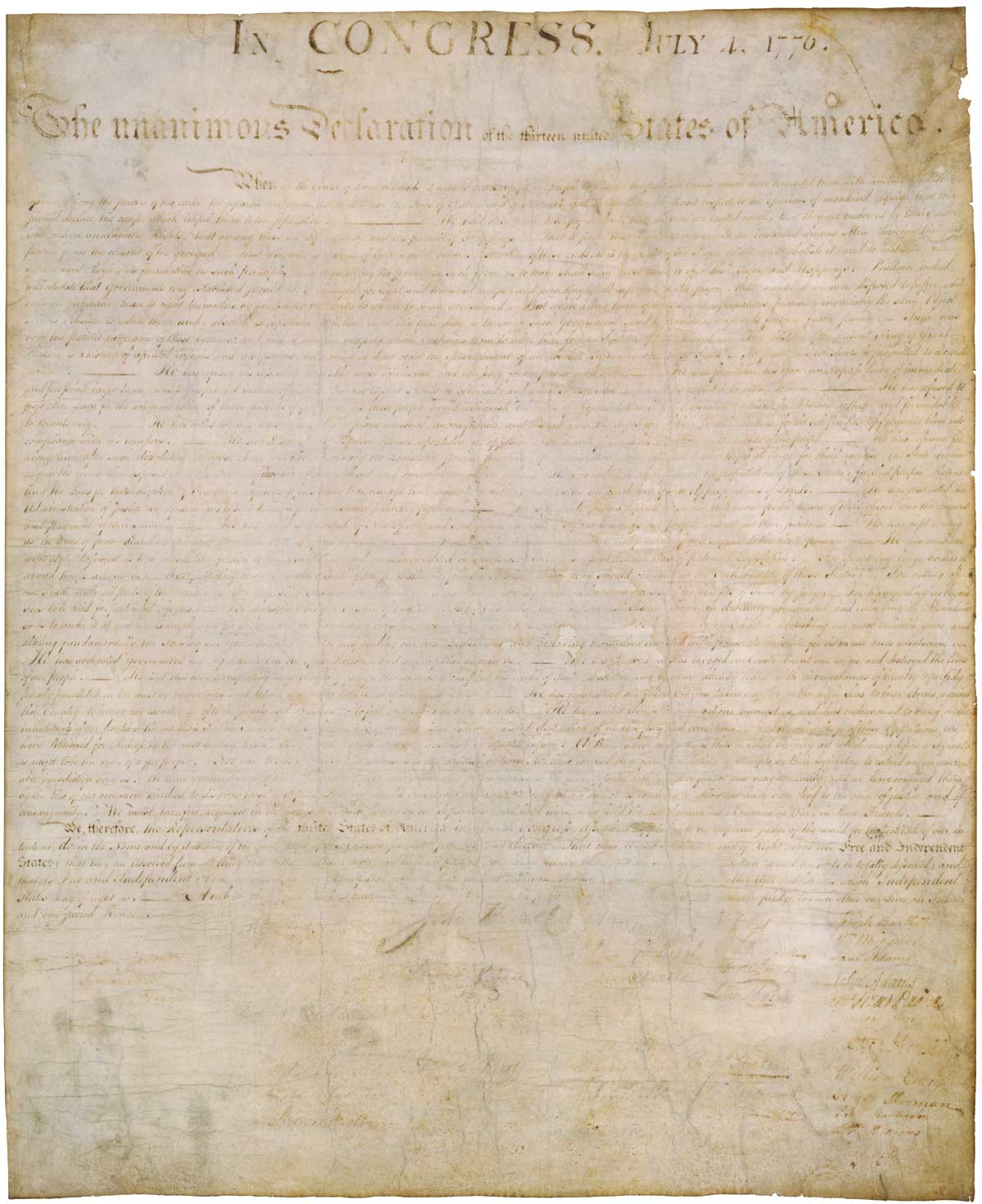 Have you ever wondered what happened to the 56 men who signed the Declaration of Independence?
Five signers were captured by the British as traitors, and tortured before they died.
Twelve had their homes ransacked and burned. Two lost their sons serving in the Revolutionary Army; another had two sons captured. Nine of the 56 fought and died from wounds or hardships of the Revolutionary War.
They signed and they pledged their lives, their fortunes, and their sacred honor. What kind of men were they?
Twenty-four were lawyers and jurists. Eleven were merchants, nine were farmers and large plantation owners; men of means, well educated.
But they signed the Declaration of Independence knowing full
well that the penalty would be death if they were captured.
Carter Braxton of Virginia, a wealthy planter and trader, saw his ships swept from the seas by the British Navy. He sold his home and properties to pay his debts, and died in rags.
Thomas McKeam was so hounded by the British that he was forced to move his family almost constantly. He served in the Congress without pay, and his family was kept in poverty was his reward.
Vandals or soldiers looted the properties of Dillery, Hall, Clymer, Walton, Gwinnett, Heyward, Ruttledge, and Middleton.
At the battle of Yorktown, Thomas Nelson Jr, noted that the British General Cornwallis had taken over the Nelson home for his headquarters. He quietly urged General George Washington to open fire. The home was destroyed, and Nelson died bankrupt.
Francis Lewis had his home and properties destroyed. The enemy jailed his wife, and she died within a few weeks.
John Hart was driven from his wife's bedside as she was dying. Their 13 children fled for their lives. His fields and his gristmill were laid to waste. For more than a year he lived in forests and caves, returning home to find his wife dead and his children vanished. A few weeks later he died from exhaustion and a broken heart. Norris and Livingston suffered similar fates.
Such were the stories and sacrifices of the American Revolution.
These were not wild-eyed, rabble-rousing ruffians. They were soft-spoken men of means and education. They had security, but they valued liberty more. Standing tall, straight, and unwavering, they pledged: "For the support of this declaration, with firm reliance on the protection of the divine providence, we mutually pledge to each other, our lives, our fortunes, and our sacred honor." They gave you and me a free and independent America.
The history books never told you a lot about what happened in the Revolutionary War. We didn't fight just the British. We were British subjects at that time and we fought our own government. Some of us take these liberties so much for granted, but we shouldn't.
Here is a link that might be useful: The unanimous Declaration of the thirteen united States of America
---
| | | |
| --- | --- | --- |
| RE: Happy Independence Day | | |
Sadly, that type of dedication, valor, honor and character have been sorely missed in our country for too many decades.
---
Post a Follow-Up
Please Note: Only registered members are able to post messages to this forum.
If you are a member, please log in.
If you aren't yet a member, join now!
---
Return to the Tennessee Gardening Forum
Information about Posting
You must be logged in to post a message. Once you are logged in, a posting window will appear at the bottom of the messages. If you are not a member, please register for an account.
Please review our Rules of Play before posting.
Posting is a two-step process. Once you have composed your message, you will be taken to the preview page. You will then have a chance to review your post, make changes and upload photos.
After posting your message, you may need to refresh the forum page in order to see it.
Before posting copyrighted material, please read about Copyright and Fair Use.
We have a strict no-advertising policy!
If you would like to practice posting or uploading photos, please visit our Test forum.
If you need assistance, please Contact Us and we will be happy to help.

Learn more about in-text links on this page here