Return to the Growing Tomatoes Forum
|
Post a Follow-Up
---
| | | |
| --- | --- | --- |
| Serenade vs. Exel LG vs. Actinovate on Powdery Mildew | | |
Posted by
rnewste
8b NorCal (
rnewstead@aol.com
) on
Sun, Jun 14, 09 at 14:03
For the past few years, our area has been inundated by Powdery Leaf Mildew (Mold).
I have been evaluating the benefits of Serenade, Exel LG, and Actinovate on treating this, while minimizing the "negative" impacts on my tomato plants.
My initial use of Actinovate last season was quite effective in controlling the Mildew, but at $17.00 per dry ounce, I deemed it quite expensive. To be sure, I really like the benefits of Actinovate as a soil drench, as it has markedly improved the growth of my plants.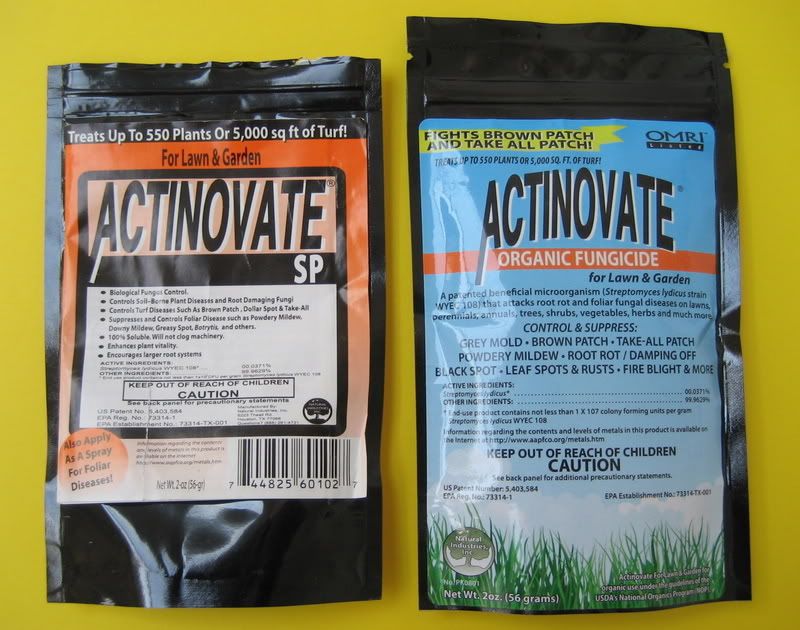 Late last season, I began to use Serenade for controlling the Powdery Leaf Mildew. In concentrate form, it is quite inexpensive, and it did a good job of controlling the Mildew:
This season, Ami tipped me on to a product called Exel LG. I have been using it for a month now, and I am very pleased with the results. In addition to its benefits in controlling Powdery Leaf Mildew, it has additional benefits as a foliar spray. I am still researching these benefits, but my plants are noticeably greener now, than before I started the foliar spraying:
One tip; be sure to measure out the precise dilution from the concentrate. On the first application of Exel LG, I "eye-balled" it, and used way too much. Result was burned leaf-tips:
One additional tool that I have found is a battery powered hand held sprayer that works quite well: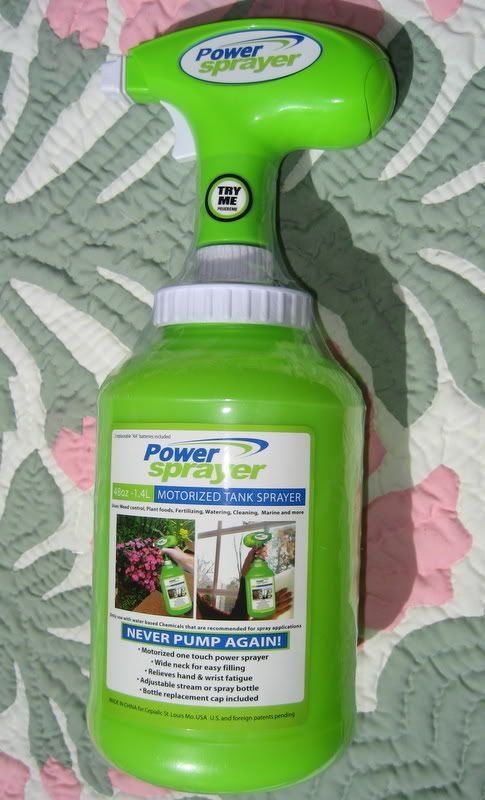 Less than $9.00 on Amazon.com
Raybo
---
Follow-Up Postings:
| | | |
| --- | --- | --- |
| RE: Serenade vs. Exel LG vs. Actinovate on Powdery Mildew | | |
thanks for the tip raybo...especially the hand powered sprayer...i really need that.
---
| | | |
| --- | --- | --- |
| RE: Serenade vs. Exel LG vs. Actinovate on Powdery Mildew | | |
Here is the direct link:

http://www.amazon.com/Cepia-48-Ounce-Battery-Sprayer-17003/dp/B000BQKGP2/ref=dp_cp_ob_hi_title_1

I bought two of them to keep my sprays in separate containers all the time. $8.00 each, plus a total of $5.25 for shipping. My hand thanks them for this product!!!

Raybo
Here is a link that might be useful: Battery powered sprayer
---
| | | |
| --- | --- | --- |
| RE: Serenade vs. Exel LG vs. Actinovate on Powdery Mildew | | |
I love Serenade, I bought six pounds of it a couple of years ago...it was worth every penny.

T
---
| | | |
| --- | --- | --- |
| RE: Serenade vs. Exel LG vs. Actinovate on Powdery Mildew | | |
This June Gloom is killing me. I have Exel LG ordered and until it gets here I have been using Actinovate with not so great results.
How often should you spray the plants with actinovate, and how often when I get my Exel LG
---
| | | |
| --- | --- | --- |
| RE: Serenade vs. Exel LG vs. Actinovate on Powdery Mildew | | |
whip,

It all depends on when you caught it. Last year, I was too stupid to figure out what was going on, and ask advice. When I did finally post here, Carolyn identified the probable cause. I then used what I had on hand (Actinovate), but then switched to something more cost effective (Serenade).

Our good friend here at GW (Ami over in Germany) tipped me on to Exel LG about a month ago. I ordered it from Lawnrite.com ($19.95 plus a flat $8.00 for shipping). So far, I am quite pleased with it. In fact, I may alternate spraying with Exel LG, then a week later with Serenade just to see what would happen.

I am using a more diluted mix ratio so I don't burn the leaves again, and would rather take the time to more frequently spray with a overly diluted mix (the battery operated hand sprayer is a big help!).

I am now "spot spraying" when I see visible Mildew, but also am doing a 'Tainer-wide spray once per week, as a preventative measure. Much better results this year as compared to last season. Again, when I have time I want to assess why the Exel LG is "greening up" my plants, as an unexpected bonus.

Maybe Ami has some knowledge he can share on this. I also want to look into using Exel LG as a soil drench (like with Actinovate) but the Exel LG Manual is very vague on this (application dose, benefits, etc.).

Raybo
Here is a link that might be useful: Excel LG datasheet
---
| | | |
| --- | --- | --- |
| RE: Serenade vs. Exel LG vs. Actinovate on Powdery Mildew | | |
I just wanted to post to ask about the containers you've got your tomatoes growing in. Did you make them like these here?

http://www.josho.com/gardening.htm

Since my raised beds aren't going to provide enough growing room for me, I've been thinking about constructing a few, but you look to have tons of them, so I thought I'd ask. :)
---
| | | |
| --- | --- | --- |
| RE: Serenade vs. Exel LG vs. Actinovate on Powdery Mildew | | |
spagh,

Josho has a number of SWC design options.

The EarthTainer that I designed uses different containers, and other self-supporting cage system techniques. You should evaluate all of the alternatives, then select which design works best for you.

See link:

http://earthtainer.tomatofest.com/

Construction plans and Video are hosted at this site.

Raybo
Here is a link that might be useful: EarthTainer II WaterMizer Edition Guide Rev 1.6
---
| | | |
| --- | --- | --- |
| RE: Serenade vs. Exel LG vs. Actinovate on Powdery Mildew | | |
I use milk 50/50 with water.

Ed
---
| | | |
| --- | --- | --- |
| RE: Serenade vs. Exel LG vs. Actinovate on Powdery Mildew | | |
Raybo you do all the research and we all benefit, the least I could for you is buy you a bottle of wine or a case of beer, lol. I had PM two years ago on a single beefsteak hybrid and have not seen it since (knock on wood). I think the reason I got it was because I was using those sooker hoses above ground and they spray water everywhere if your not careful. I think maybe your plants may be a little more prone to PM because you got those huge plants stuffed inside those small cages and your not getting enough air circulation in those mini jungles (just a thought). I use homemade cages that are 30" in diameter which gives me more room to spread the vines out for better air circulation.

That power sprayer looks sick, I have to get me one or two of those.

Damon
---
| | | |
| --- | --- | --- |
| RE: Serenade vs. Exel LG vs. Actinovate on Powdery Mildew | | |
Ray,

That's so cool! And YOU are THE Ray from the website too? Even cooler, you're just down the way from me (well, just down the freeway, but close enough for gov't work, lol).

If I wasn't so darned disenchanted with my garden right now, after all of the tomato issues I've been having, I'd be going to Kmart to pick up some containers and Home Depot for a hacksaw to start building tomorrow! Your containers are inspiring.
---
| | | |
| --- | --- | --- |
| RE: Serenade vs. Exel LG vs. Actinovate on Powdery Mildew | | |
Damon,

I am sure the density of the plant foliage contributes to the Powdery Leaf Mildew, but my neighbor has a CRAP Myrtle tree just 10 ft upwind from me that is White with Mildew, all over the leaves. I have used my power sprayer with Serenade on it, but it is so infested, that the Serenade barely makes a dent in it. Chain saw (at night) is the next action!

Spaghetina,

If you ever need assistance in building a few EarthTainers, just holler and I'll be glad to give you a hand. Once you have built your first one, they are pretty easy after that.

Raybo
---
| | | |
| --- | --- | --- |
| RE: Serenade vs. Exel LG vs. Actinovate on Powdery Mildew | | |
Here's some info on what EXEL is and what makes it work.

Phosphorous Acid Fungicides Explained
by John Hartman and Kenny Seebold,
Extension Plant Pathologists
Kentucky fruit and vegetable growers may
have noticed that phosphorous acid has been listed for
management of several fruit diseases in recent
editions of the commercial tree fruit and small fruit
spray guides and management of several vegetable
diseases on recent product labels. Some County
Extension Agents and growers have been curious to
know how they work. Parts of the following material
was adapted from an insightful article written by
Annemiek Schilder, Michigan State University Plant
Pathologist, and was published in the Michigan State
University Fruit Crop Advisory Team Alert, Vol. 20,
No. 5, May 10, 2005.
Phosphorous acid fungicides
Recently, a number of new fungicides that
have phosphorous acid as the active ingredient have
come on the market. Other names sometimes used
for this group are phosphonates or phosphites.
Commercial products in this group may include
ProPhyt®, Phostrol® and Agri-Fos®. Aliette®
(fosetyl-Al), an older fungicide, is the prototype for
this group of fungicides. However, the long-standing
patent on Aliette® had prevented similar fungicides
from being developed until recently. In Australia,
where the patent did not apply, growers have been
using the phosphorous acid fungicides for over a
decade.
Phosphorous acid is not fertilizer. The term
"phosphorous acid" should not be confused with
phosphoric acid or phosphorus (P), a fertilizer
component. In fertilizers, P is normally found in the
form of phosphoric acid (H3PO4), which readily
disassociates to release hydrogen phosphate (HPO4-2)
and dihydrogen phosphate (H2PO4
- ). Both of these
ions may be taken up by the plant and are mobile once
inside the plant. Phosphorous acid is H3PO3. A single
letter difference in the name of a chemical compound
can make a major difference in its properties.
Phosphorous acid releases the phosphonate
ion (HPO3
2; also called phosphite) upon
disassociation. Phosphonate is easily taken up and
translocated inside the plant. Phosphorous acid does
not get converted into phosphate, which is the primary
source of P for plants. Because phosphorous acid
and its derivatives do not get metabolized in plants,
they are fairly stable and probably contribute little or
nothing to P nutritional needs of the plants.
Some researchers have investigated the
ability of phosphorous acid to act as a nutrient source
for plant growth and found that P deficiency
symptoms developed with phosphorous acid as the
sole source of P. This means that although
phosphorous acid can control diseases, it is not a
substitute for P fertilization. The inverse is also true:
phosphate is an excellent source of P for plant
growth, but is unable to control diseases other than
improving the general health of the crop. So applying
high amounts of P fertilizer will not work as a
disease control measure.
Diseases managed with phosphorous acid.
Researchers have found that phosphorous acid
fungicides are especially effective against Oomycete
pathogens, such as Phytophthora, Pythium, and
downy mildews in a number of crops. Our fruit
spray guides list Phytophthora collar rot and root rot
of tree fruits, blueberries, and brambles; strawberry
red stele and leather rot; and grape downy mildew as
targets for phosphorous acid fungicides.
Phosphorous acid is labeled for use on brassicas
(broccoli, cabbage, cauliflower); cucurbits; edible
legumes; Solanaceous crops (eggplant, pepper,
potato, tomato, and tobacco); onions; and a number
of leafy vegetables for management of diseases
caused by Phytophthora, Pythium, Rhizoctonia, and
Fusarium spp. Downy mildews of these crops are
also listed on product labels. Materials containing
phosphorous acid, in general, have performed best
against Phytophthora blight and downy mildews.
Preventive applications were more effective in
reducing season-long severity of disease than those
applied after disease onset.
Phosphorous acid has a direct and possibly
an indirect effect on these pathogens. It inhibits a
particular metabolic process (oxidative
phosphorylation). In addition, some evidence
suggests that phosphorous acid has an indirect effect
by stimulating the plants natural defense response
against pathogen attack. This probably explains the
much broader spectrum of activity observed in many
fungicide efficacy trials. In fruit crops, it has been
found, for instance, that ProPhyt had efficacy against
downy mildew, Phomopsis cane and leaf spot, and
black rot (but not much against powdery mildew) in
grapes. There is also evidence of activity of these
compounds against anthracnose in blueberries.
The phosphonate ion is highly systemic and
fairly stable in plants. The systemic activity allows
them to be applied as foliar fungicides for prevention
of Phytophthora and Pythium root rots. They may
also display some curative activity. In general,
applications every 14 days seem to be effective in
grapes, but follow label directions. These fungicides
are sold as solutions of potassium and/or sodium
salts of phosphorous acid. To compare them, one
should look at the phosphorous acid equivalent,
which should be listed on the label.
Fungicide precautions. Phosphorous acid
fungicide prices range from about $25 to $35 per
gallon, and the application rate ranges from 2 to 5 pt/
acre ($6.25 to $22 per acre, depending on the
product and rate). Under high disease pressure,
higher rates may need to be used and spray intervals
tightened. These fungicides are formulated in salt
form, so care must be taken not to exceed a certain
concentration, as crop injury may result. In addition,
if the concentration is too high, the pH may become
so low that in tank mixes with copper products
(particularly copper hydroxide such as Kocide), too
much copper will become available and result in crop
injury.

I just ordered some AgriFos and intend on using it as a foliar. As you can see from the above article it's hard to explain the greening up of Ray's tomato plants and more research is needed. What interested me in EXEL is it's organic nature and it would make an excellent partner when teamed up with Actinovate. Using Actinovate as a subsoil fungicide and EXEL as an foliar fungicide that would have a faster knock-down effect on fungus and it's systemic properties. My only concern with EXEL is as a soil drench as I do not know the effect it will have on the microorganisms in the rhizophere, ie mycorrhiza. Further study is required.

Ray definitely like you hand held electric sprayer. I bought something similar from the spray-n-grow folks but it had a quart container that was separate from the spray head and connected with a tube. Get yourself some NIMH batteries with a charger rather than using alkaline batteries and it will save you a few bucks in the long run.

I would like to thank Ray for his interest in testing some of the products I have mentioned to him. It helps us all to have someone test these products in an unbiased manner and report the results for everybody to see. You are doing us all a great service. Ami
---
| | | |
| --- | --- | --- |
| RE: Serenade vs. Exel LG vs. Actinovate on Powdery Mildew | | |
Hi Ami,

Thanks for "nuggetizing" down the article and information!!

It may be an optical illusion, but my plants do appear greener this season, as compared to last year. Yes, there can be many factors affecting this for sure, but whatever this combination is, I am a happy camper so far this season.

I may experiment on one plant with a diluted soil drench of the Exel LG product, although no scientific way of controlling the experiment, other than visual results. The Excel manual recommends a 1 ounce per gallon of water dilution. Do you think this would be OK as a soil drench ratio?

Raybo
---
| | | |
| --- | --- | --- |
| RE: Serenade vs. Exel LG vs. Actinovate on Powdery Mildew | | |
Ray, since were talking about a closed system, I would halve it. Use 1 tablespoon versus 2 per gallon and go from there. I'm sending you a package and will PM you concerning the details. Ami
---
| | | |
| --- | --- | --- |
| RE: Serenade vs. Exel LG vs. Actinovate on Powdery Mildew | | |
Ray,

Would you give an update on the Exel LG? I used Serenade in 2009 and have ordered more for 2010 but would like to know what conclusion you came to w/regard to Exel LG at end of 2009 growing season.

Thanks,
DL
---
Post a Follow-Up
Please Note: Only registered members are able to post messages to this forum.
If you are a member, please log in.
If you aren't yet a member, join now!
---
Return to the Growing Tomatoes Forum
Information about Posting
You must be logged in to post a message. Once you are logged in, a posting window will appear at the bottom of the messages. If you are not a member, please register for an account.
Please review our Rules of Play before posting.
Posting is a two-step process. Once you have composed your message, you will be taken to the preview page. You will then have a chance to review your post, make changes and upload photos.
After posting your message, you may need to refresh the forum page in order to see it.
Before posting copyrighted material, please read about Copyright and Fair Use.
We have a strict no-advertising policy!
If you would like to practice posting or uploading photos, please visit our Test forum.
If you need assistance, please Contact Us and we will be happy to help.

Learn more about in-text links on this page here